Thurs 18th Nov21 – Day & Night Ride Saga
Frank Solo Report
At last I managed to squeeze in a ride on Thursday before Sunday's AGM but nobody was out that day so it was me and myself.
My last ride was with John Eden was early Covid on 3rd March 2021 to Clapham Junction/Shepperton, Staines, Runnymede, Windsor Castle environs, Maidenhead, Windsor train home. 4th March was my home staircase calamity………………
Brilliant sunny day that was bracing with a headwind. Had flashing lights fore and aft of my Wilier Triestina. Should have taken my sun glasses particularly south of the North Downs as not much shade.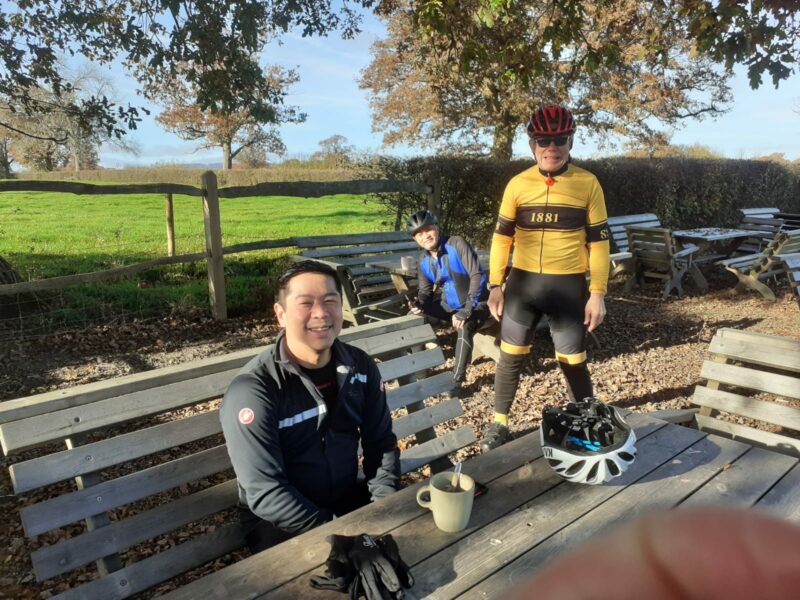 Went down Purley Downs Road to 501 [Shurgard 10am] en route to Newdigate via Coulsdon, Kingswood, down Pebble Hill, Betchworth, 7 Stars of Leigh to Tanhouse Farm café. Met 3 cycling nurses from Crawley who worked at East Surrey. Coffee and scone went down well.
Next leg was Beare Greene, up Henhurst Cross Lane, Antsty Lane to Coldharbour then Abinger Road clockwise round Leith Hill passing Landslip car park looking for a way up.
Met an off piste cyclist who suggested I went back about 200m to a bridle way up to the Tower. It was very steep and cut into hillside to form a very narrow defile. No idea how horse climbed up. I pushed bike up with extreme difficulty. Where it widened out I swung bike across the line of the path, carried it, then a few paces and so on till a misty Tower came in view! Perseverance was the name of the game.
Café open for a herbal cup of tea. Chap had Tanhouse tee shirt! Cleaned as best I could crud from cleats and pedals.
Poor signage despite a nice wall map so got lost on rough paths that I walked going down through Coldharbour Common until I came out on Abinger Road then stopped at Plough inn to hose my cleats and pedals.
The weather had turned cloudy and sunset at 4.02pm!
Exhilarating ride down to Dorking in the gathering gloom, round the centre, then up A24 to Burford Bridge then up Zig Zag to Boxhill 'closed' café at 4.45pm. Security lights came on so I could see to fill my bottle and have a drink. I then put my trusty Gortex yellow jacket on for warmth and visibility.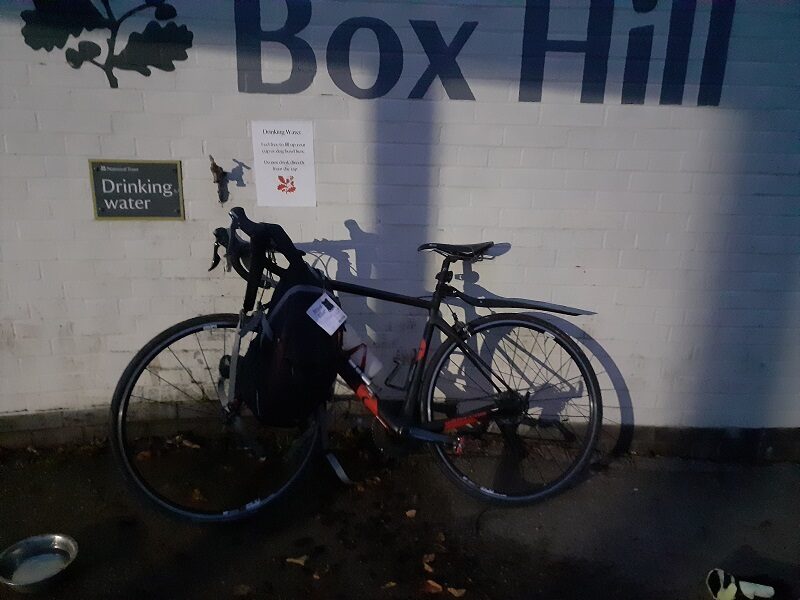 Progressing along Boxhill Road has very difficult with strobe effect front light and blinded by cars with headlights on.
At last I found 'Destination' Bike shop Boxhill village and Kieran was just taking signs in when I turned up desperate for a decent headlight. He sold me and fitted an expensive Topeak Headlux 450 Lumens that I decided was cheaper that a taxi home to Selsdon.
Wow did the light make a difference to my visibility so I pressed on taking the Walton on the Hill village road as the Dorking Road to Burgh Heath was dangerous with rush hour traffic. Through the village and a car stopped to say bottom gauze flap my deluxe Audi Crivit LED rucksack [not illuminated] was covering my rear light! You recognise the symptoms Tom.
Through Kingswood estate and down Chipstead Valley Road to Coulsdon and A23. A e-scooter crossed my bows that I followed to Purley having trouble keeping up with him.
I finished off my water prior to going up Purley Downs Road as well as the last of my energy chews for the final ascent to Sanderstead roundabout, Selsdon and down to chez Kippin [7pm] for a Radox bath! As Julie still on elbow crutches I took Denzel out for his night walk with flashing red lights…..