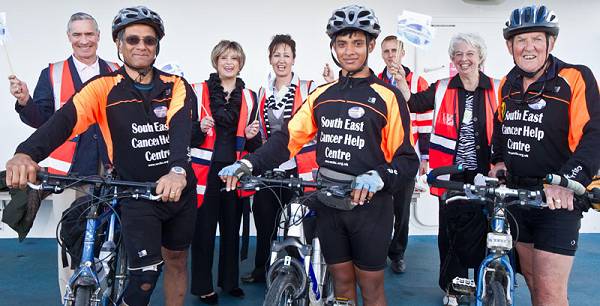 Hola to the Anerley Bicycle Club
We got back from our 12 days In Spain plus 2 on the high seas with Brittany Ferries. And what an adventure!
We cycled 475 miles in stunning scenery, plus a few extra miles hiking and rock scrambling at a few feet short of the snow line in the Picos de Europa mountains.
Not only did we cyde for 475 miles we averaged 10.2 mph for the total trip. Taking into account the terraln (and it was a lot hillier that I remembered it to be – or is it just the five years of added aging!), and considering the extreme heat, and that we were fully loaded with luggage, this is a very impressive average.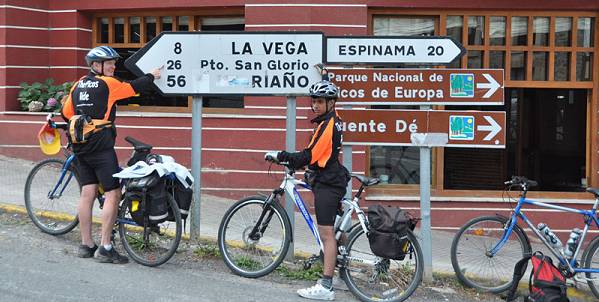 We cycled up to the top of the highest mountain pass in the Picos, the Puerto San Gloria, from where the views down into the valleys far below, were, well – glorious!
The climb up to the pass started at Potes where the sign at the exit from the the lovely little town said it was 26.5k to the pass. That meant 26.5k of cllmbing, but not just climbing but dimbing for most of the time in a scorching heat of over 30 degrees In the shade! However there was not much shade after the half way point as the road wound it's way, ever higher, around the side of the mountain. It then became a struggled from one little bit of shade provided by the odd tree dinging to the mountain side, to the next tree a kilometre or so further on. Thus it took us over 4hrs to reach thetopof the pass, which atsome 5,200 feet is a lot higher than our Ben Nevis!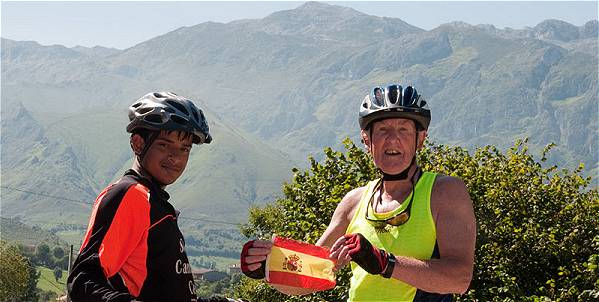 Free wheeling down at high speed around the tortuous winding road, was an adrenaline rush lasting a short few minutes compared to the hours of upward slog!
Unlike the arid south of Spain, the north is a land of forest and lush green meadows with cows and goats munching away even on most of the mountain tops!
Green of course means rain, and rivers and streams abound. In the Picos the rock strata is limestone. Being a relatively soft rock, the area has fantastic gorges, some over 15 miles long, cut out by glaciations. I can only repeat that the scenery is stunning and whilst we took lots of photos (Including some great panoramic vistas with a special digital photo programme) they will not get near to showing the true magnificence.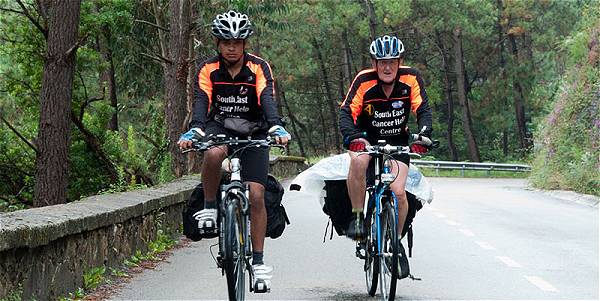 Limestone also means caves, which abound in this part of Spain. To get to one that we visited the Cueva el Soplao (see http://www.elsoplao.es/) we had to dimb another mountain road, but not in glorious sunshine but pouring rain. To be more precise, torrential rain! But it was worth it, as donning helmet and lights ,we followed our guide down 2 kilometres of river worn caves, through narrow passage ways and huge caverns, to see an amazing array of stalagmites and tites and other mineral formations.
This is but a small part of our many adventures and many laughs. Most of which were as a result of our trying to speak and understand the Spanish language. Needless to say I am sure the Spanish had just as many laughs, probably more, at our effort to speak to them, and obvious lack of comprehension of their burst of high spead Espanol. We will long remember their many amusing efforts at mime and sign language to bring understanding to us dumb Ingleses!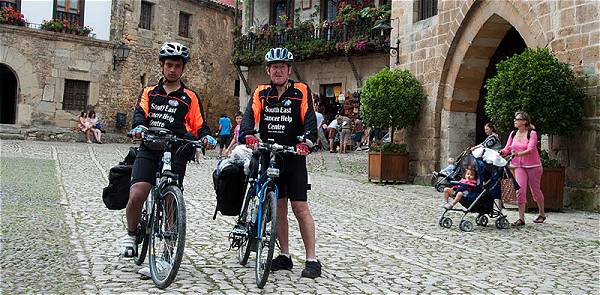 Last but not least, the purpose of the trip was to raise funds for our local cancer charity. We have surpassed our target of raising £5,000 (the latest count is over £7,000 and with more to come), so thank you all for your generosity which has made this venture worth the time, effort, sweat, but no tears!
Whilst we were away Tom took loads of photos, and together with his son Luke, has been doing a daily blog wIth a few words and photos of some of our adventures. So do have a quick dick on http://the-picos-ride-for-cancer.blogspot.com/