Sunday Ride: 6th November 2016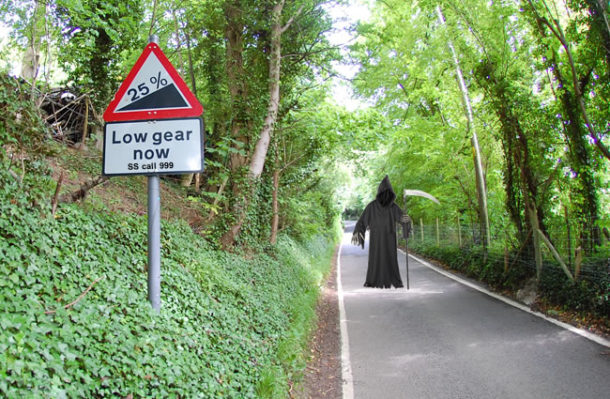 A hilly ride was promised as we set off towards Otford. Up Mitchley Avenue and Rectory Park before cutting through the Selsdon Park Hotel. Then the fast downhill where the roadside speed radar told me I was breaking the speed limit at 33mph and up the steep climb to Farley.
The route became a touch more sedate here and we passed loads of cycling groups as we rattled through Hesiers Rd and Skid Hill. However, the cyclists all vanished as we puffed up Saltbox Hill in a staggered line. A rest period followed through Jail Lane until we made the steep descent of Berry's Hill and 25% climb up Church Hill before arriving at Cudham. Downhill from here they thought but no, Cackett's Lane lead on to Shelley's Lane with undulation galore.
We finally made our descent of Starhill Road in time for 11am tea at Otford after 20 miles. The owner of the Pondview is very friendly and had saved us a large table where we stuffed our faces before facing the next section through Seal. Sevenoaks had a lot of traffic and Bob overtook me while weaving through. However, when I turned right on Oak Lane he was too far ahead to recall and disappeared off towards Tonbridge.
Oak Lane and Dibden Lane took us on Bissells Green Rd and the (gentle) climb up to Goathurst Common and Ide Hill. The Woodman Pub was closed and so we met up with Jeremy at the Cock Inn @ Ide Hill. We more or less split up here as Jim Medway & Barry headed off home and I brought the rest home.
Bob wasn't lost to us as he also rejoined before the Pilgrim's Way for the bitterly cold return up via the Pilgrim Way