Sunday Ride: 30th October 2016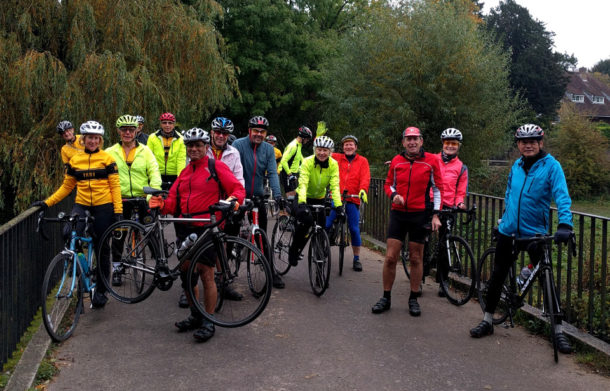 The Bridge over the River Mole
An extra hour in bed as the hour changed may have added to the numbers on what started as a misty morning. We welcomed Tim from Southfield as a guest rider and set out westward Chipstead fashion for Headley and Little Switzerland. The crossing of the A24 was followed by the rather less frightening crossing of the River Mole at Leatherhead (above). This gave our leader Tom V an opportunity to show off his new steed – a Titanium Kinesis Racelight GF.
Onto Stoke D'Abernon before turning back eastward for tea and the largest mound of cake in the home counties at Chessington Garden Centre. A few more miles to the pub of the day – The Leg of Mutton and Cauliflower in Ashtead where six imbibed before a canter home via Banstead.
40.6 miles at an average moving speed of 11.51 mph.
Download