Sunday Ride: 6th December 2015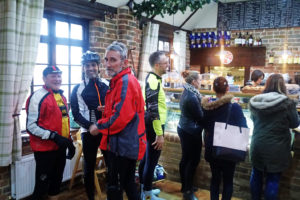 This week's ride report from a self confessed email virgin.
"I set off together with Pete, Graham, Tim and new boy Sanjay via the Brighton Road and Farthing Downs. Heavy gusts and rain gave us all second thoughts about our ride. As you all know, we went south down through and near Blechingley, Smallfields, Copthorne to Turners Hill and our tea stop.
However it was almost packed and with a queue to the counter. Jeremy was already there, having finished his cake and coffee. At tea, we collectively decided to head home rather than to the pub stop and Jeremy kindly agreed to lead us all back north and homeward.
Pete took a few photos on his new iPhone lens attachment before we left.
this is my first email ever,
regards tomtom"
Photos from Pete's gadget have just arrived…