Sunday Ride: 13th December 2015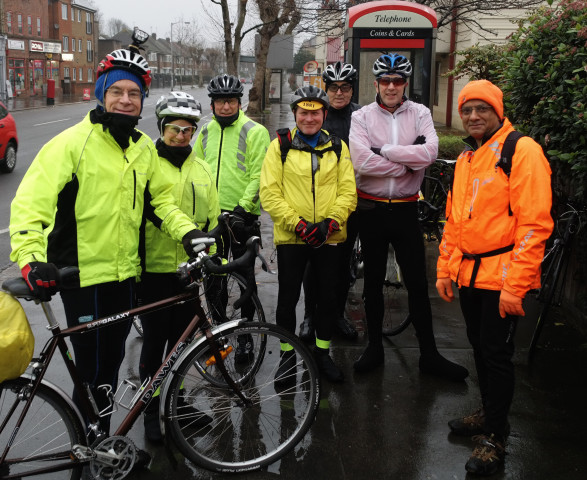 On a cool and miserable Sunday morning with a 9am start, I was pleasantly surprised to see so many Anerley riders who had postponed their hibernation. We started off gently through Coulsdon and Reigate with myself leading gingerly down Reigate Hill because the road was very slick. As we go onto Reigate Heath, Pete trumpeted out the call "Puncture!". While we waited for him to manfully change his inner tube Jeremy appeared and joined us as we made our way to Tanhouse Farm.
After a cup of tea and a slab of cake the weather cheered up and we headed off through Capel, Ockley down Weare Street to Oakwood Hill and Rudgwick. At Loxwood, Pete declared himself to be feeling deflated so we stopped for another long break. Fortunately there was a puddle nearby so Pete identified the hole and Dave found the piece of gravel in his tyre. Great teamwork displayed here. By the time we hit Wisborough Green I was hearing rumblings of "I'm hungry". However, I ignored them as the prospect of getting to Amberley in the dark did not appeal despite Julia's powerful searchlight mounted on the handlebar.
Just as well that we didn't stop because we hit a steep hill south of the A272 at Bedham and my chain snapped. Good thing I carry a chain tool! We opted for the Swan in Fittleworth for a late lunch. Pretty decent fare (Tom and Julia had pheasant!) and they made us feel very welcome.
Salmon, fish & chips and even pheasant was followed by a short ride down hill to Amberley. We made the 4.20 train with 10 minutes to spare.