Sunday Ride: 25th November 2018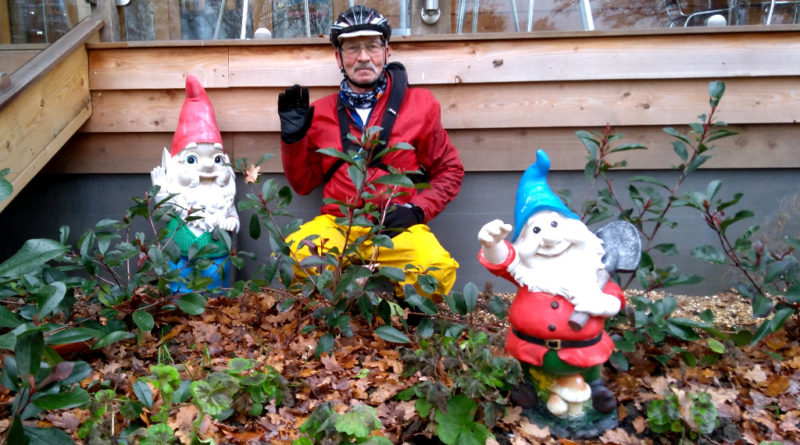 Spot the real Gnome!
It was supposed to be dry – but an early shower reduced us to just four starters for Mark's first Sunday Ride as Captain.
The later start of 9:30 and the proximity of Henfold Lakes were welcome in these unappetising conditions. The benefit of a new pair of hands at the helm/on the handlebars is subtle shift in routefinding. The same roads but not necessarily in the same order or direction.
Out over Farthing Down and up to Chaldon where we were royally scalped by an all-girl crew. A litle too enthusiastically thought the oncoming driver. No one died so it was all good.
On to Betchworh and Brockham – the trees that had so wonderfully glowed in technicolor gold, reds and browns the previous Sunday were now limp, mostly stripped and offered little cover.
The new Henfold Lakes emporium loked to be a good place to dry out. But the staff didn't fancy our steeds dripping all over their new decking so Mark & Tom did a bit of relocating while Barry and I went Gnome hunting – him in his amazing yellow work pressure spray resisting trews.
The late breakfast was good and the vegan sausage satisfied even those with a natural bloodsucking taste.
The usual way back clocking 38.88 miles at 12.69 mph.