Sunday Ride: 25th November 2012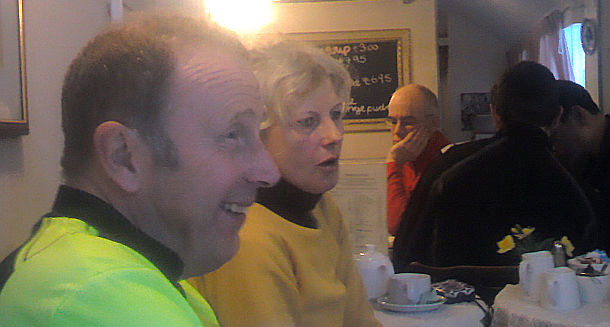 A big turnout on a sunny morning for the new Captain's first ride via Epsom Downs to Annie's in Leatherhead (above). A heavy headwind was forecast but the major problem was the debris left from the heavy rain that had flooded many parts of England.
From there southward down the A29 cyclepath via Pixham and onto the joys of the A25. Jeremy and I bailed from this into the more relaxing atmosphere of the Dolphin at Betchworth. We were joined by two tandems. One Trek, one Roberts (below). Thence back via Trumpet's Hill and Merstham Gap. A very short 34 miles got me back in Croydon by 1.30pm. Good because it rained later and the dusk is soon after 3pm.