Sunday Ride: 24th November 2013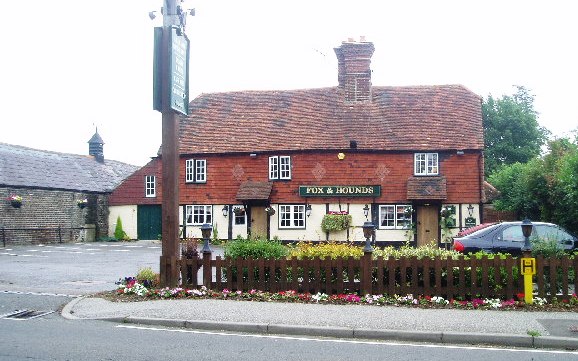 The run of dry November Sundays continues … dull, but no wind.
Cycling down from Sydenham through East Croydon I encountered an even more elderly gent resplendent on his classic steel racer. "I'm, seventy nine and off to Reigate" he confided. Not too old for us I admitted. On balance he preferred the flatish Surrey Roulette which is the cycle route through the A23/M23 junction to the rigours of Portnalls Hill.
I rather ungentlemanly 'dropped' him by taking the short cut through Croydon – only to see him to sail past us at Shurguard.
Portnalls was as 'orrid as usual. But it does have the benefit of the free dipper that is Reigate Hill. Not sure the workmen who had closed the road at the station were too happy to see us ride through. A little further on we saw our gent again coming in the opposite direction. As someone unhelpfully pointed out "he beat us to Reigate, and he'll beat us home again". Well if you are reading this – the offer of joining us for your eightieth birthday next September is on. And the inner tubes will be on us!
An otherwise uneventful episode to Henfold lakes who were trading Carrot in lieu of Chocolate cake. The Turnbull's arrived just in time to see us leaving. Ea stayed with them leaving four of us to wind our way through Charlwood, Horley, Smallfield and Horne. Jim & Jeremy continued on home non-stop. Peter and I sampled the Fox & Hounds at the foot of Tilburstow Hill. Whilst under the influence of a rather poor Guinness I persuaded Peter that a quick up'n'over the Hill was preferable to going all the way round with a chunk of the A22 thrown in for no good. It was mistake. The Hill was really beautiful bedecked in autumnal red & brown leaved dress but it meant that Pete got home with 49.6 miles on the clock to, again, be thwarted on his first fifty since returning to the saddle.
A really nice ride at the time of year when conditions for any decent ride are at a premium.