Sunday Ride: 22nd January 2012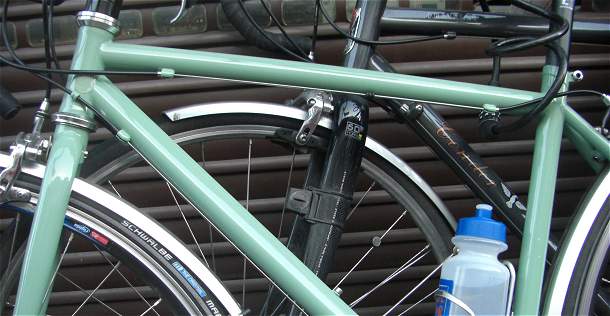 Steely Rides
The forecast rain stayed away, the temperatures were in the high forties. Temperatures went higher as rhe magnificent seven ascended the now smoothened Chipstead Valley and through the Kingshurst Estate towards Walton on the Hill. Heads down Ewa didn't notice the hamlet's only No Entry sign but everybody else did so I shall say no more.
Jeremy took us on a familiar route up past Tadworth and the Steeple House (picture from a recent Tuesday ride). A chain was lost for a while and the rider for a while longer as the search party took a different route to the rider. We finally repaired to Annies in Leatherhead minutes ahead of Des and Tom who claimed to have taken an even more direct route. Annies is the new Hensfold Lakes with three or four ABC visits this year!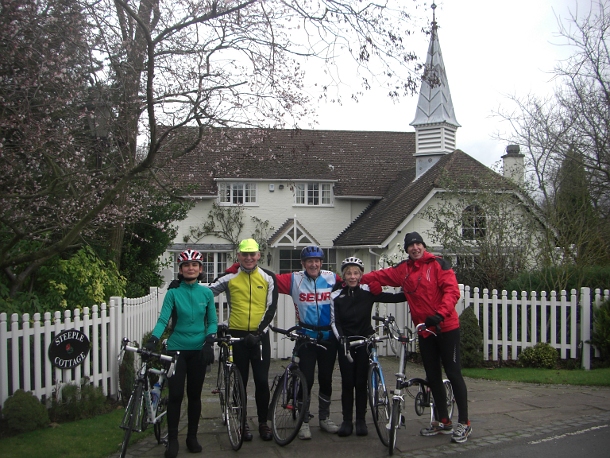 We took a circuitous route out of Leatherhead towards Polesden Lace and onto the Fox & Hounds in Brockham. A chocolate box stop for ale. Tom, Des, Ewa, Gina & Jim didn't stop but Jeremy, Sharon, Stuart & Graham were joined by Corinne for a brief sojourn. The road out of Brockham is curious in having three duck warning signs going into the village but none on the opposite side of the road. Does this presume ducks can look one but not two?
A leisurely canter via Reigate Golf Course and the Merstham Gap saw us home in good time for 37 miles.