Sunday Ride: 21st December 2014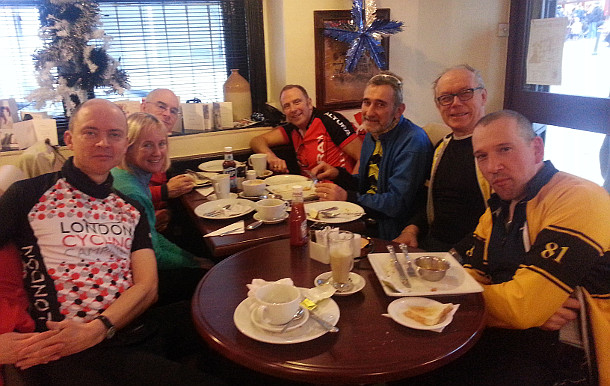 The last Sunday ride before the Christmas festivities begin, a group of 7 gathered in the East Grinstead Cafe (formerly known as the Star Cafe) albeit they made their way there in small and discerning groups – Jim, Austin, and Frank, met Graham at Kenley, Jeremy joined the ride in Marden Park and Tom & Julie caught up with the gang in the Cafe.
As you can see from the photograph hearty breakfasts were consumed the only evidence of which was the "clean" dirty dishes. There was a fairly strong westerly breeze on the day which assisted and hindered the riders depending upon which corner you turned. The weather was grey with a cool start but the odd steep climb soon got the heart pumping and temperatures rising.
The route to lunch was shorter and more direct via Lingfield and Crowhurst. The group split at the A22 with 4 heading to the Fox & Hounds to continue with festive spirits, the others headed home to finalise Christmas shopping and wrapping.