Sunday Ride: 11th January 2015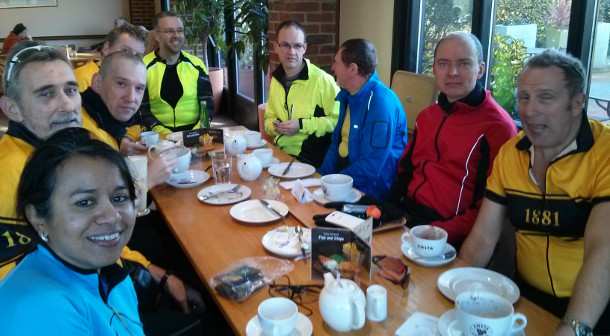 The Captain's Bugle rebuke of the poor turnout for the first ride of the year and guilt over a too filling Christmas brought a total of twelve riders including first timer Kevin heading for Snowhill Garden Centre. We picked some up on route, others caught us up later. The Aldi in Old Coulsdon is taking shape as a future repository of value bicycling gear as we headed out over Farthing Down to Chaldon and onto Smallfield before taking the back lanes to the Cafe.
The ambient 37F/3C is obviously equivalent to a Scottish Summer and had Jim in his new short sleeve kit. Whereas t'others dug deep into the cosy long sleeved winter addition (pictured below).
Thence most of us repaired to the Fox & Hounds, Tilburstow Hill to hear of continental tours by turbo trainer and will the Google Car save the cyclist?
The hill was tough especially for those of us who had not hit the road for six weeks and were carrying extra weight that was certainly not muscle. Up and over Marden Park and back to the start. About 39 miles.