Des Does a Bit of Fartlek Training: On Sunday Ride November 2011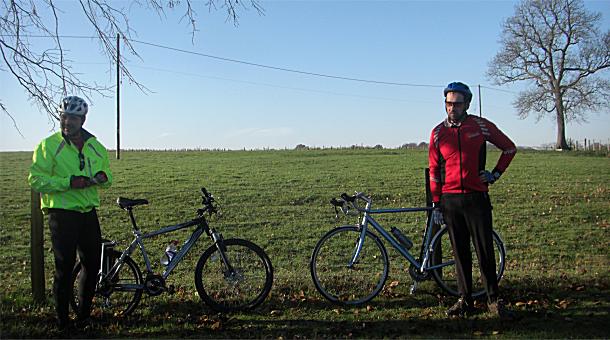 Some notes from Des, our Pathfinder, who we met up with in Shoreham:
A crisp cold start, blue sky but my hands were very cold until I started the climb up to Botley Hill Farm. Must get my get my winter gloves out to replace my track mitts! As usual I set off alone to meet up with the others somewhere on route.
I am now consciously looking out for the 30 mph and other speed limit signs to get a few sprints in. The first was going out of Warlingham, then 2 each entering and leaving Tatsfield, Knockholt, Halstead, and finally entering Shoreham, a total of 8. Going past the Reptile Zoo at Tatsfield there is a fast downhill with a sharp bend, an adverse camber and a very shiny bit of tarmac. This morning, added hazards were heavy, damp dew and wet leaves. Danger, all my senses told me! From then on I was very wary as I peddled the narrow tree lined lanes of this scenic part of Kent.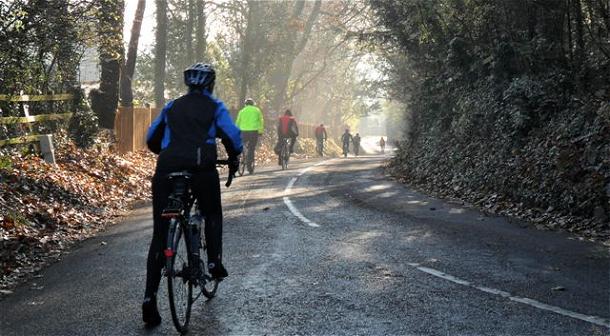 We all have our favourite bits of road. One of mine, after passing the big, Halstead roundabout, is Shacklands Rd. This is the back road that leads to Shoreham and Eynesford. After passing thru Andrew Wood there is the fast downhill, passing under the M25, and then on this occasion bearing in mind the damp road and leaves, a careful entry into the sharp right hand bend.
Then another up and down, and then the countryside opens up on both sides of the road. Passing along the valley floor the country lane then starts a longish climb until the turn-off to Shoreham is reached. And the 30 mph sign, the last of my sprints on the outward leg!
When I arrived at the Shoreham Station Tea Room there was an array of bikes already there. Inside all the tables were occupied. We had been beaten by the massed ranks of the Bexley CTC!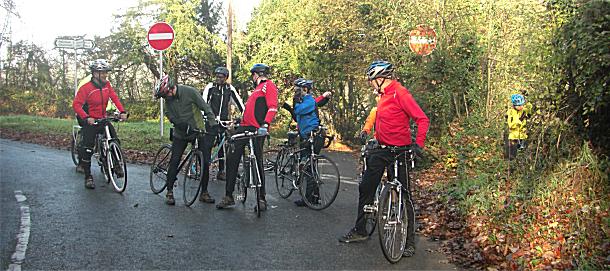 Fortunately the Anerley peloton did not arrive for another half hour by which time the tea room had cleared. The delay was partly due to Ricky who took a tumble on the slippery road. No broken bones but a broken gear change lever! Ewa showed her engineering skills by helping to manufacture a repair with a tyre lever bound on with a nylon tie. Bravo Ewa!
Now that we were all together, there was quite a crowd. At least 10, as I had then run out of fingers to count on No, actually it was a dozen. This included a first time rider, Jonathan who deserves a medal. He rode this hilly, 40+ mile ride on an adult sized BMX. No gears!
Stuart adds: After tea & cake we repaired to the George & Dragon at Westerham to fortify us for the stiff climb up Pilgrim's way to Botley. Jonathan might not have enjoyed that but he had a broad smile on the long descent through Warlingham and back to Croydon. About 40 miles and thanks to Yiannis for the track.