Sunday Ride: 1st March 2015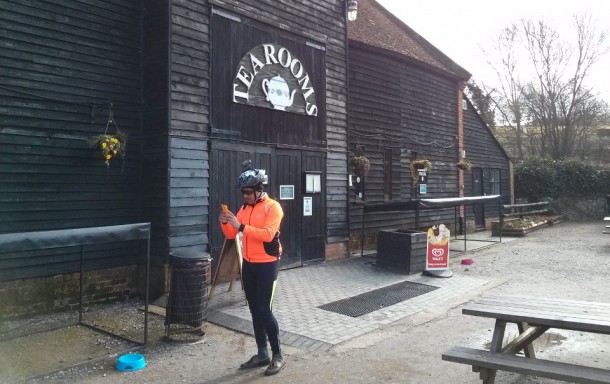 It all started all so well. Thirteen riders including a new rider Sanjay pictured above at Brockett's Farm. Or first casualty was a detached spoke in Chipstead. Then we were twelve. We were heading for Annie's in Leatherhead. Well we should have been heading for Chartwell but somebody couldn't read the runs list and posted the wrong place. The Capt'n decided to go with the post.
So past Epsom racecourse and into Leatherhead. We were a bit early so we diverted across to Brockett's Farm. We lost a few more there taking the early bath home. The rest pressed on to the Royal Oak. It was a great ride up Ranmore Common and down the back path/road into Denbie's. Thence through Pixham and onto the A25. Somewhere between the A25 and Brockham we lost two riders. Hopefully they found their own way home.
The day had brightened and, for the first time this year, we sat outside to sample the local ale. Finally the usual run home via Reigate Common and Merstham. There is a speed sign where the A23 crosses the M25. As you can see below this must have encouraged a motorist to cross the cycle path in an ill judged attempt to remove it.
About 42 miles.