Sunday Ride: 18th October 2015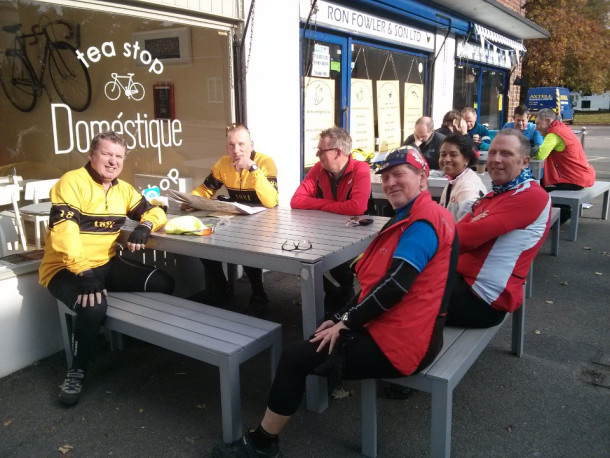 Capt'n Jim returned en-route from the Canaries to Twickenham for the Scottish match (via ITV?).
Hence instead of the scheduled long hilly ride to Peaslake we did a dash to Domestique at Great Bookham. Run by a cyclist for cyclists with a very nice fixie pinned to the wall and lots of velopian books and pictures it should have scored a hit.
However, here was rumblings in the ranks. The food and drinks were a bit sophisticated and lacking in the basic 'egg & bacon doorstep' department. Not very Sarf Lundun.
Gina and Jim set off home. Thank goodness no hills thought some. Jeremy had other ideas taking us over the end of Ranmore Common to Holmbury St Mary and a new pub to add to the Anerley list. Holmbury is a Victorian re-creation of what a medieval country village should look like. A predecessor of Prince Charles' Poundbury to attract rich London commuters when the nearby railway was built.
The Royal Oak was under new stewardship with two very fine beers on tap. They do need to change the drab green paintwork if they want to attract new custom and justify a kitchen rather than four tired riders.
The major feature of Holmbury is its Church embedded into the hillside. We thought we should do penance or just give thanks that the sun was shining from our …
That shot doesn't show its short wooden steeple …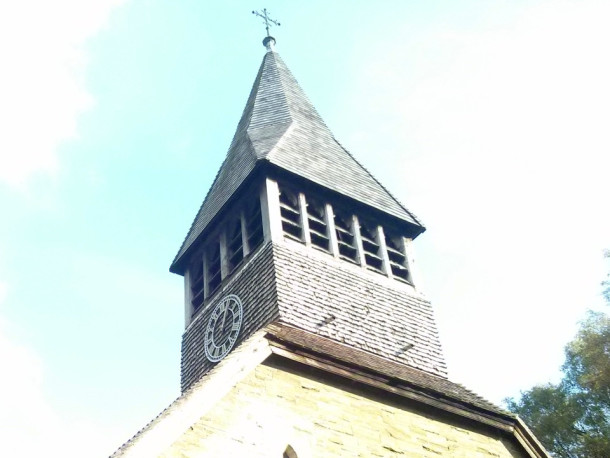 And the inside …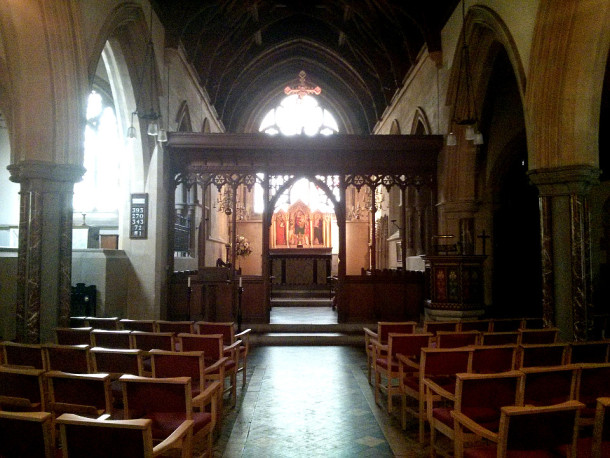 The return was back through Forest Green, Ockley, Newdigate to Reigate. At Merstham we hung a right to avoid the A23 roadworks to take the tough climb up to Caterham. Thence downhill through Kenley back to the starting point. About 55 miles. And to learn that Jim's day had been ruined by the Australians, 1 very late point from a wrong decision by a cowardly referee.
Should have stayed with us …