Sunday Ride: 16th November 2014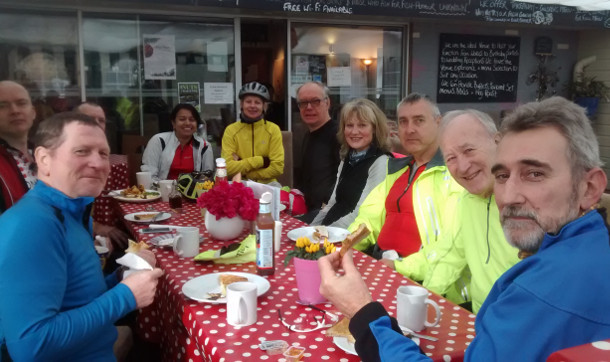 The Met forecast for the day changed every look up. It was going to be dry or rain at random times. It was good that most of us ignored them and set out regardless.
We welcomed Maggie from the Tuesdays for the first time. Jim was away so Graham took the lead up Portnalls and down Reigate Hill and, not stopping at the Benchworth Dolphin, to Henfold Lakes. Disaster! No chocolate cake for the second consecutive occasion. There place on our runs list is now seriously compromised.
Nevertheless we put on a brave face for the photo (above) aided by Meike & John T and Gina who all arrived seperately. John T & Ewa left us for their 'indie' ride. Gina, Graham and myself to the Pickled Pig or whatever the Copthorne Hedgehog now calls itself. The remainder presumably made it straight home.
The ride back from Copthorne took us passed the Outwood Windmill. Which, as you can see below and maybe Jack J from a rather higher plane, at last sports a new set of sails after looking so forlorn for the last few years. I'm afraid I walked White Hill. The first time I think I've walked any hill on an Anerley Ride. It looks as though I need a bit of refurbishment.