Sunday Ride: 14th October 2012
A sunny but cool day. Thirteen riders made it a record for some time. We set up Riddlestown way but deviated from our normal route to find us on to of the hill and careering down a rough track to the Godstone Road. A first for me!
Then upwards via Marden Park, Oxted and Hurst Green on a beautiful ride to Chiddinstone Castle. There was some concern the cafe would have closed for the season – but no – I think we made most of the custom on the day. Meike & John arrived by car to join us. However, eleven decided to return leaving the club's only reliable drunkards to process to Underriver's White Rock.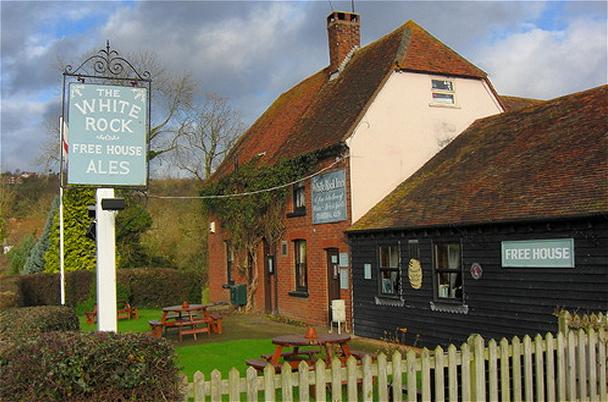 This lies at the bottom of a steep hill. A very steep (O.S. chevronned) hill. "You are not going up there?" asked the crew at the next table. So we didn't!
Instead we set back cross country via Weald Village towards Ide Hill. The laws of physics decree that by whatever route you go the same ascent has to be made. Avoiding the short sharp gives the long miserable alternative. It was one of those Sundays when all my strength appeared to have oozed from my legs. sadly not of the captains. Eventually and very slowly having 'done' Ide Hill I somehow did the Pilgrims Way and Clarks Lane. Eventually refuelling on Mars Bars brought a little strength back for 53 miles on the day.
I forgot my camera so the pictures are stolen from elsewhere.