Sunday Ride: 10th August 2014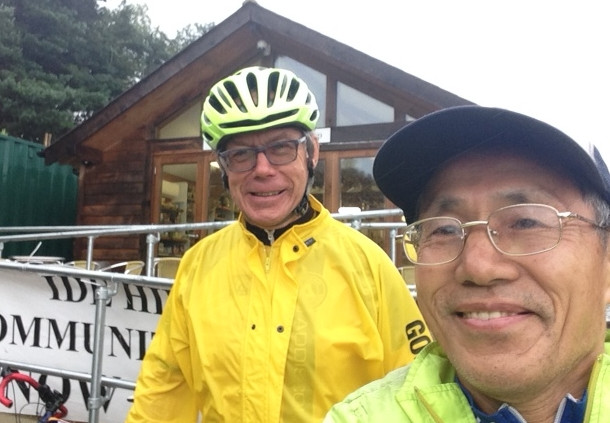 Frank K writes:
I went for the depleted Sunday ride. I was about to leave at 10.10 when Yoshiji came along having travelled from Harrow. We agreed Ide Hill and set off. Suddenly I noticed I was cycling alone. I turned back and there was Yoshiji looking at his left 'loose' crank arm just dangling. Large Allen key required but none available.
Had the bright idea of dropping by Meike and John hoping they were not out. Yoshiji managed to peddle the mile or so and a surprised Meike greeted us in bathrobe. We went round to John's neat bike shed and Meike found the right tool straight away and the crank arm was fully tightened. Thanked Meike who told us that John had a bad day on Saturday suggested we call at the Ide Hill village cafe passed the Cock Inn
We did Jim's route via Bull Inn now called The Coach Inn Chelsham Common through to Beddlestead Lane climb. Only one rider passed us no doubt due to the weather.
We went the usual route along Pilgrim's Way to near Junction 5 M25 and back to Sundridge cross roads just as the heavens opened up. There was a small canopy entrance to a cottage nearby to shelter for a while. Up Ide Hill there was a wide stream either side of the road with field washout to avoid as not the weather for punctures!
See 1st selfie by Yoshiji outside cafe. The public toilets allowed us to dry off a little. Very nice pot of tea and cake slice. The lady said that the S100 was being shorted to 80 miles due to bad weather. View of Bough Beech reservoir somewhat misty. As we all know the key element of a saturated cape is keeping the wind out as we flew back down the hill to the A25.
As we went back along Pilgrims Way the Sun came out between downpours onwards to Botley Hill. There were about 5 lakes in the lane that almost touched the other side.
At Warlingham we diverted to Chelsham Common hot rod [description below] to the pub for a pint of Doombar. We had a good chat and stood up to leave and I noticed my seat was saturated and a large pool under the chair! Looked for Graham and Corrine but no sign of their Toyota truck as the previous Sunday ride to The Volunteer pub at Wooton they had mentioned the event and going there.
We walked round the cars that went back to a Chrysler 1938 saloon the type the gangsters used to use with running board. Another selfie in front of a hot rod.