Saturday Ride: 7th December 2019
I told them it was going to be muddy !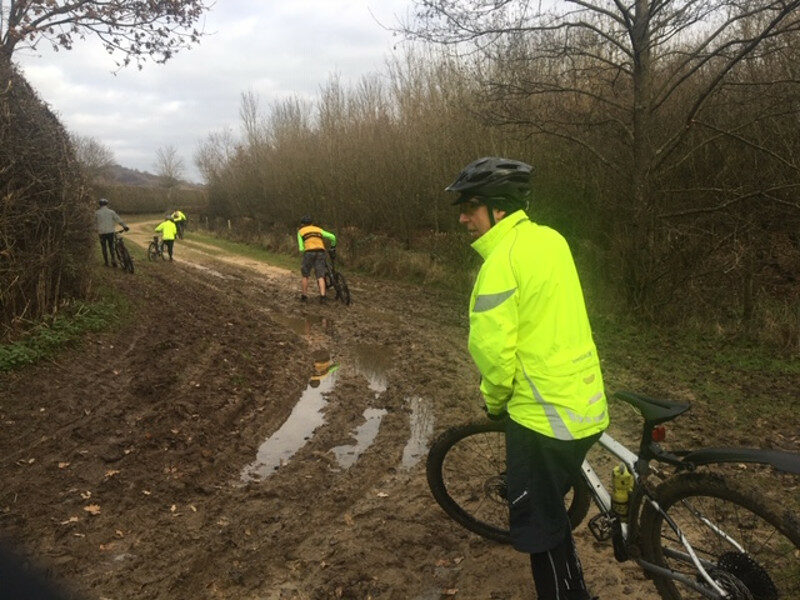 An enthusiastic bunch of 8 turned up for a trip off road across local trails and bridleways. Two newcomers Alison and Graham (Tina's hubby) were especially welcome

First up was a trip up Happy Valley which was grassy in some parts and very muddy in others – a taste of more to come. Then it was across fields and down Shepherds Hill where we picked up the trail that runs through to Hawthorn school. So far so good.

Then, at Bletchingly we followed the Green Sands way to cut through to the Orpheus centre and on to Godstone. At this point we hit the deep mud and the first of a string of mechanicals started. Bob the fireman's eMTB got its chain and gearing clogged with mud which took some time to diagnose and clear and we limped slowly on to Flower Farm. The Flower Farm service was reliably slow and inefficient, which ran down the clock so much that Pete who was on a strict curfew had to bail out and get car assist home.

Roger led the return and the next string of mechanicals with a triple puncture on his new MTB. This was exacerbated by really stubborn tyres which took the combined efforts of Bob the builder and Mick to remove.
Then there was the issue of replacing the inner tube as the existing one was riddled with tiny holes. We now know it is possible – just – to stretch a 26 inch inner around a 29 inch wheel as a temporary fix but it's not to be recommended. (Roger had upgraded his bike but not his repair kit).

Time had now passed well beyond the expected return time so the planned route was shortened to pass through Morden Park and head back to Purley. 

Tina, Graham, Mick and Roger headed to the Wattenden Arms for a quick beer.
Rather surprisingly feedback after the ride suggests a good time was had by all. Special mention goes to Alison who did incredibly well on a hybrid with only the slightest of tread pattern on the tyres. 

Distance about 25 miles, speed – too slow to mention.