Saturday Ride: 6th July 2019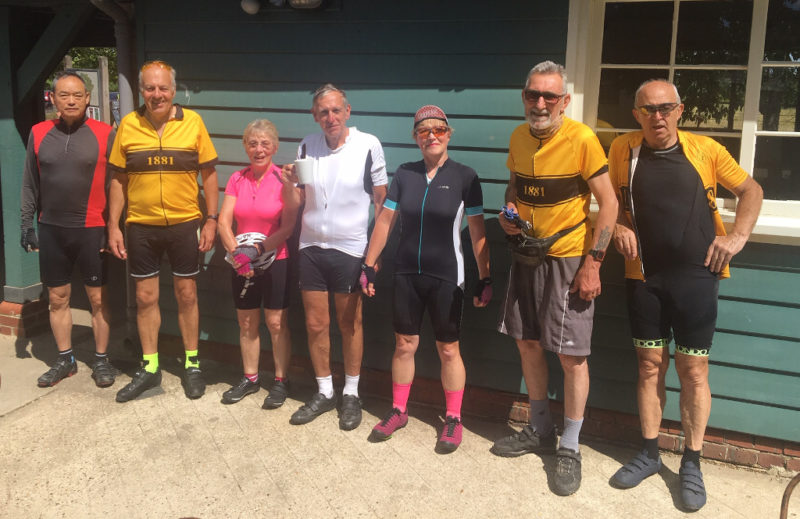 We had great weather for a ride out to Polesden Lacy via Epsom Downs. Seven of us met at Shurguard to be joined by two more at Coulsdon. It was good to see Ricky back with us after a long break, away travelling.
Chipstead valley remained closed by road works so we headed up Holly Lane to Banstead and Tattenham Corner. Then it was round the downs, down to Ashstead and through London Freeman's school towards Leatherhead.

Tea at Polesdon Lacey lived up to its great reputation as we sat in the sun enjoying scones and ice creams.

After tea three adventurous folk Stuart, Karen and Ricky headed onwards towards Bracknell aiming to complete 100 miles or so.

The rest of us Sandra, Bob, Graham, Miles, Ian and Pete took a less ambitious route back via Boxhill, Tattenham Corner and down Holly Lane to complete a return trip of a mere 40 miles.
Pete

Slingshotter Ride Report
Three of us presssed on from Polesden Lacey for a longer ride. Bracknell and a hundred miles was our target. Why Bracknell? – wait till later to find out.
We started in familiar territory going out via Ripley & Send but as we approached Woking Mr Google sent us onto the Basingstoke Canal. This was wonderful – deepest, delightful country, water and a superb tarmaced towpath. This was truly cycling heaven as you can see: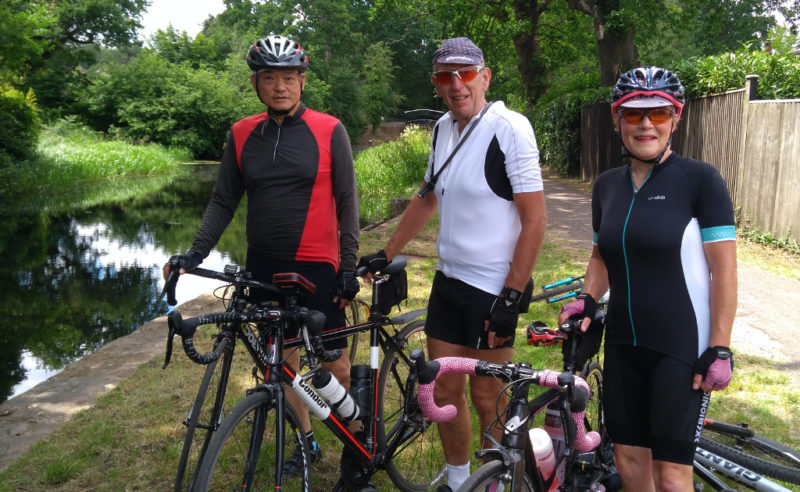 Miles and miles we went, lock after lock, switching from side to side. OK 12mph was about the limit but no roads to cross, no traffic to delay. What could possibly go wrong?
Berkshire – or thereabouts. The perfect path suddely became decidely untarmacced, dusty and hole ridden. We pushed on in vain hope. There would be a little more tarmac to entice up only for disappoinment a few hundred yards further.
Relief and a tyre inspection as we returned to the road: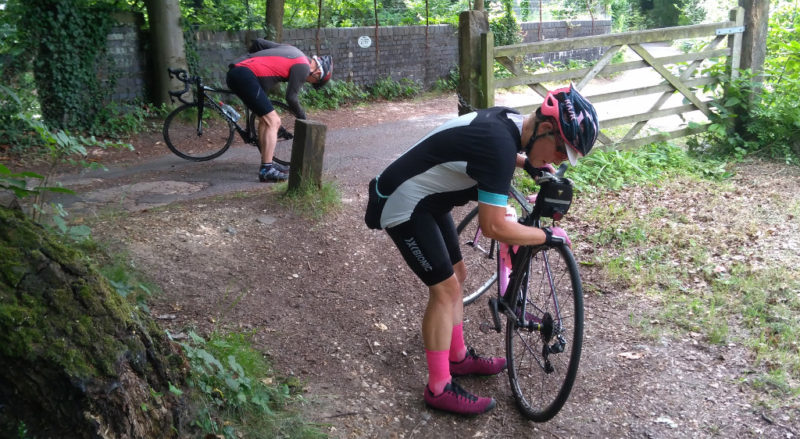 The nearer we got to Bracknel the busier and wider the roads got. We wound our way round spaghetti type junctions in a sub-Los Angeles wilderness. We tried paths but they were even worse. Heads down and eventually we hit our target – to find cycleways in spades – they had been built into the fabric of a new town of the 1960s – but now hardly used.
Perhaps a counter example to to the belief that if you build cycling infrastructure – they will come. Well, they haven't while we still build fast motorways and out of town facilities that makes car ownership essential around there.
We wound our way across Bracknell's cycle network – to this 1980s office block by a lake.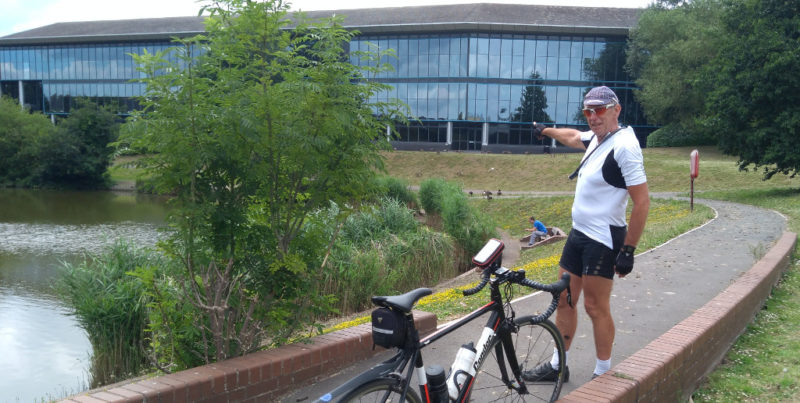 Paradoxically the office I'm pointing to was the reason I stopped cycling to work in 1988. Our HQ had been relocated from Euston which meant 100 mile round trips are a bit heavy if you have to do a day's work in the middle.
I did stick to two wheels – except there was a 500cc engine between them 😉
Thanks to Karen and Ricki for accompanying me on this pilgrimage. We also sampled my old local before hitting the road back to London. The path and the particulary slow rough section towards on our rote to Bracknell had put us well behind schedule.
So heads down we piled on the return as fast as we could manage. It wasn't helped when I took a wrong turn that must have cost us the best part of an hour. Ricki broke off to rest with a friend in Epsom, I took the train from Tattenham Corner as (with the ride to the start) I had 105 miles on the clock and Karen went on to do an estimated 115/120 miles as Queen of the Centurions!
Stuart