Saturday Ride: 2nd June 2018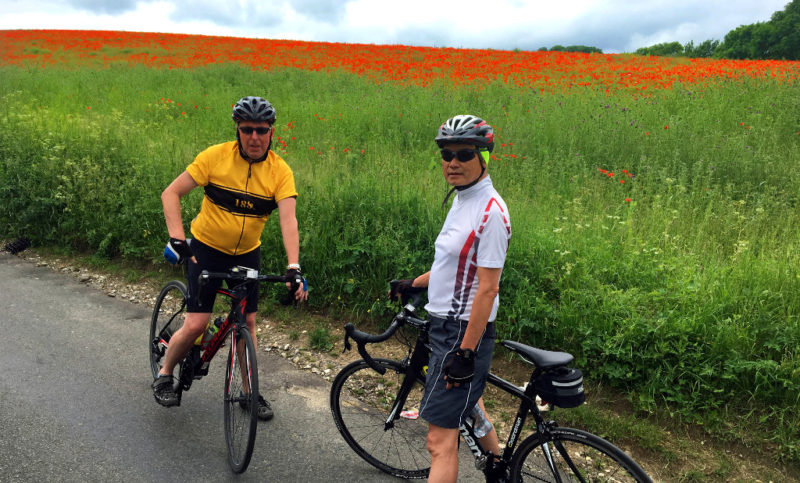 Punctures and poppy fields.
Even before the start Pete had the beading of his front tyre come off the rim and so while Roger and Ricky waited at the Shurguard he took a quick trip to Geoffrey Butler Cycles only 300 yards away. I must say they are very helpful there. They fixed the tyre straight away – no charge – and were keen to hear about the growing success of Anerley bicycle club. It's useful to remember they are so close to our meeting point, so anyone with need for spare innertubes or help with a mechanical they are on hand.
We set out after a short delay up Mitchley Hill and on towards Chiddingstone via Beddlestead lane when after just 5 miles Pete had a blow out on the front tyre. This was quickly fixed with a new inner tube and we carried further on towards Beddlestead when puncture number 2 happened again on the front. Closer inspection by Ricky suggested that the valve hole in the rim might be a little sharp so we improvised a file using the edge of the broken inner tube valve and replaced it with a third and carried cautiously on.
We decided that as too much time had been spent on the punctures we would shorten the route and head to Shoreham Air Museum, pausing briefly on the way to admire the fabulous show of poppies in a field by Beddlestead lane.
Return was via Knockholt, Marden Park and Welcomes Lane up to the Wattenden Arms
42 miles at a rather steady 11.9 mph
Pete