Saturday Ride: 29th June 2019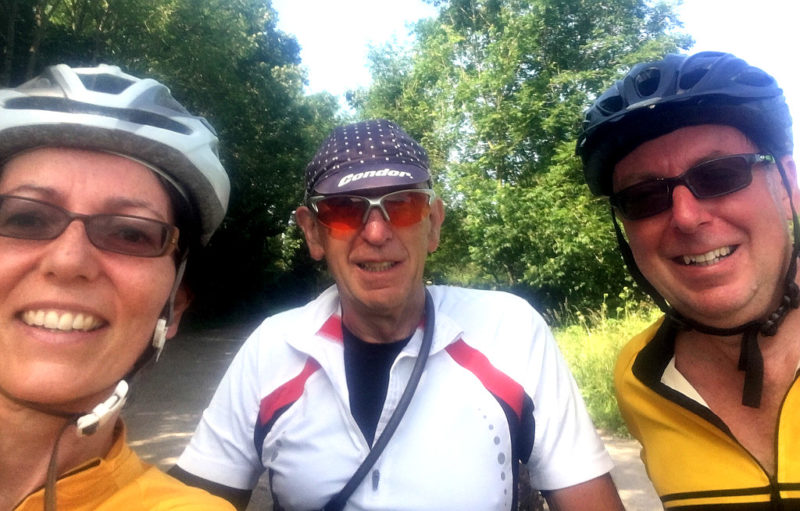 Following Thursday's expedition to Brighton and (nearly) back, and looking at the forecast high temperature, I wasn't sure whether I would be up for a ride on Saturday. However, Pete had a dog note and we had missed a couple of previous Saturday rides for various reasons so I agreed to step up and lead a shortish off-roader (in the shade). I was met at Shurgard by a rather nervous Fran (not having ventured off-road before), a perplexed Stuart (trying to adjust the saddle and fathom the gears on his daughter's bike), and a rather ill-prepared Bob who hadn't read the Bugle fully and was on his road bike.

A disappointed Bob was dispatched home to get the right kit and a mid-ride rendezvous agreed at Flower Farm tea stop. The three of us ventured off up Old Lodge Lane and the cut through to Caterham Drive. The track was quite overgrown and Fran soon experienced the delights of brambles and nettles and was truly 'blooded'. Undeterred we pressed on across Coulsdon Common, behind The Fox and off up to the North Downs Way via Roffes Lane. Turning left we proceeded along the ridge and enjoyed the beautiful views on both sides and the slightly more challenging wooded sections before arriving at South Lodge, Marden Park and a short hop to Flower Farm.

No sign of Bob so we ordered our tea and cakes and sat outside. Bob arrived shortly afterwards, somewhat disgruntled having been told that they weren't serving any food as they were too busy and he could expect a long wait for his cup of tea! He decided to head into Godstone for some refreshment at Forge Cafe and a second rendezvous was arranged. After finishing our refreshments we rode down to Godstone to find a rather forlorn Bob sitting on the green outside a closed cafe with a take-a-way coffee.

The return route took us past the Orpheus Centre in North Park Lane and then back up onto the North Downs Way via Cycle Route 21. Bob's woes were added to by a malignant twig breaking his rear mud-guard and further minor mechanicals on the way up but eventually we made it to the top and turned left back towards Chaldon. There were a few others out enjoying the fine weather and we passed several horse riders and dog walkers (including Pete, Annette and Ziggy and friends) before turning back to Farthing Down and home.

All-in-all (and notwithstanding Bob's bothers, cuts and bruises and atrocious service at the cafe) a very pleasant 25 miles in 2.5 hours cycling.
Roger F