After a few years absence, Ride London resumed but this time in Essex. This provided a flatter, rolling track instead of the ups and downs of the Surrey Hills. This year we had 9 riders in it.
Fastest gent was John Diamond with formidable 5 hours 8 minutes. Then Gavin and Jim.
Fastest ladies were Belinda, Vivienne and Angela under 7 hours. Then Moira, Denise and Jo who rode together.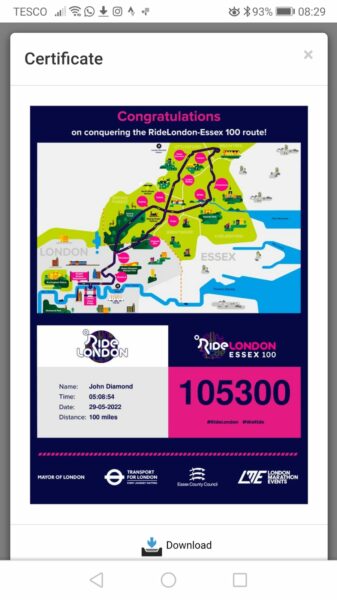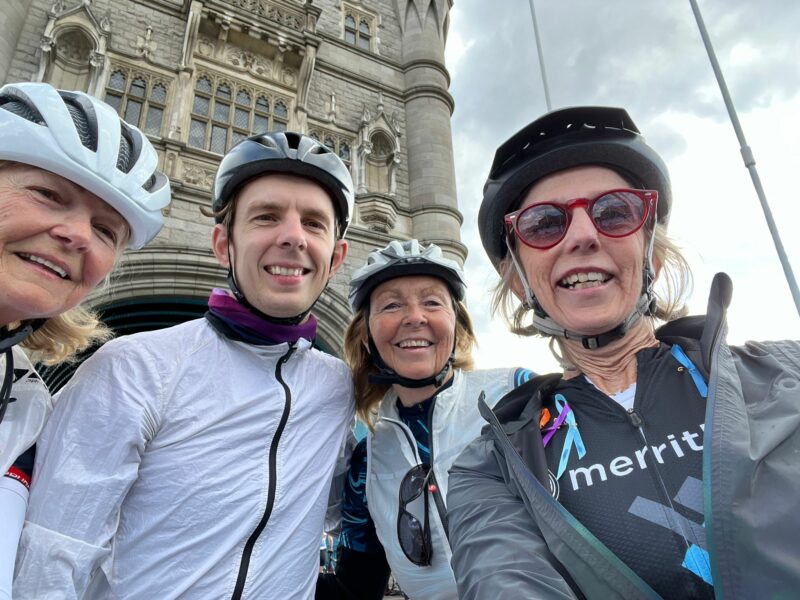 This report from John Diamond will give you a very good idea of what is required to train and take part.
I had entered the original Prudential based ride in Surrey after the London Olympics and hadn't been successful in the ballot my entry fee diverted to charity (it's a long story but this unsuccessful application is what led me to eventually join a cycling club – maybe I can bore you with it sometime if you haven't already heard it). Following this lack of success I had never entered the event again. Of course my wife, Sue, is an old hand at the Ride London when it was the Surrey version having done it three times via club based entries restricted to woman entrants.
So when the Ride Essex was announced and there was originally no ballot, just a guaranteed entry, I was straight in with my application. The attraction is doing a closed road sportive close to home. I had done one closed road sportive before (a hilly one in Wales), a triathlon with closed roads (but no drafting), and a couple of sportives with some closed road sections. Closed roads are so much easier as there is no slowing down/stopping for traffic lights etc. and the potential for drafting made a personal best time likely. I had heard of some fantastic times from Ride London in the past that I was hoping to emulate. I was also aware that getting an early start time is useful in making sure that if there are any problems on the route you are likely to have gone through that point before they occur. On the entry you are required to predict your finish time; I really can't remember what I said but it was certainly designed to get me in an early start wave.
Training – Ride London sends training plans but I figured that I didn't need to follow anything specific as I do enough riding anyway; you may remember I had done a longer distance, a 200km Audax, in April.
Preparation – I had been having a few issues with gears so my preparation for the event was to get my gears fully serviced by Ross at Ross Cycles in Caterham-on-the-Hill. New cassette and chain and cage derailleur, and a replacement front mech which I had managed to partially detach from the frame through rough use. I prepared the rest of the bike on Saturday – tools, spare tube and on bike nutrition, and some overnight oats prepared for breakfast, so that I was ready to get up and go early Sunday morning.
Getting to the start – Sue had offered to drive (repaying me for taking her in other years), but in the event I thought it would be just as easy to cycle. Victoria embankment, the start this year, is a lot closer than Stratford, the previous years start. In the event I was given wave D which indicated that I should arrive at the start funnel between 5.45 and 6.00 with a view to starting the ride between 6.20 and 6.40. I set my alarm for 4.00 with a view to leaving at 4.30 thinking I could have a leisurely ride up on my old commuting route with a slight detour at the end to hit the Embankment rather than the city. In the event I really didn't sleep at all well and I think this is a common occurrence when you know you have to get up early.
My main problem was deciding what to wear. Previous days had been quite warm but it was forecast to be considerably colder on the day of the event. I put out a couple of options with a view to deciding on the day whether to wear the extra layer.
In the end I wore a helmet; prescription light reactive cycle glasses, a craft vest (recommended – I wear this as a base layer on practically all my rides – I do have 4 different ones to keep them fresh); a short sleeve cycle top; warm arm warmers (over the years I have picked up a few pairs of arm warmers of different weights); a gilet (keeps out the wind on the core); bib shorts (the ones with the most comfortable seat); two pairs of socks (double socked for warmth and comfort); cycle shoes; and cycle mitts. I wore all these throughout. On the way to the start in the early morning I also had on glove liners, a buff, and a skull cap.
From Old Coulsdon I developed a commuting route which largely avoided hills e.g. Streatham/Brixton hill and was confident I had left sufficient time for the 5.45 to 6.00 window but I was caught up at South Croydon by someone I knew – we will call him Peter B. – who was also in wave D. He hadn't got a planned route so agreed to follow mine. He was pushing the pace quite a bit faster than I would have done on my own. We also picked up another guy, who neither of us knew, at Thornton Heath Pond who asked whether he could tag along as he didn't really know how to get to the start. Once we had cut across to the A3 at Clapham North we encountered quite a few other riders heading to the start. We (Peter B. and myself) got to the start funnel at about 5.35. We thought that we would have to hang around until wave D was called, but there seemed to be no system here and we were able to just enter the start funnel. We were disappointed that there was no coffee on sale.
The ride:
We were in the start funnel when it started moving forward around 6.00. I assume this was when the first riders set off, and we worked our way forward until we too seemed to be at the timing line and starting our Garmins to record the ride. I started my watch at 6.07 so well before the wave D planned time of 6.20 to 6.40.
We got up to speed and I was surprised at how fast Peter B. was going for it along with a lot of other people around us and I was working hard to keep up with the pace. I think of Peter B. as a faster rider than me, but I think my forte is endurance. After some riding along the embankment and past the Tower of London we got onto some dual carriageway and tunnels (the Limehouse link). On the roads out of London I was pretty close to Peter B. but as it thinned out I realised I was at the back end of a peloton with no-one in sight behind – I had lost him. I decided to just keep on going and see what sort of distance I could do in the first hour. There was some gentle climbing which needed a bit of effort and some towns that we went through before getting into the countryside. The first hour I had done just over 32km and I was feeling OK so I just kept going.
Every few miles there were toilets if required (I didn't – no time for that!), and a couple of feed stations which although I would have loved a coffee and some decent food, but by the time I reached them I had really committed to trying to get a good time.
Unfortunately a few times I found that I could not keep up with the group I found myself with so I spent longer than ideal on my own – seemingly with the wind against, although I might have been imagining that. At various places there were mile markers and at 60 miles I was at 3 hours and 4 minutes. I had hoped for a time under 5 hours but I think that was probably always out of my reach without being in a really coordinated team. In my mind I thought that it might still be possible with a tail wind back, but that never seemed to materialise.
The people of Essex I saw were very encouraging; several out on the streets of the villages clapping the riders past. The marshalls were also in good spirits when I went past them.
There were several chain gangs going past at very high speed; there were also other groups some of which I managed to stay with for a while. I recognized a couple from my triathlon club go past at around mile 75 but I didn't have the energy to stay with them (but I did see them to speak to after the finish).
One route mishap occurred very near the end where the off slip road on a dual carriageway had not been coned off and we found ourselves on the roundabout underneath the flyover we should have been on and had to navigate round some cars to regain the route.
Back through the Limehouse link tunnel and the and a couple of miles and onto Tower Bridge and the finish.
At the end I stopped my watch at 5 hours 13 minutes and 49 seconds, so satisfied myself with being under five and a quarter hours. I later looked at the results and see that the official time was 5 hours 8 minutes and 54 seconds as apparently some of the route was "neutralised"; maybe to bring it to exactly 100 miles rather than the 102 miles we did.
I considered socialising with the Tri Club but really just wanted to get home. I decided to get the train home and I was back well before 1pm.
Nutrition on the ride – I had a banana in the starting funnel, two full 750ml water bottles with tabs in them, one tube of Tropical Punch with Caffeine Clif Bloks energy chews, OTE flapjacks, 2 gels, and some salt tablets that I started eating at halfway to deter cramp. Lying on the sofa in the evening I still got a bit of cramp in my leg!
In summary – well organised and enjoyable and satisfied with my time, but if I am to do it again I would want to do it with friends and probably not be so time focused.
by John Diamond