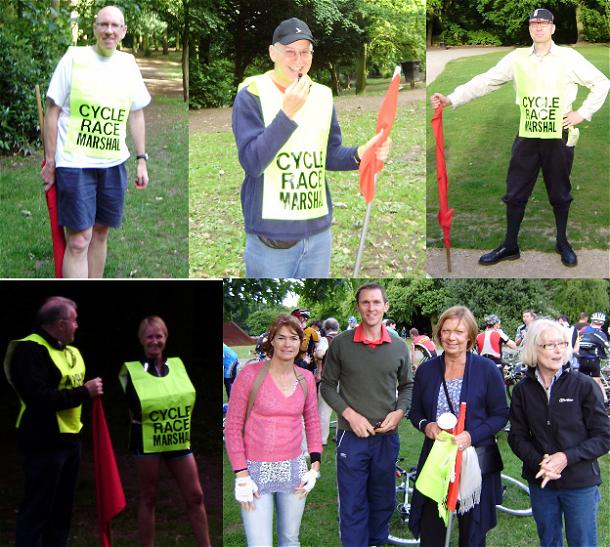 'Volunteers are always vital for racing'
BRYN'S RACING ROUND–UP
My résumé of this year's Time Trialling will not take long and it resembles more closely a Medical Report rather than a record of peerless performances on the tarmac strip.
To begin with, I am the sole representative of the Club in the Time Trial discipline and so it was unfortunate that, at the end of September 2011, I was involved in an accident with a Chrysler people carrier. Basically, I was virtually stationary in the centre of the road waiting to turn right at a T-junction, when the car appeared from my left side, 'cutting' the corner, and drove straight through me and I finished up with a six inch gash on my shin.
In spite of the Doctor at Croydon University Hospital remarking that it was a superficial wound, it became infected with Cellulites and, as a consequence, I was still on antibiotics until after Christmas and, by the time the wound had healed, I had not turned a pedal in anger for five months.
As a result, and compounded by my advancing years, not to mention the Cycling Time Trials Council revising the Age Related Standards, which they considered were increasingly beneficial the older you were, you will see from the table below that my times are distinctly unimpressive.
Bryn Tully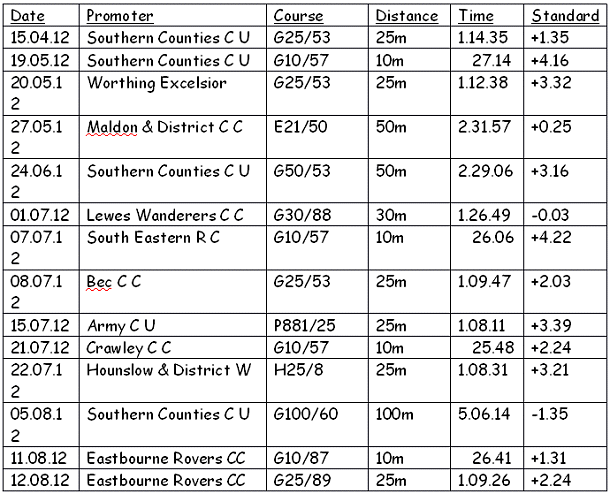 Finally, as my piece de resistance, one wet August lunchtime, when I was cycling around the roundabouts at the junction of St James' Road / Wellesley Road, a car failed to give way to me as it joined the roundabout. In my attempt to avoid a collision and adjust my course and speed my bike and I parted company and the offending car disappeared into the distance.
On this occasion my fall resulted in a broken hip which is hopefully been restored by the insertion of three screws (they look more like bolts to me) into the neck of my right femur and my hopping around on crutches until the bone reconstitutes itself, supposedly in twelve weeks time of no weight bearing on the damaged leg. Heh ho!
Usually, in this article at the end of the season, I tend to make some comment as to looking forward to the next year and achieving the targets missed this year. In my present state I am afraid that the best I can summon up is wait and see. Sorry for the lack of jokes.