Gina does the Fred Whitton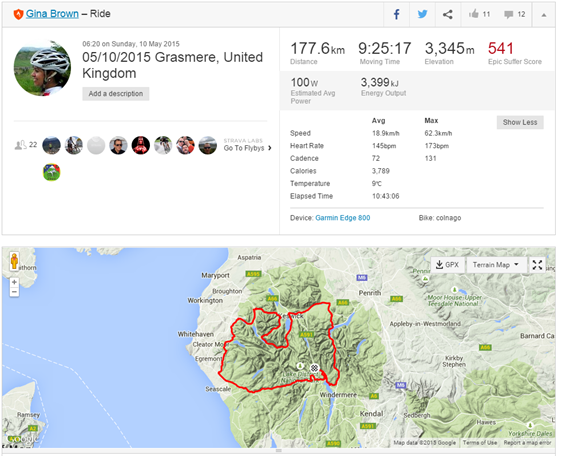 GB's Fred Whitton Report – don't do it!!!
Fred Whitton is now off the Bucket list! thank goodness – every bit as bad as I thought it would be
lots of weather, headwinds, coldness, nasty unrelenting climbs and approx 2000 riders in similar pain.
At the beginning – apart from the downpours it was looking good: Holbeck, Matterdale, Kirkstone – long but beautiful climbs, Then there was Honister – that's when the riders closely packed together up the hill – one by one started to walk- as you ride behind them I painfully learnt the tell-tale signs…pedal rate slows, then slows further to a strain, four-letter word, unclip and just suddenly they would stop in front of you. I dodged a few doing that until it was one too many and it was either crash or unclip… v stressful
By the time we got to the next pass – the cycle crowds had thinned out. Newlands was fine, Whinlatter long but fine – lots of cheering crowds with cow bells near the tops of climbs was very motivating….
the volunteer marshalls were amazing – they marked the junctions AND stopped traffic so it felt like a closed road event, they were wet and frozen too!
Cold Fell ( I hadn't even heard of it – is now indelible in my mind – a long and interminable exposed hilly climb – nasty! headwinds zap the last bits of strength that you have, so that by the time you reach Hardknott at 100miles – the visual wall of the steep winding road ahead becomes a laugh out loud moment.
Looking into the distance you could see the very long line of riders walking their bikes up the climb (it looked like a strange garland of cycles draped along the side of the mountain) and I realised that staying on after 100 miles of riding was foolish. It was quite sociable not riding and chatting to the long line of fellow Whitton "walkers" and cheering on the two or three brave souls grimacing their way up.
I managed to stay on for the whole of Wrynose as the road was only 25% gradients – yay! and sprinted the last 12 miles back with relief that the 14 big climbs were behind me….got the t shirt – but never again!
The Lake District is beautiful…. for walkers!
Gina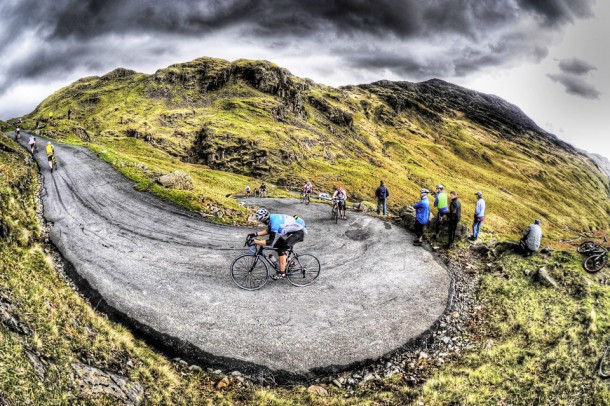 Taken from the Fred Whitton website here: http://www.fredwhittonchallenge.co.uk/