The first Tuesday in January was a washout.  High winds and heavy rain meant a day at home in the warm and dry.  It did however give me a chance to catch up with some missing weeks, now that my brain is beginning to clear from the haze of too much festive indulgence!
So back to Tuesday 13th December.  How could I forget that day when we had the pleasure of some female company?
 Sharon joined me, Tom Vaz and John Dadson on a short ride to the tearoom at Tadworth.  The ride had an additional purpose as we wanted to recce the venue for the Tuesday Riders Christmas lunch at Banstead, and our first photo opportunity.  Unfortunately my camera then decided it wanted to start the Christmas break early, so Tom rescued the situation with his mobile, which incidentally takes better pics than my camera.  Or is it the perhaps the camera man?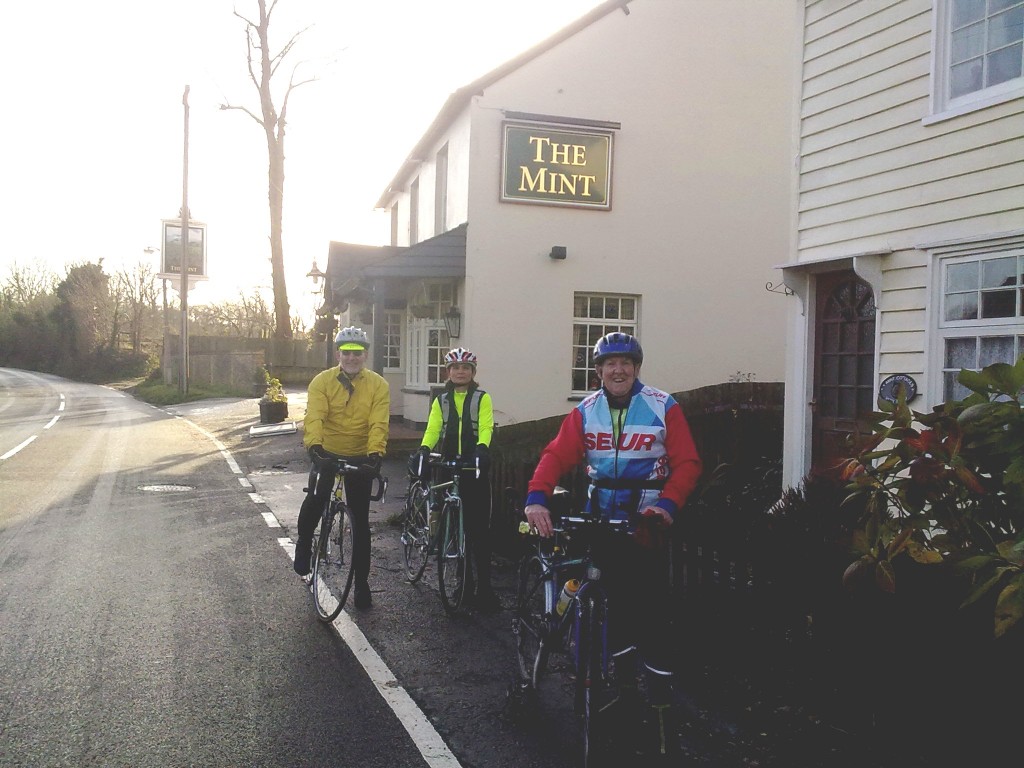 No guessing where we were to go for our Christmas lunch!
Next I took them for a tour of Epsom Downs and it was all that I could do to stop Tom having a canter over 8 furlongs!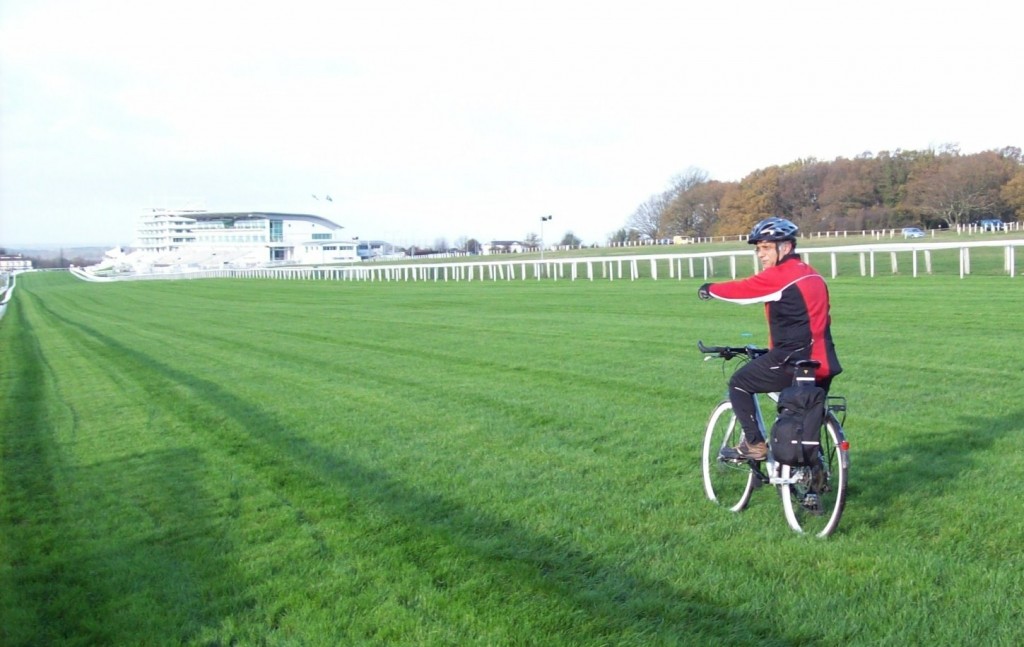 Sharon had not been to Epsom before, and obviously not being a follower of the sport of Kings and Queens, had not heard of the world famous (except obviously in Malaysia) Epsom Derby.  So to complete her education I took her to the (almost) famous Tattenham Corner, where again the posers posed for camera man Tom.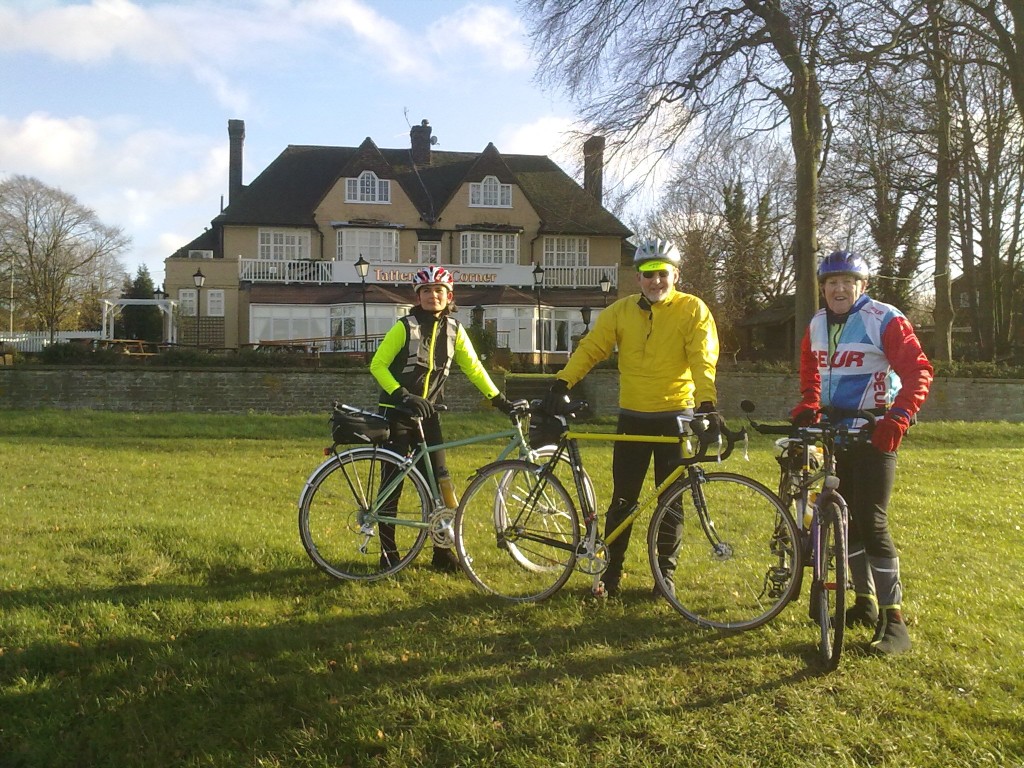 And now onto the next missing week.  Tuesday 20th December, it being our Christmas lunch, arranged by our new club Mistress of Ceremonies, Sandra.  And a good job she made of her maiden event.  We had what was probably the best sited table in the house, in a secluded alcove by a real log fire.
Unfortunately the guest list was a bit depleted.  Most sorely missed were John and Meike.  A few days previously John had succumbed to an infection and although he was much better it was decided it would be best for them to stay at home.  The New Year good news is that he is now back to his normal chirpy self!
The next missing guest was Sandra's husband Harvey who that very morning had to rush north east to attend a sick relative.  And the last missing person was Tom Barnes, as always a slave to his work! 
So this just left a half dozen to enjoy the Christmas fare, and very tasty it was too.  A big thank you to Sandra from us all.
All?  Yes I forgot, and ladies first:  Sandra, Julia, and a new face to most of us, John Dadson's lady, Pat.  (I hope we all made a good impression).  Me, John, and Tom made up the group.
And now for the clever bit.  Julia took a photo, so was obviously not in the picture, and then Tom took another photo in which he was also missing.  But look at what clever Tom did with a bit of computer wizardry.  Then there were six!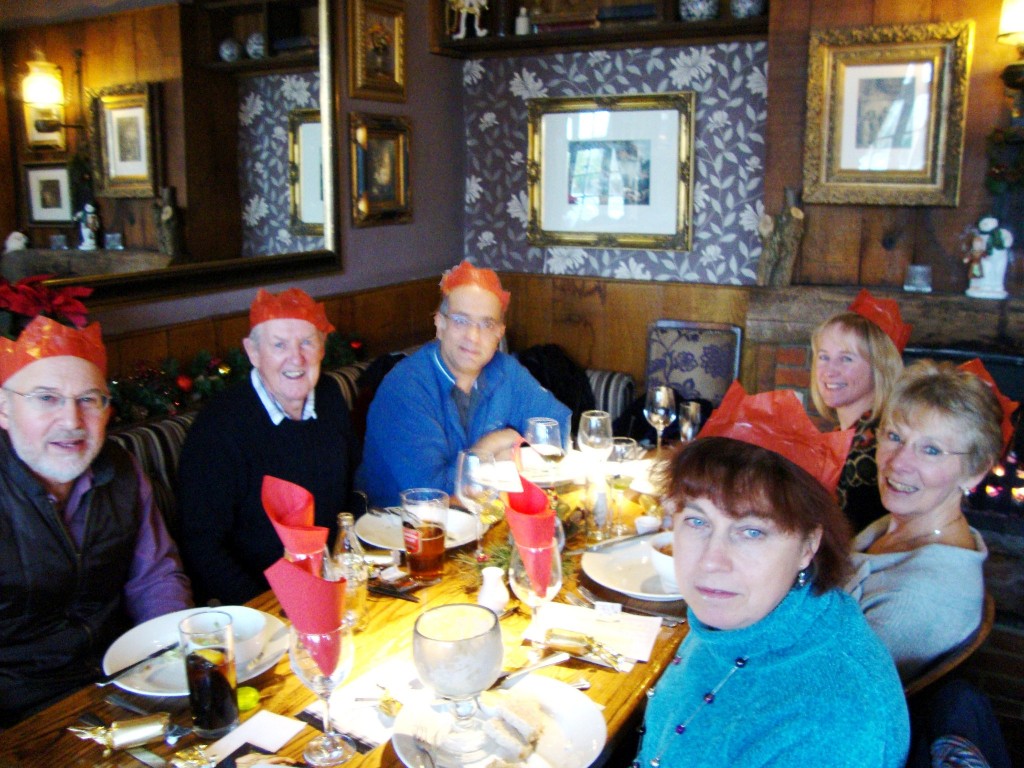 And I hope you all like the new Anerley B.C. hats!