Day 3, Dover's Countryside
Following on from our exploration of the famous White Cliffs of Dover and eastwards to Sandwich Bay, https://anerleybc.org/a-white-cliffs-bike-ride/ on day 3 we again we awoke to blue sky and another hot, sunny day beckoned. It was our final ride before heading back to Purley, so we started the day by loading our luggage and bikes into our two cars before booking out from the Premier Inn. Next we went in search of breakfast, half a mile up the road, at a drive-in McDonalds.
It is just under 80 miles to Purley, less than 90 minutes by car, all on M ways or fast dual carriage ways to the M25 turn off onto the Caterham bypass. So we had plenty of time for another day's cycling before heading home in late afternoon. My plan was to do the route below, exploring some of the country lanes, inland between Dover and Folkestone.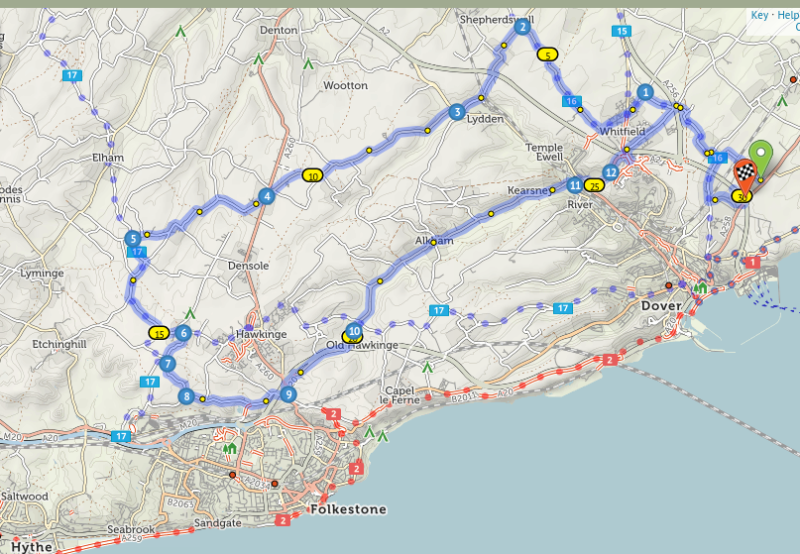 The map shows one reason why this area around Dover is so good for cycling. The red dots along the coast show the NCR bike routes 1 heading east and north, 1,264 miles to the Highlands/Islands of Scotland. And heading west, NCR 2 is the coastal route, 378 miles to St Austall in Cornwall.
The blue dots show sections of local country bike routes 15,16 and 17, of which, bits were included in my own route for the day.
However we made a slight change of plan from the above route. To avoid a steep climb at the end of our day's ride we started by driving cars with bikes down the steep hill into the main valley of the River Dour. This was to a place named Temple Ewell on the old main road (A20) into Dover, and we started our ride from there.
These areas abound with history. Temple Ewell is so named because " ewell" derives from an Old Saxon word for a spring This one being a primary source of the River Dour, or as the Romans spelt it River Dovr. The Temple bit was added later in Norman times, when in 1163 the king gave the Manor of Ewell to the Knights Templar for their important role during the Crusades.
It had been my intention for us to breakfast at a more salubrious place than McDonalds. At Temple Ewell there is a nice tearoom in the grounds of Kearsney Abbey. We visited here first, to check the tearoom out as it would be a good place for tea and a snack before our journey home.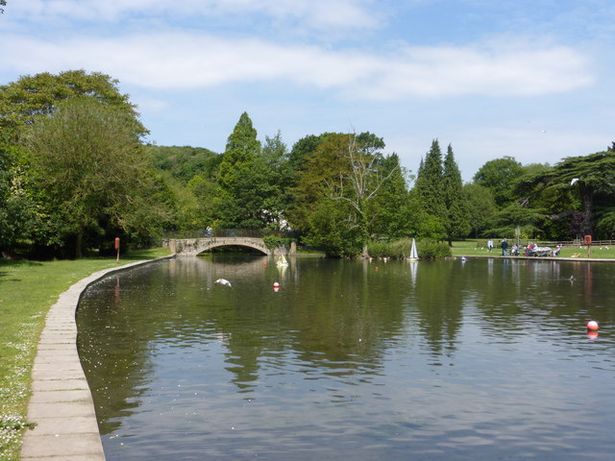 The Abbey grounds are now a public park. Originally it was an extensive estate and the owner, a local banker and M.P, built a large mansion house with landscaped gardens on the River Dour. This local bank made a lot of money due to the importance of the Port of Dover, especially during the Napoleonic wars. So important and profitable was this bank that it became an early member of the banking group, recently renamed as the National Westminster Bank. The profits from the Dover bank paid for this grand mansion which was named "Kearsney Abbey", even though no abbey ever existed here.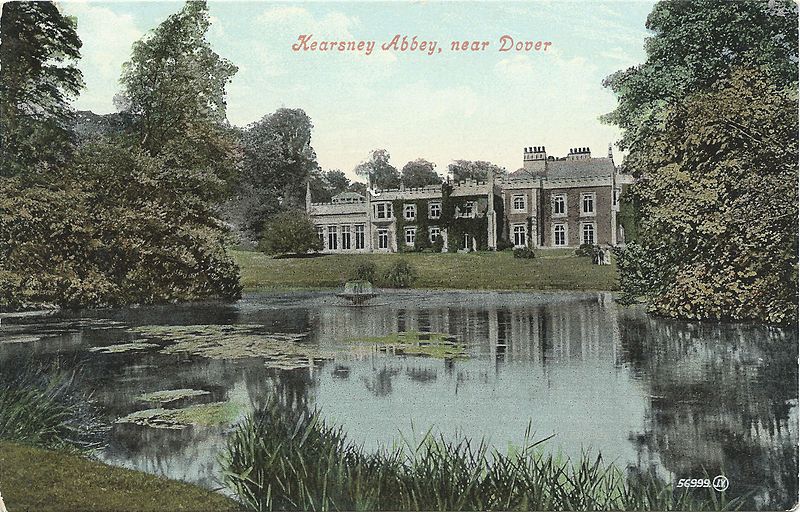 Unfortunately, after some 150 years, the grand old house suffered severely from dry rot and was demolished in 1959. All that remains is the light coloured block on the far left end. This billiards and games room of the mansion house is now the tearoom, but was unfortunately closed whilst extensive work was being done in the park.
So after a tour of the park we set off for the first hill of the day, Lydden Hill on the old Dover Road. Now, this old Roman road has little traffic as the artic lorries, etc, thunder their way along the two new dual carriage ways to and from Dover's docks.
From Lydden Hill we turned off into the network of country lanes which abound in and around this part of Kent. Perhaps I should add – hilly part of Kent!
Our first objective was to find a tearoom in this wooded backwater of rural Kent. A google search showed a promising venue in the little village of Elham, which was very conveniently on cycle route 17 which would then lead us towards Folkestone, And this was it!
After some 10 miles of ups and downs, and with some help from Tom Vaz and his Garmin, I managed to navigate as far as Acrise Place, a 16th century manor house nestling in the Elham valley.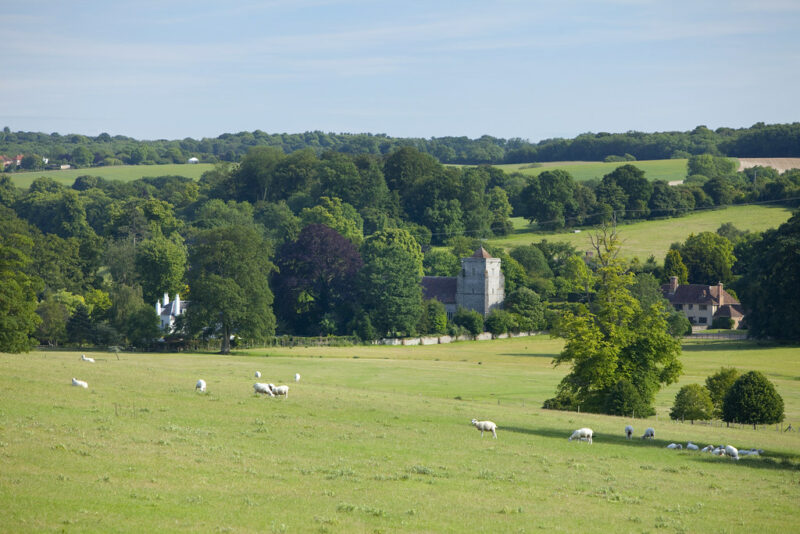 From here we climbed a steep, wooded hillside and at last saw the first indication that we were on the right track – a finger post, pointing to the right, with the one word "Elham". From there I knew that it was only about 1 mile to the tearoom – or should have been!
After a lot more than the promised 1 mile, along narrow lanes, up and down dales, without a farm, a house, signpost or other sign of civilisation, we still had not come to an expected sign like this: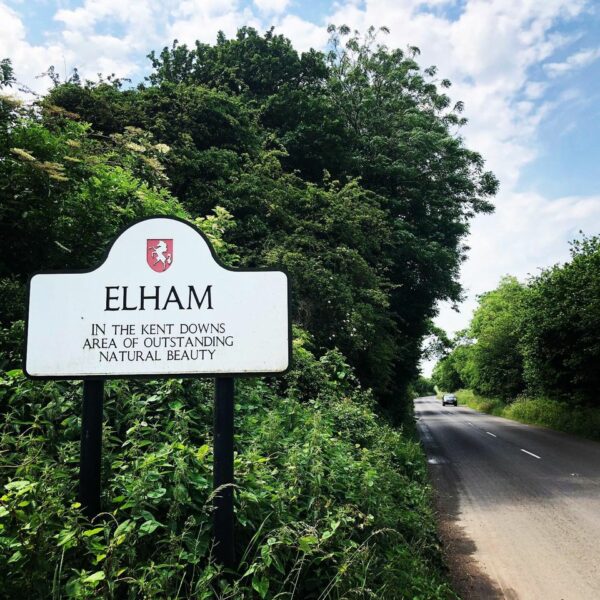 Others had been more successful. After the last ice age, some 10,000 years earlier, wanderers had settled here as evidenced by numerous finds of neolithic hand axes, scrapers and other flint tools. Later migrations from Europe included the Angles and Saxons who provided the name of what we now spell as Elham. In modern English we still use the word "hamlet" to describe a small settlement. The "El" bit is thought to relate to a local food source – eels in the Nailbourne Brook which arises in the Elham Valley and flows into the River Stour. But these were no substitute for Elham's Cosy Tea Rooms, so we just had to continue our wanderings!
We did however soon find some little blue signs, showing us that we had at last found the elusive Cycle Route 17 – and another hill or two! But then we came to a break in the hedgerows lining our narrow lane, and like Julius Caesar before us, were able to say " We came and we saw." However we had not yet conquered!
But looking across fields and into the distance, we could see the blue waters of the English Channel and the coastline sweeping out to a headland, with upon it's point, a huge complex of buildings. This could only be Dungeness Nuclear Power Station.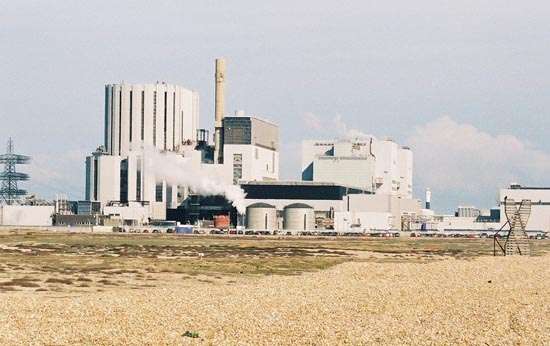 We stopped for a drink from our bottles and to enjoy the views, when unexpectedly we had an an impromptu aeronautical display. First a hang glider sailed silently past, and soon after in the distance, a small aeroplane came from the direction of France. As it flew over the coast it banked so that we could see from it's silhouette, that it was unmistakably a W.W II Spitfire fighter.
Had we passed through a time warp, back to the 1940s when Dover and the surrounding area were known as Hell Fire Corner? We were after all, only a mile or two from R.A.F Hawkinge, where hell's fire did rage above during the Battle of Britain. And I had pencilled this in as a potential tea stop – if only I could find it!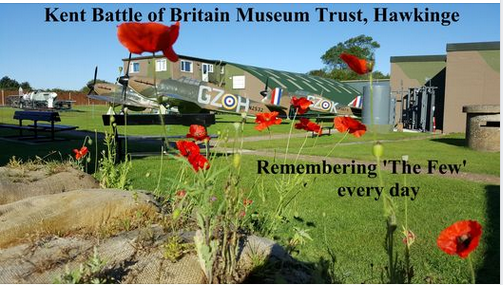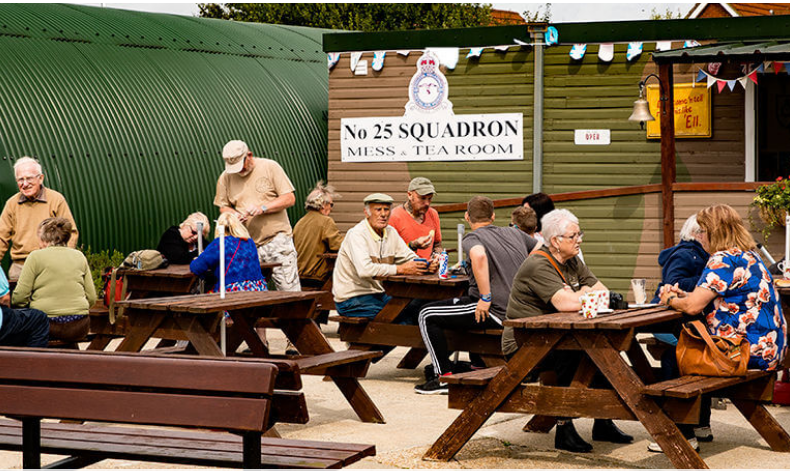 But then we saw that it was not a time warp, but very much the present. However this mobile phone shot does not do it justice.

To the naked eye these three specks in the sky, with Dungeness as a back drop, were monster Chinook helicopters.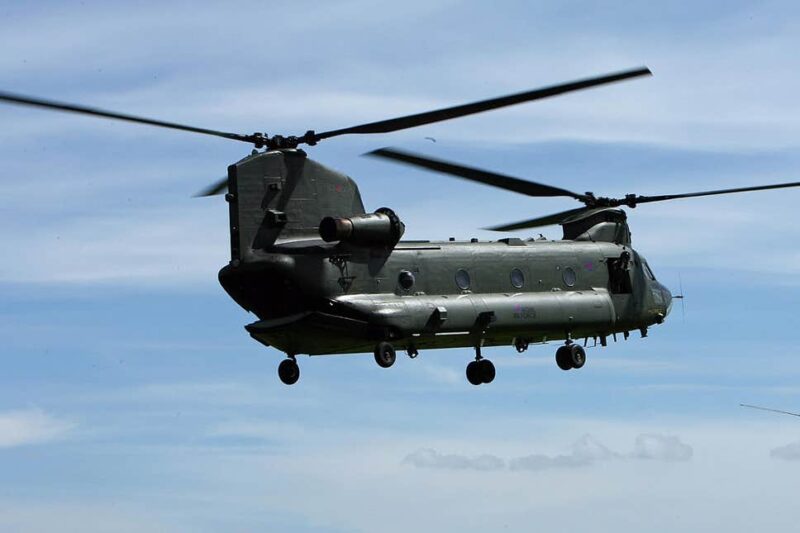 Having seen the sea I at last knew where we were. And this was soon confirmed at the next fork, signposted to the right, towards the White Horse viewpoint.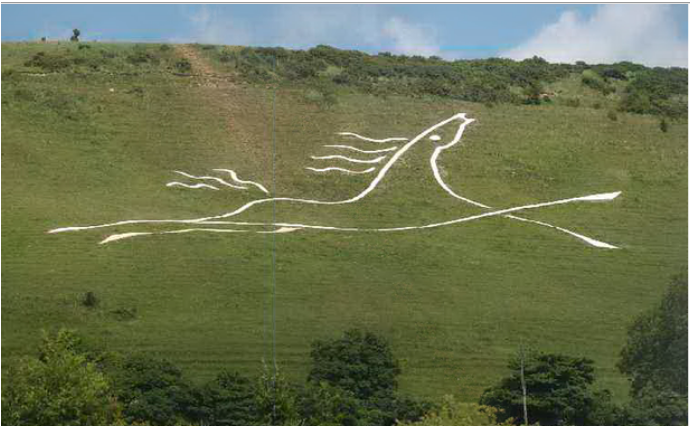 And from the hill top viewpoint, above the White Horse, is a vista over Folkestone's rail terminal to the Channel Tunnel. Of which below, is only the centre of a vast complex of roadways and rail tracks which stretches out past each side of the photo.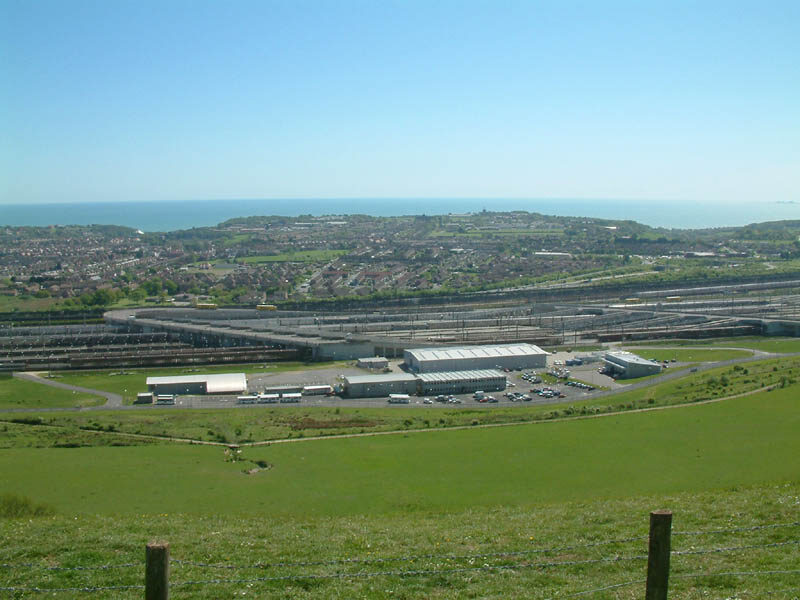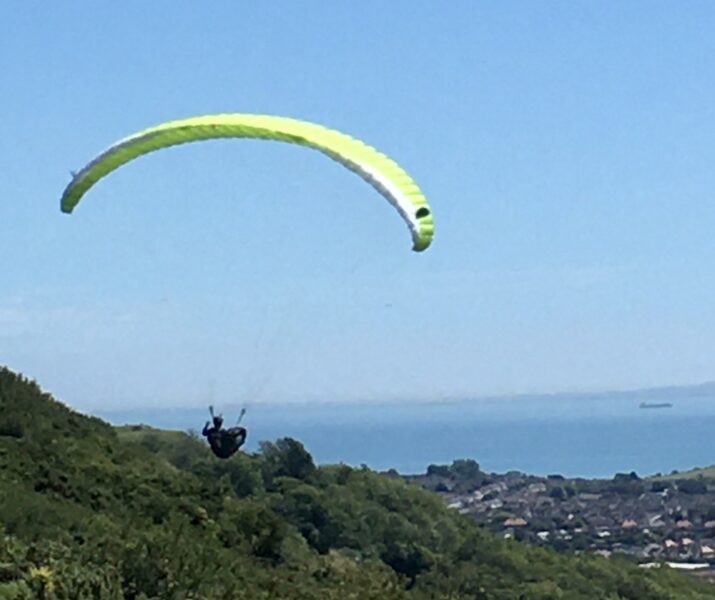 It was fascinating watching the hang glider's flight and the non-stop flow of artic lorries at the terminal below. But we still had to find a place to eat!
So we followed the ridge top road, heading east back towards Dover via the Alkham valley. Here, at long last, we found a nursery with it's old thatched barn converted into a very welcoming tearoom.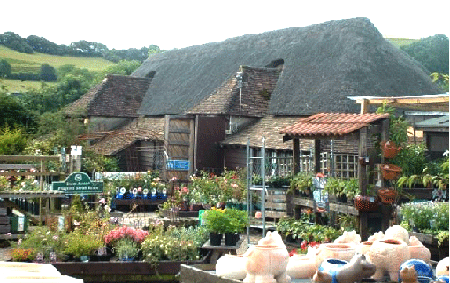 Like the Elham valley, the Alkham valley has a long history. It's name, of Anglo Saxon origin, means a settlement beside a heathen temple. And there is some truth in that. Back in 2007, an archaeological dig of 2 small mounds on the ridge top of one of the valley's sides found them to be Bronze Age burial mounds.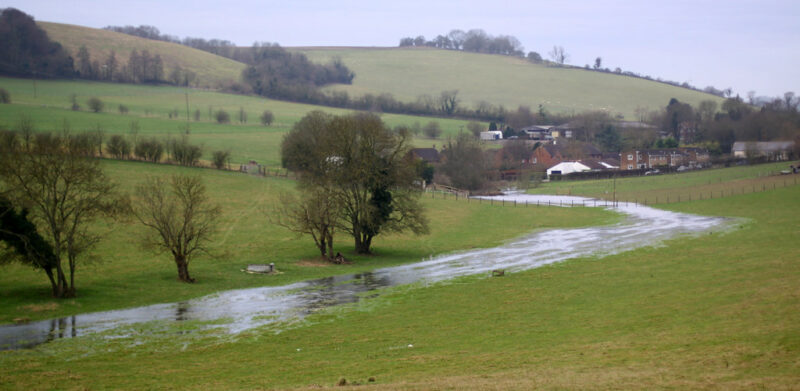 The Alkham valley is a very scenic 5 mile ride which took us back to Kearsney Abbey. However with it's tearoom closed, we were instead all treated by Jo to a choc ice from the little Post Office/general store in Temple Ewell, before setting off on our car rides home.
We all agreed that it had been a most enjoyable 3 days, and being so accessible from Purley, and with so much more to be discovered it was definitely worth a return visit in the not too distant future!
Des.
For those who missed out on some or all of these three days exploring the Kent coast and countryside, or would like to do their own exploring, see the following links to the first two day's rides and route maps which can be downloaded as GPX files on mobile phones/ Garmin, etc.
So for Day 1 see https://anerleybc.org/around-the-isle-of-thanet/ and the route map is at: https://cycle.travel/map/journey/151637
Day 2 see https://anerleybc.org/a-white-cliffs-bike-ride/ and route map at https://cycle.travel/map/journey/168460
For the route map for Day 3's ride which is detailed above, see https://cycle.travel/map/journey/168557