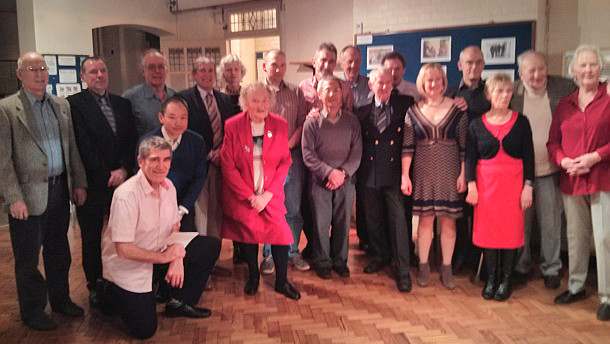 Purley United Reform Church Hall, Saturday 8th February 2014
Faces of the past, long past and the present were brought together on an evening when no one but Jacques Cousteau would want to cycle.
Des and Bryn had been diligently at work raking through Jack J's treasury trove of club history. Old photos, old Gazettes abounded. The programme featured the old boys run of '38 who were about 30 – around the same as at our dinner but a very different mix on age, gender and dress. Des gave the after dinner talk which, in part, sought to dispel the myth that ladies were only voted into the club in the 1960s but were full members of the club in the early years. They only lacked voting rights but then they couldn't vote for their country either.
Cross toasting became somewhat competitive as Sian and John T sought to share the most embarrassing anecdotes about each other. The food was fine, the company was even better and a big thank you to Sandra Hughes fresh from her Christmas lunch success for organising the whole event.
The prizes:
Ann Butler Cup for Most Meritorious Lady: Sandra Hughes
'A' Shield for Club Runs: John Dadson
'A' Shield for Map Reading: Tom Vaz
'A' Shield for The Downhill: Graham Dixon
President's Award of Merit: John Dadson (for leading the Tuesdays)