By the end of April our wooded Surrey Hills and the Weald of Kent, should be a panorama of massed bluebells. But the recent cold and dry spell had delayed this year's expected blooming. Rather than cancel the planned Bluebell Ride, we went ahead and re-named it the Bluebell Audax Ride. An Audax ride has to be challenging, and this 85 km ride included 4,388 feet of climbing, so it was a bit challenging!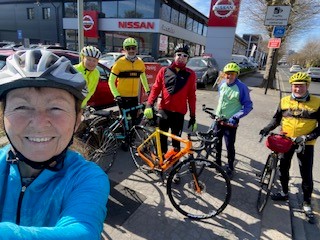 Six of us set off from our meeting point by Geoff Butler's bike shop – left to right – Denise, Ewa, Asif , Bob the Fireman (showing off his new Orbea!), me and Tom Tom. Our route was to include as many country lanes (and hills!) through wooded areas, that we could find in a 50+ mile loop. These started with the climb past Croham Hurst Wood, up to Selsdon, followed by the climbs up to Farleigh Common, past Selsdon Wood (a renowned bluebell wood), and a short off road section of Route 21 through a wood, to Chelsham.
Next came the climb up Beddlestead Lane, down to Westerham, and from there it was the long climb up and over Hosey Common and onwards to Four Elms for our first tea stop.
Distance so far – 35 km and hardly a bluebelll seen!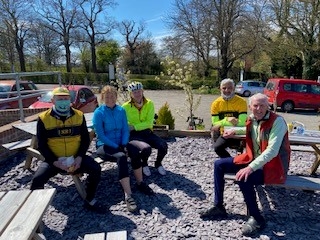 Refreshed, we set off for Hever Castle, via How Green Lane. This little back lane should be a mass of bluebells – but not on this day! The area is not only good for bluebells, but in May/June, it is also rhododendron territory from here on.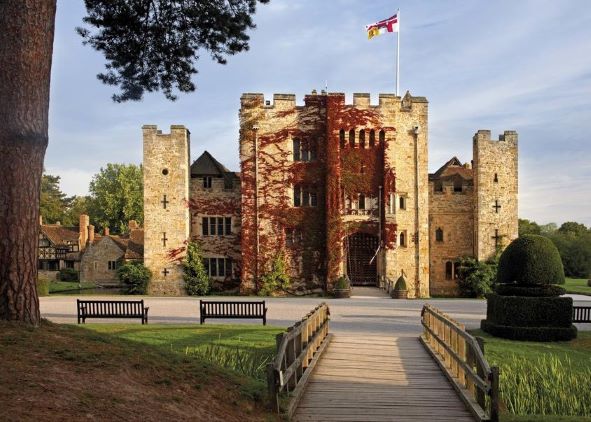 But passing by, to meet the main road from Edenbridge, do a left and left again into the wooded climb up Rectory Lane. Then a zig and a zag brings you out onto Hoath Rd, leading to Chiddingstone Hoath. Next month (May/June) this is a must for rhododendron lovers! The road has been cut through a massive lump of sandstone, upon which, a mass of rhodendroms have now grown.
Down the hill, and at the little grassy triangle, fork left and continue past more sandstone outcrops and hence, the aptly named The Rock pub. Passing through the hamlet of Wellers Town, you com to this fine example of an old Oast House, once used for drying hops for Kentish beer.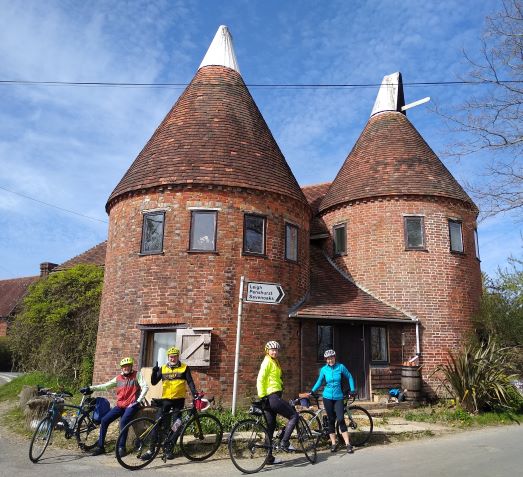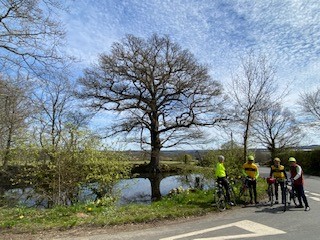 This is the start of Chiddingstone village, only 400 yds from the Tulip Tea Room. But we decided to keep going, by turning right at the oast house, the most interesting way by which to leave Chiddingstone. The road provides fantastic views over the Kent Wield, especially on this bright and sunny day!
A zig and a zag at the main B road as though going to Bough Beech reservoir, but instead of taking the next left (new sign board here for Bore Place) carry straight on passing Bore Place and eventually this little lane starts to go up – and up! Until you come to a T junction – sign posted to the right – Bailey's Hill. And this really is a hill – getting steeper and steeper the further you go!!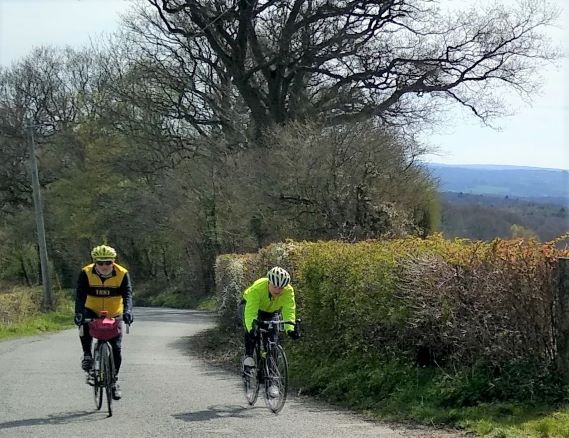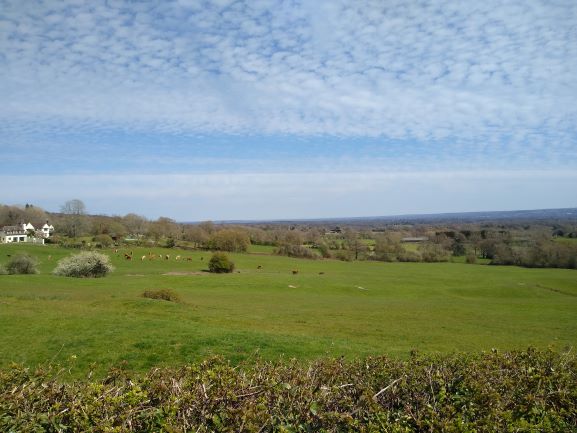 This climb took us up onto the ridgeway at Goathurst Common and onto our next tea stop, the village shop at Ide Hill. Unfortunately it was closed!
So we carried on to Westerham Green which was packed, with hikers, dog walkers, cyclists and much more. But we did manage to find a space to sit on the Green for a final latte of the day.
Denise provided the Strava data and route map for this challenging ride with 4,388 feet of climbing. Photos from Denise and Asif.
Download