Audax rides are a great way to get fit, whilst at the same time having an enjoyable ride. The fitness angle is catered for by the length of the ride, with some challenging terrain. The enjoyment being from routes along scenic country lanes. This ride is an intro to audaxing – not too long and not too challenging, taking you through country lanes which in May offer some spectacular displays of bluebells, and by June, rhododendrons.
Unfortunately, the recent cold and dry spell delayed this year's expected blooming, so when we did this ride in April the earliest bluebells had not yet started to flower. We had hoped for something like this, which appeared a fortnight later!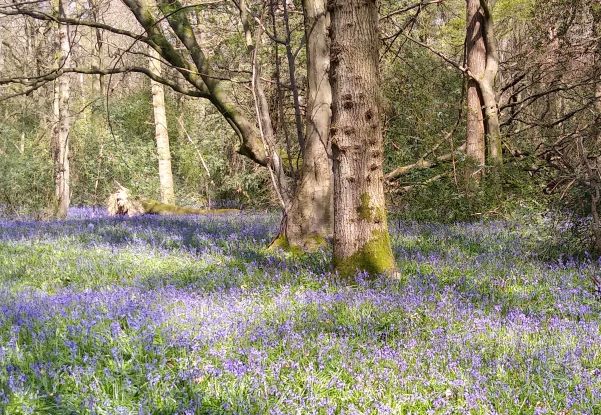 From our meeting point by Geoff Butler's bike shop – left to right – Denise, Ewa, Asif , Bob the Fireman (showing off his new Orbea E-bike!), me and Tom Tom.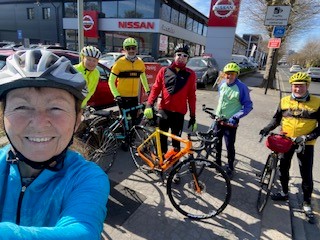 Our route, through wooded areas of the Surrey Hills, the Wealds of Kent and Sussex, started with the climb past Croham Hurst Wood, up to Selsdon, followed by the climbs up past Selsdon Wood (a renowned bluebell wood), and onto Farleigh Common.
A left fork here into a narrow lane, along which, a short diversion to took us past the village church of St Mary. A nice old church, of interest because in the summer they do Sunday afternoon teas. A perfect stop for walkers, hikers, cyclists and MTBers!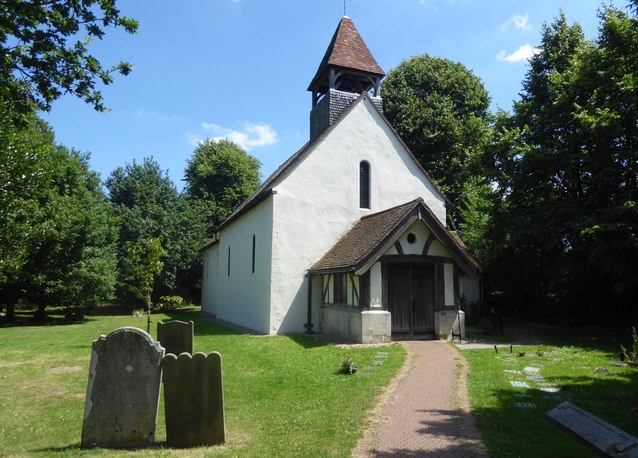 Back on the main route for about half a mile and sign post pointing to the right leads onto a short off road section of Route 21 through a wood, to Chelsham.
(However, note = In wet weather it can be muddy! – in which case stay on the road to the it's end. At the T junction go right and you will pass the other end of the Route 21 off road section)

To avoid boring you with all the route's twists and turns, Denise has provided the Strava data and a route map (which you can download!) at the end of this write up,
From Chelsham's Common we took back roads to the next climb – up Beddlestead Lane. Then the downhill to Westerham, followed by the long climb up and over wooded Hosey Common and onwards to Four Elms for our first tea stop. Distance so far – 35 km.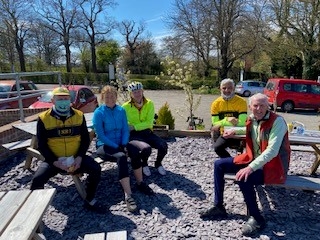 Refreshed, we set off for Hever Castle, via How Green Lane. This little back lane should be a mass of bluebells – but not on this day! The area is not only good for bluebells, but in May/June, it is also rhododendron territory from here on.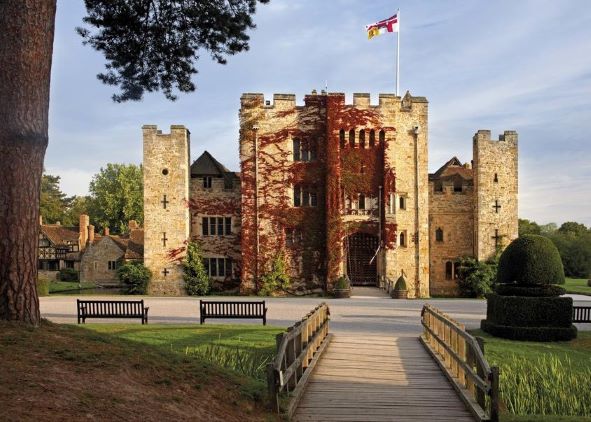 Passing by the castle to meet the main Edenbridge road, a left and left again is the next wooded climb up Rectory Lane. Then a zig and a zag brings you out onto Hoath Rd, leading to Chiddingstone Hoath. Along here, is a must for rhododendron lovers! The road has been cut through a huge outcrop of sandstone, upon which a mass of rhododendrons have now grown.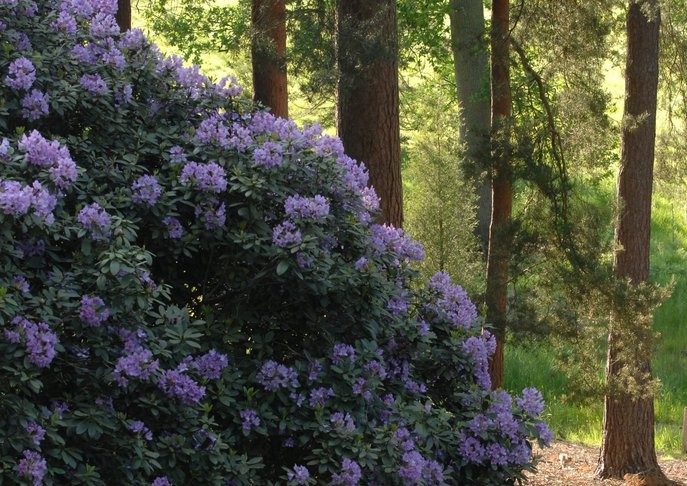 Down the hill, and at the little grassy triangle, fork left and continue past more sandstone outcrops and hence, the aptly named "The Rock" pub. Passing through the hamlet of Wellers Town, you come to this fine example of an old Oast House, once used for drying hops for Kentish beer.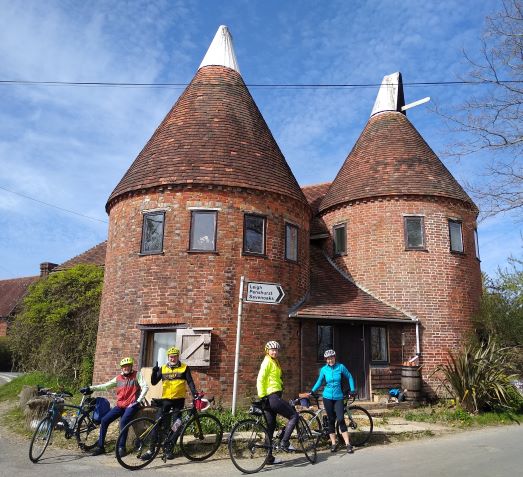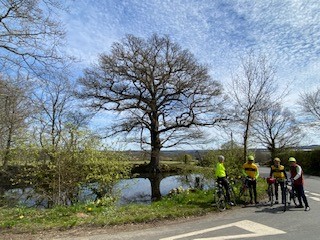 This is the start of Chiddingstone village, only 400 yds from the Tulip Tea Room and the Chidding Stone from which the village gets it's name.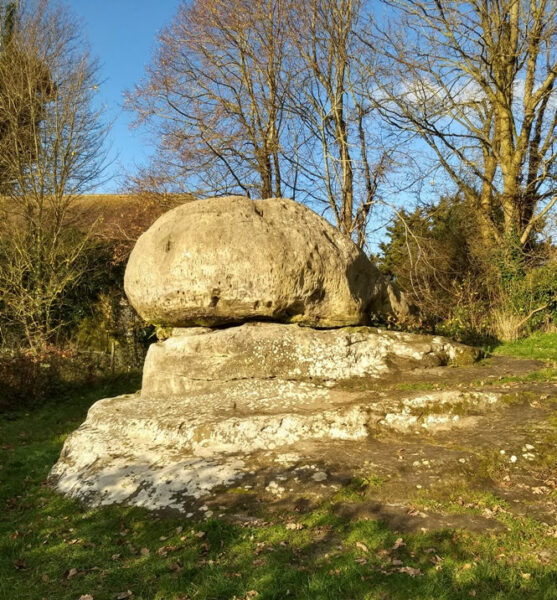 But we decided to keep going, by turning right at the oast house, the most interesting way by which to leave Chiddingstone. The road provides fantastic views over the Kent Wield, especially on this bright and sunny day!
A zig and a zag at the main B road as though going to Bough Beech reservoir, but instead of taking the next left (new sign board here for Bore Place) carry straight on passing Bore Place and eventually this little lane starts to go up – and up – and up! Until you come to a T junction – sign posted to the right – Bailey's Hill. And this really is a hill – getting steeper and steeper the further you go!!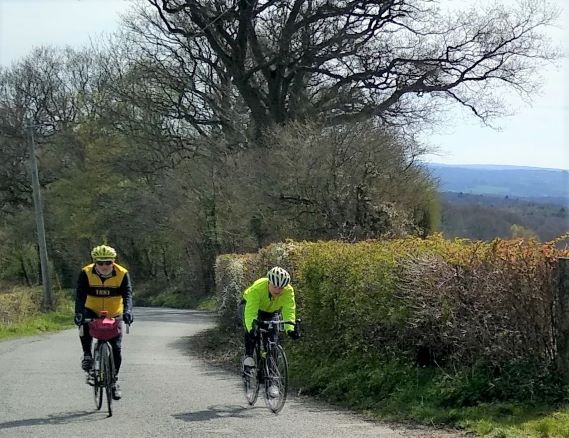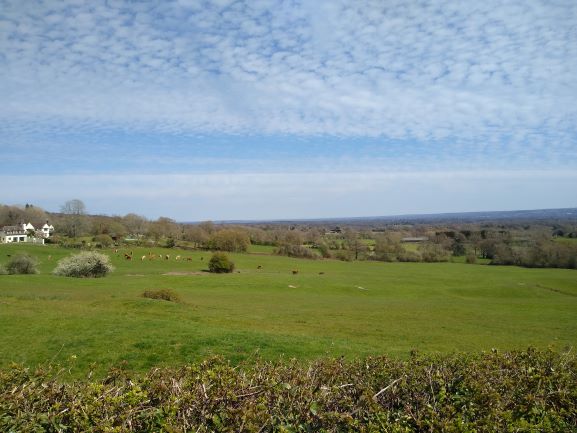 This climb took us up onto the ridgeway at Goathurst Common and onto our next tea stop, the village shop at Ide Hill. Unfortunately it was closed!
So we carried on to Westerham Green which was packed with hikers, dog walkers, cyclists and much more. But we did manage to find a space to sit on the Green for a final latte of the day.
Denise provided the Strava data and route map (which you can download!) for this challenging ride, 85 km (52 miles) with 4,388 feet of climbing. Photos from Denise and Asif.
Download