Argentina & Chile with Style: Part 4
Villa O'Higgins – Puerto Arenas and home. Total of 2094 miles and 69 days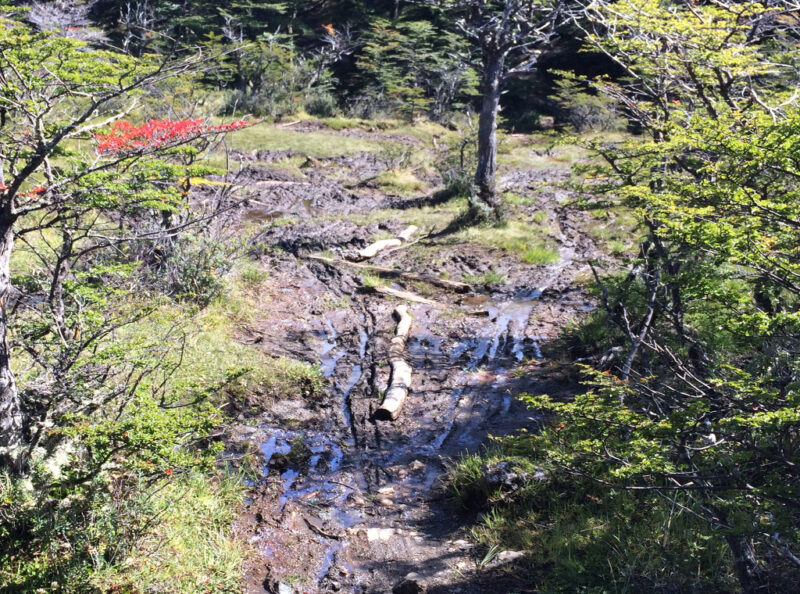 After retrieving our bikes from the small boat from Villa O'Higgins, we set off towards Argentina. To reach the border post we had to cycle through no man's land. This section included navigating a 5km footpath. Difficult is an understatement – it took well over two hours of pushing and pulling the bikes up and down steep slippery banks, climbing over fallen trees, wading through streams and getting bogged down in mud!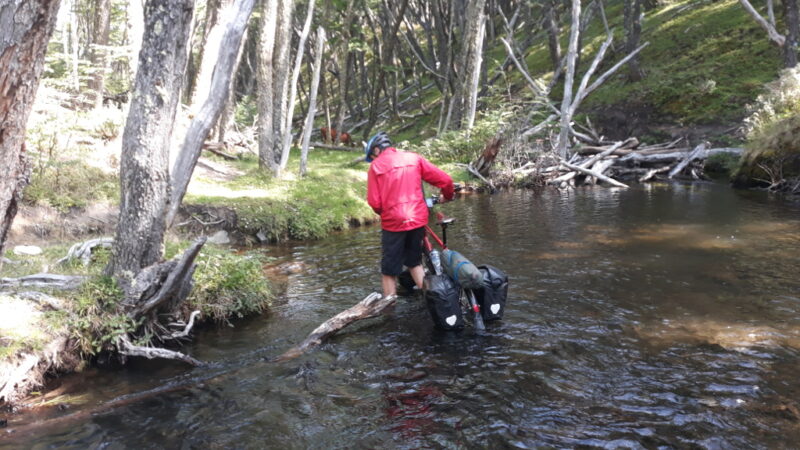 I was thoroughly exhausted by the time we reached the Argentinian border but after having our passports stamped, we saw the most beautiful grassy area overlooking a deep blue lake with the Fitz Roy Mountain in the distance.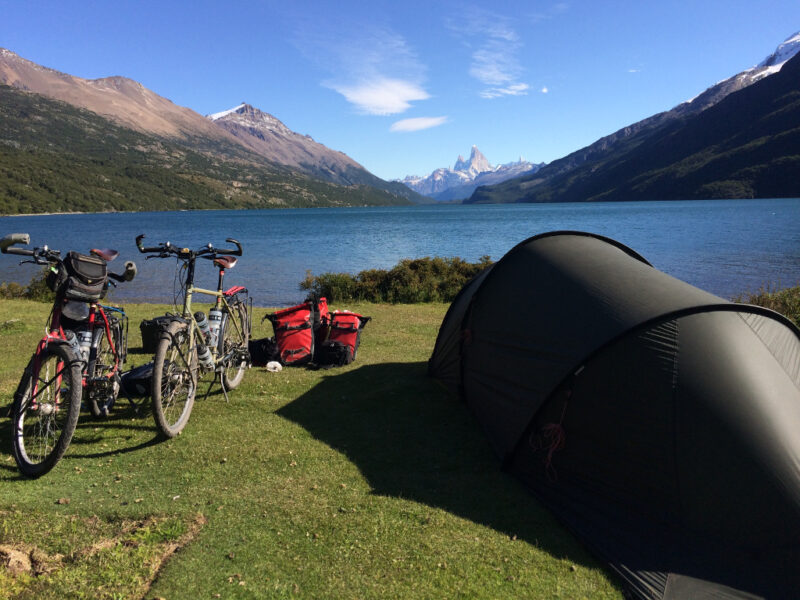 We wild camped right on the lake and spent the evening watching the mountain change colour as the sun set.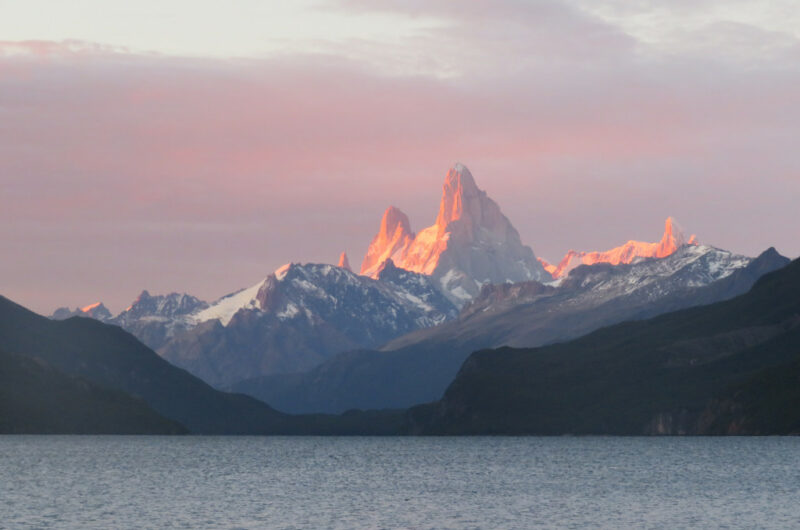 We caught another ferry the following morning to take us to the other end of the lake and then cycled on a dirt road to El Chalten. We were so remote now and I felt a feeling of absolute freedom as we meandered along this beautiful part of Patagonia. We were lucky enough to see a Condor flying right above us.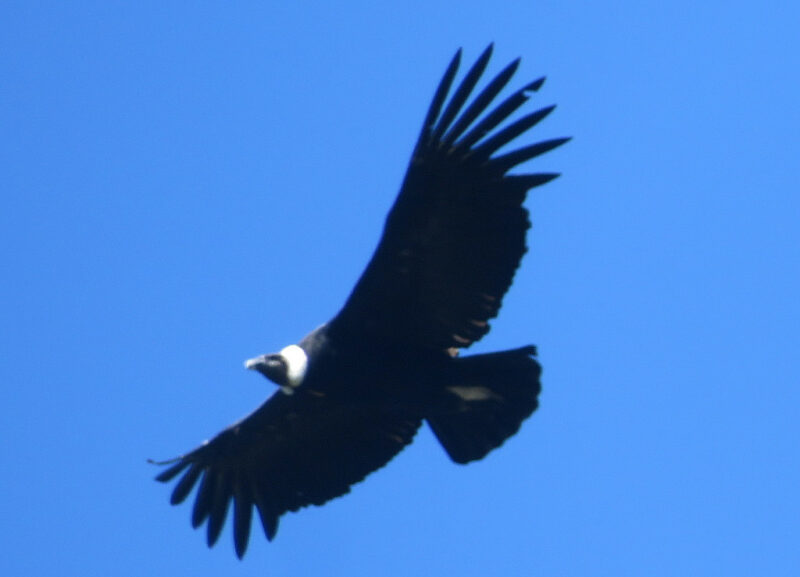 These huge birds have a massive wingspan of over 9 ft and they have the largest surface area of any living bird. Only the Albatross and largest pelican species can exceed the Condor's wingspan.
Eventually we reached El Chalten, a lovely town known for its hikes. We took a 16 mile hike to get closer to the Fitz Roy Mountains. It was a really stunning trek though forests which ended in a steep 1km climb to the lookout. Unfortunately I had forgotten to carry my migraine tablets and – sod's law – began to develop a migraine as we reached our destination. Tim continued down to the beautiful lake below and I waited trying to find shade and hide my painful eyes from the light.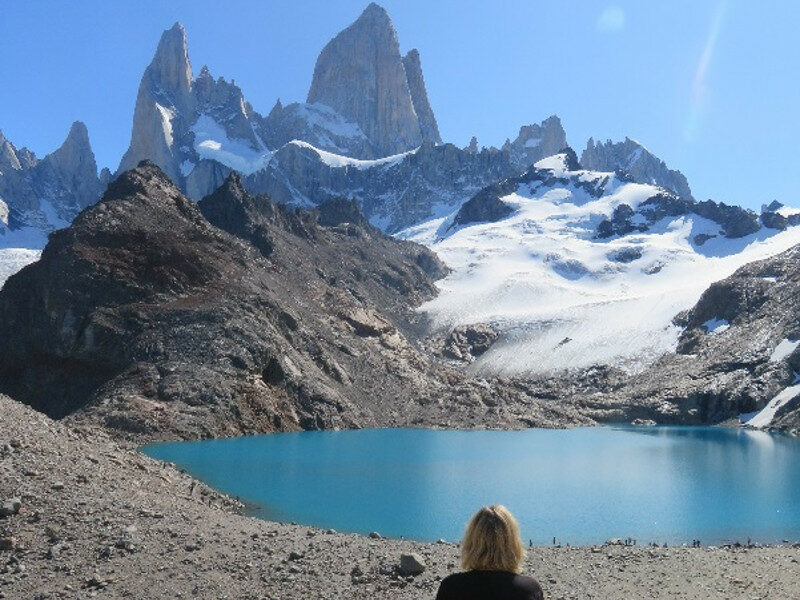 The walk back was difficult. Unfortunately I suffer from sickness with migraines and so it was slow going. We arrived back at the tent late evening and I was straight to bed with a tablet. The following day Tim did another hike but I still didn't feel well enough. This took him to a Glacier which he enjoyed immensely.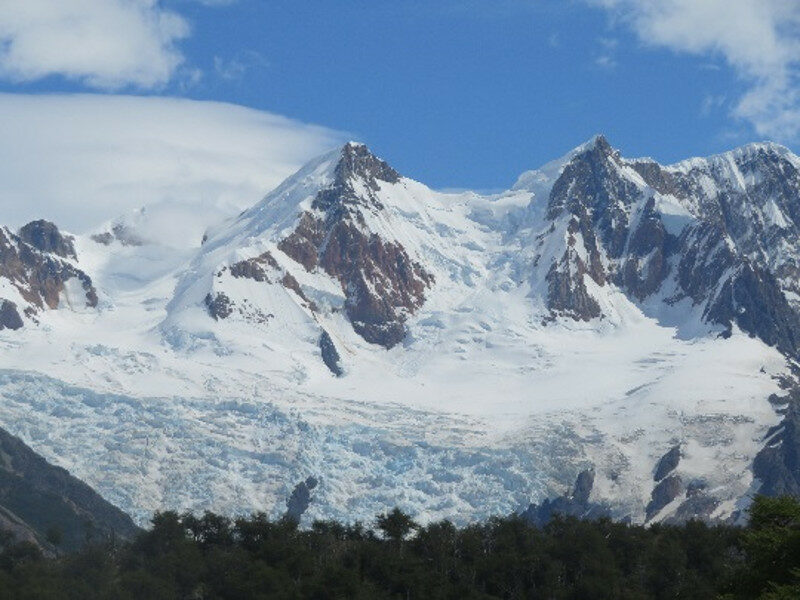 Leaving El Chalten we knew we were about to hit the infamous Patagonian winds again. Luckily the first 70 miles had the wind behind us and we shot along; our fastest day by far. This is an extremely remote and barren part of Patagonia with little or no wind protection.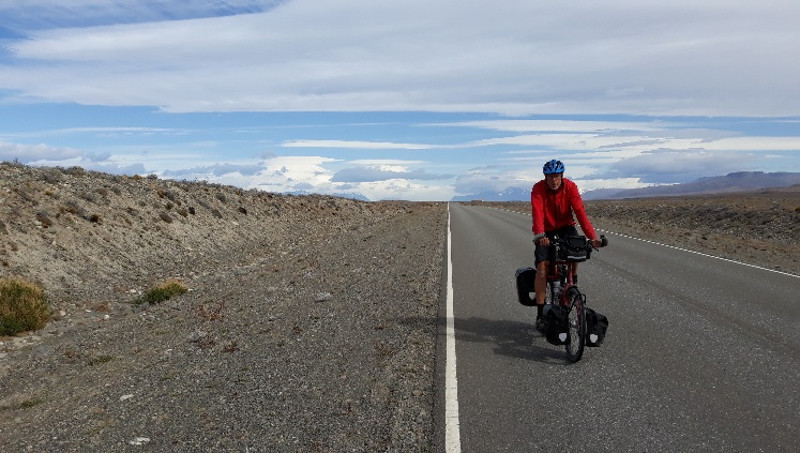 There are also no campsites but we found a derelict building commonly used by cyclists, called the Pink House. The lovely image the name conjures up couldn't have been further from the truth. We settled down in one of the out buildings and I found a brush I could use to clear the debris from our sleeping area.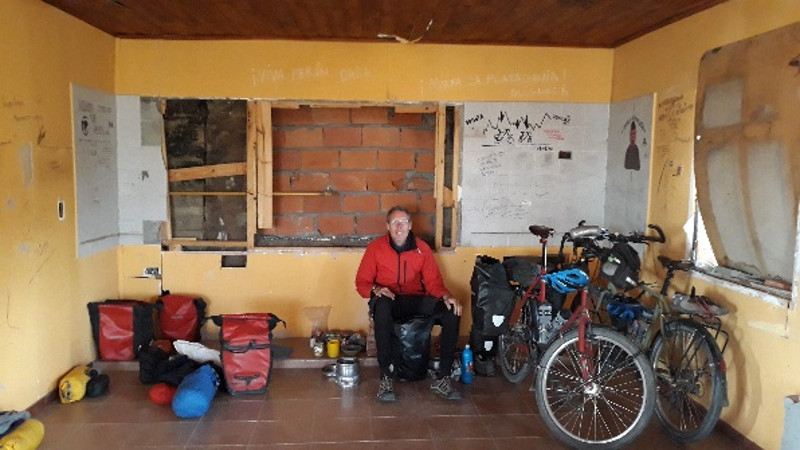 The following afternoon we turned West towards El Calafate and the wind was against us. It was so hard to cycle even tucked right in behind Tim. We only had 18 miles to do but it was taking forever and on one section I almost got blown in front of an overtaking car. I got off my bike and shouted above the noise of the wind that I would be walking the rest of the way. I began pushing my bike into the wind, difficult in itself, at around 1 mile per hour. I was so scared of getting back on, but an hour later Tim suggested he go ahead into town and wait for me there. I didn't want to be left so decided to give cycling another go as we were now heading downhill. I managed to keep the bike upright and we were so relieved when we rolled into town. We headed straight into a pub called Zorro which sold great food and drink.
The main reason for visiting El Calafate is the nearby Perito Moreno Glacier. We booked bus tickets for the following day and this turned out to be one of the most incredible places we have ever been to. It was absolutely breath-taking and we spent a day watching the imposing ice and listening to the crashing as pieces broke off into the water causing a sound like overhead thunder.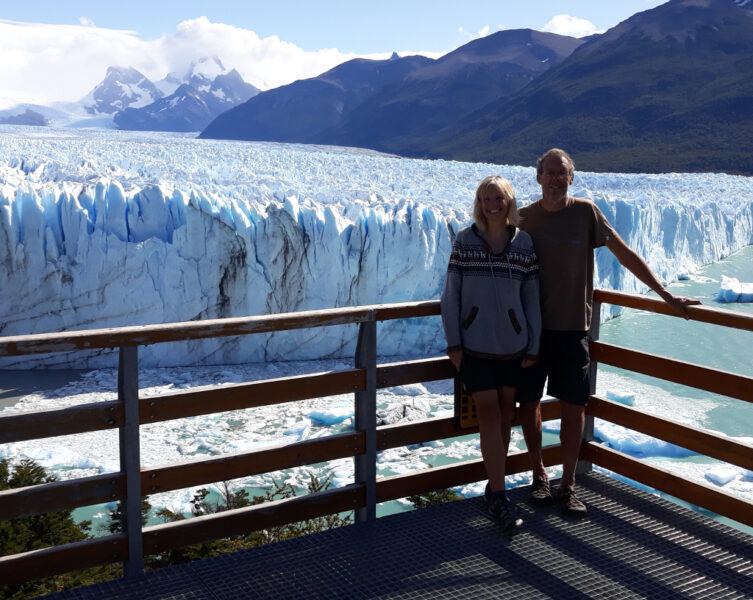 The sun lit up a mass of crevasses and blue ice – 70m tall at the front and over 700m high in the middle. This glacier is a 97sq miles ice formation that's 19 miles long and is the world's third largest reserve of fresh water. The wonderful thing about this glacier is that it's not retreating. It comes back to the same spot each year.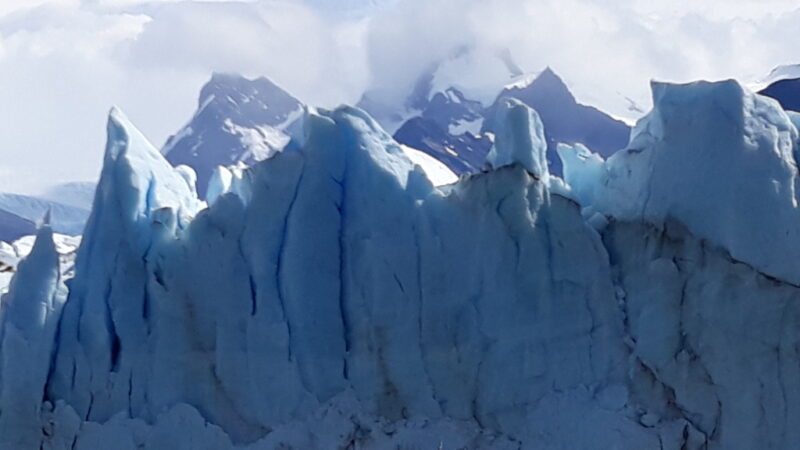 Back in town we spent another rest day, eating as much as we could and visiting the local bird sanctuary. We saw so many fantastic birds here including flamingos.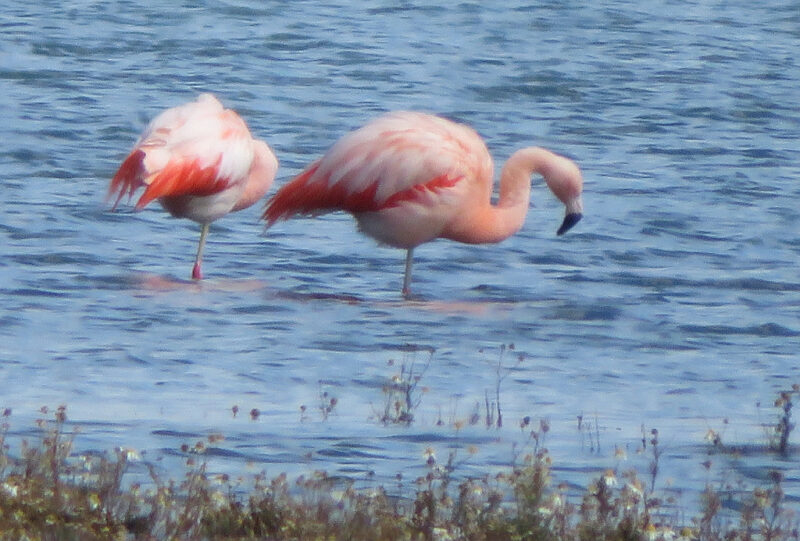 Back on the road we had a decision to make; go down a bad gravel road for 40 miles or double the distance on tarmac. Because the wind wasn't as bad as some previous days we decided to brave the gravel and take it slowly. By the time we arrived at 'decision junction' it was late afternoon so we needed to find somewhere to spend the night. We'd heard about a derelict police station often used by cyclists.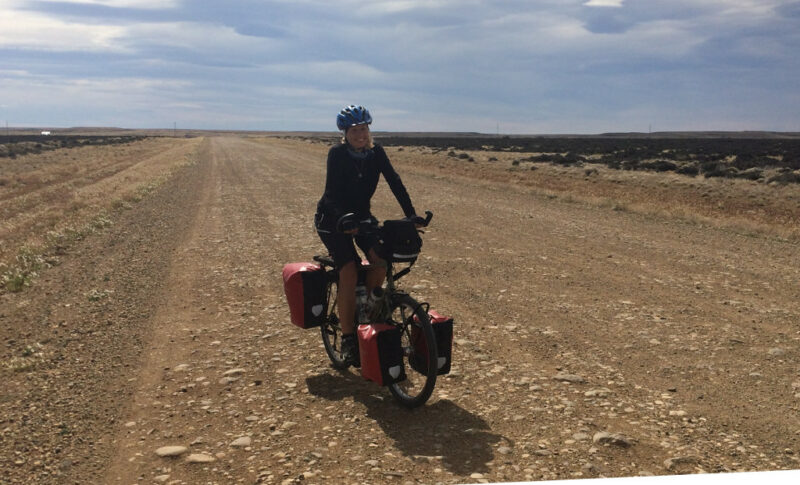 It was 13 miles down the track so we set off and were immediately blown sideways. Ok, this wasn't going to be as easy as we'd hoped. The road was full of large stones that bucked our bikes this way and that. Arriving at the police station we found a semi clean room that we could sleep in. Another couple of cyclists arrived and settled down in their chosen rooms. Suddenly there was a loud banging on the back window – it really made me jump and I saw 3 policemen signalling for us to come outside. Luckily the other two cyclists could speak fluent Spanish and explained that the Police wanted to check we weren't destroying the place or using drugs. We followed the police as they walked around each room checking our bedding and asked to see our passports. Apparently they hope to open up the building again in the future as a police station (goodness knows why when it's in the middle of absolutely nowhere) and didn't mind cyclists staying as long as they were respectful and left no rubbish.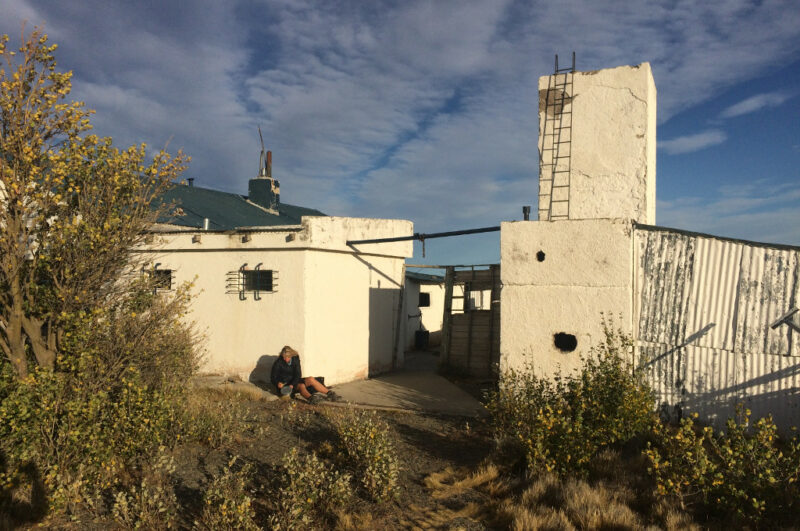 This area of Patagonia has Pumas; wild cats that are on the increase in numbers. When Tim went to collect water for cooking our pasta he noticed a couple of dead Guanaco's up stream. We made sure we took water from above their bodies and wondered if they were Puma kills.
The remaining 29 miles of the bad road was hell. It took hours and we both had aching muscles from holding the bikes upright, my hands especially were aching and cramping.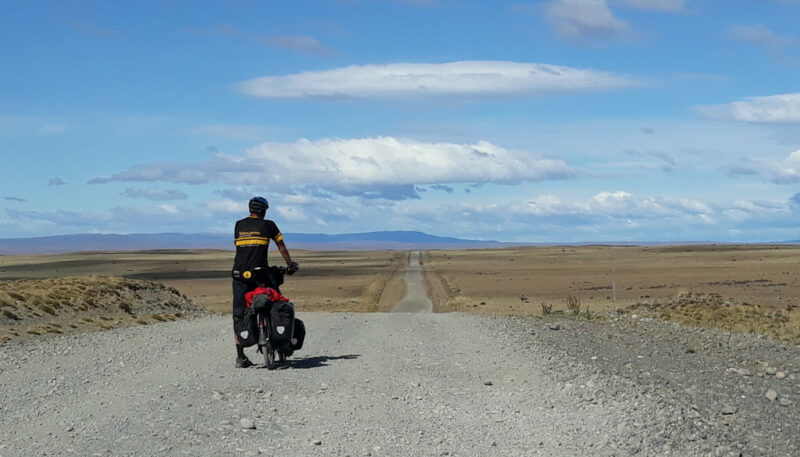 Tim's bottom was also complaining about the rough riding. To get back on tarmac was bliss but we were cycling against the wind again so still hard going. It wasn't long until the clouds gathered above us and the rain began. The weather in Patagonia can go from clear blue skies one minute to rain and even snow the next. This time it was ice hail stones and it was freezing. We stopped and put the tent up in some long grass beside the road on very bumpy ground. It was such a relief to light the cooker and warm ourselves up. Once again we had a very dark, very silent night, so lovely compared to noisy campsites.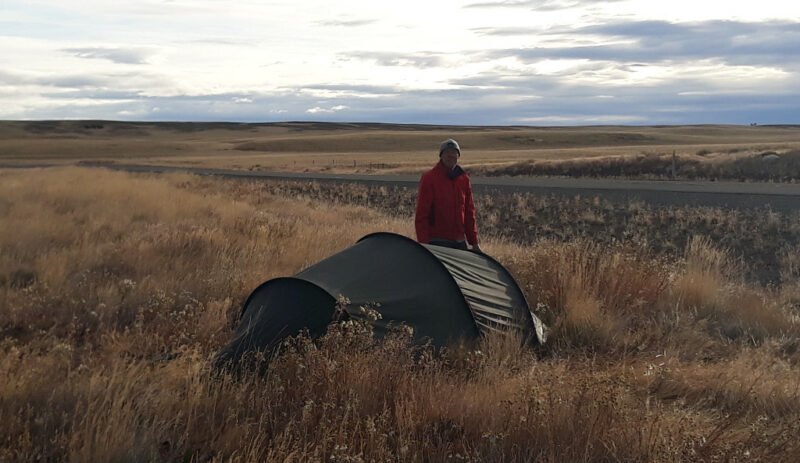 Leaving Argentina, one of the officials came up to us and I assumed he wanted to look through our panniers for any fresh food we might be smuggling in. Instead he signalled we should stay where we were and walked off. He returned with a black bag with 6 rolls of bread and 4 apples. We weren't quite sure what to do and signalled that it was very kind but we had enough food. He made it very clear he wanted us to eat the food right there and then! We sat and ate a bread roll and apple each whilst he watched, but having just eaten lunch we really didn't want any more. It was such a bizarre situation I kept feeling giggles developing but didn't want to seem rude so had to cough them down. Eventually Tim managed to convey that it was very kind but other cyclists might also need some and so returned the remaining food.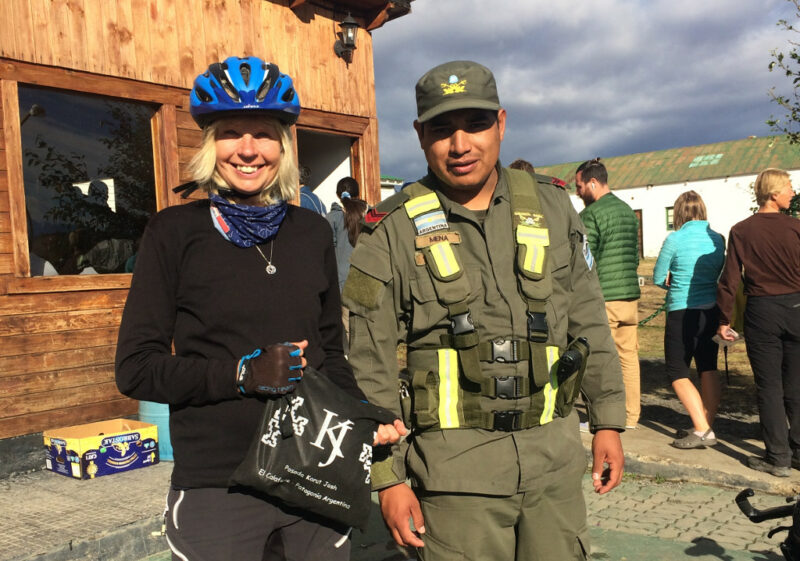 Carrying on we met many other cyclists who were heading for the 'jewel of Patagonia' – the Torres Del Paine National Park. This was a NP that could be cycled through in one day which many cyclists did, entering before it officially opened and avoiding the expensive entrance fee (£30 each). We had heard that it wasn't possible to wild camp in the park and that the official campsites were booked up months in advance but wanted to spend as much time as possible in such a wonderful place. With this in mind we arrived late at night and asked advice on what we should do. The guard at the entrance called a campsite 7 miles into the park and managed to get us a place. This was perfect for us as it was at the base of the Torres Lookout hike we had heard so much about.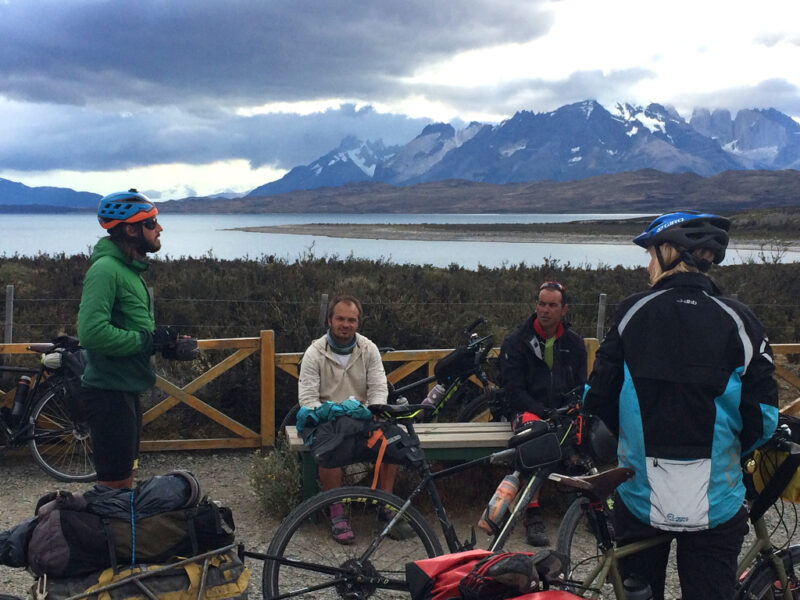 The walk took many hours and included some very steep climbs but the view was well worth the effort. We were lucky enough to see the three towering granite peaks of the Torres De Paine out of the mist – a rare sight. We ended up spending three fabulous days in the park. The mountains were amazing and we were lucky enough to see a Huemule (an endangered deer) as well as a Dwarf Armadillo walking through our campsite. We also saw a Condor nesting in the cliff overlooking our campsite. Leaving the National Park I felt blessed to have seen so many beautiful sights.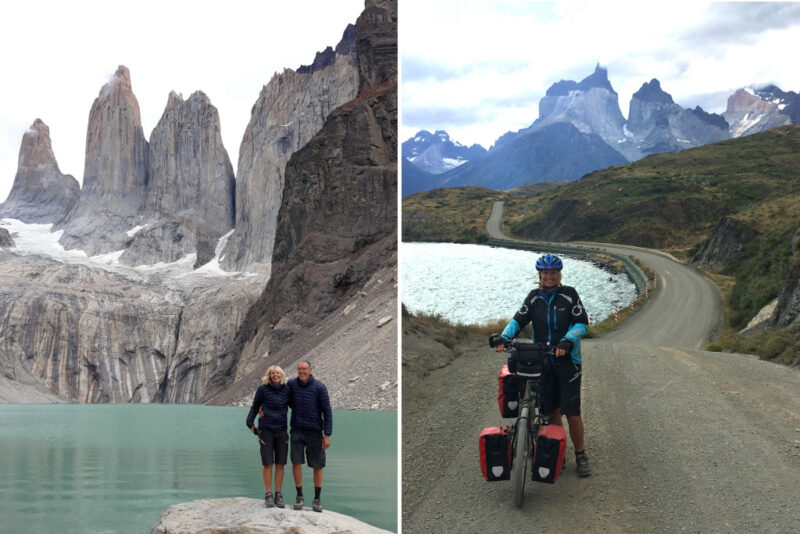 By now we had started to hear rumours of the Corona Virus, but only that there had been a new flu like virus in China and so didn't take too much notice. We hadn't watched television or heard a radio for months so it was only other travellers we chatted to that were talking about it. On the way up to see the Torres there had been many hand holds as it was so steep – mainly small tree trunks that had worn smooth with so many people using them – a perfect place to spread the virus. The following day Tim developed a cold – he had a sore throat and felt achy all over. We were heading for the next town of Puerto Natales where he could rest but it was too far to make in one day so we found a wild camp on the edge of a cliff. I was a bit nervous about getting up in the middle of the night for a wee and falling over the cliff edge!!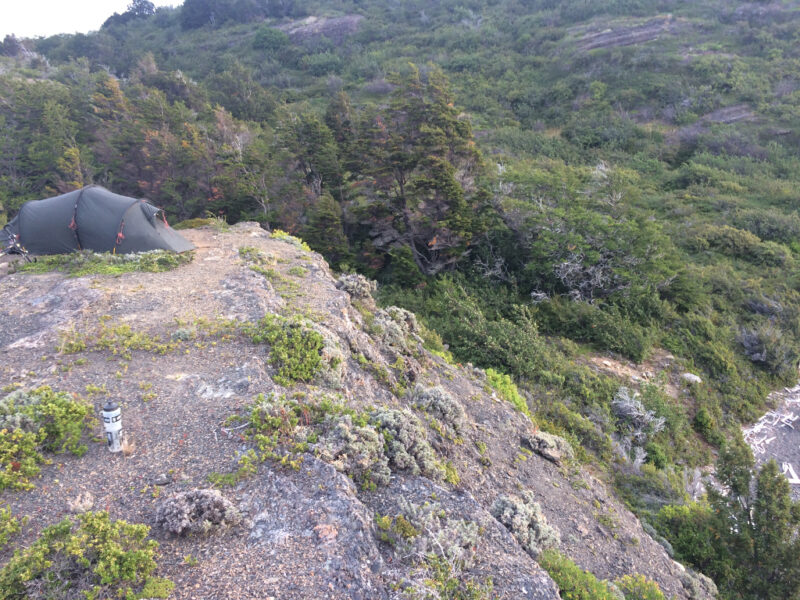 We meandered to Puerto Natales taking in the scenery and many fantastic birds along the way. In town we booked into the Yellow Plum Campsite, the first one to include a delicious breakfast in the price. It was here we met a couple we'd already befriended along the road a few days previously – Luke and Fumi. They were travelling around South America in a Tuk Tuk. It was fabulous and they showed us how a plank of wood fitted across the seats to make a bed. They had been travelling for a couple of years and the Tuk Tuk had managed all the difficult mountain passes and gravel roads through the Andes .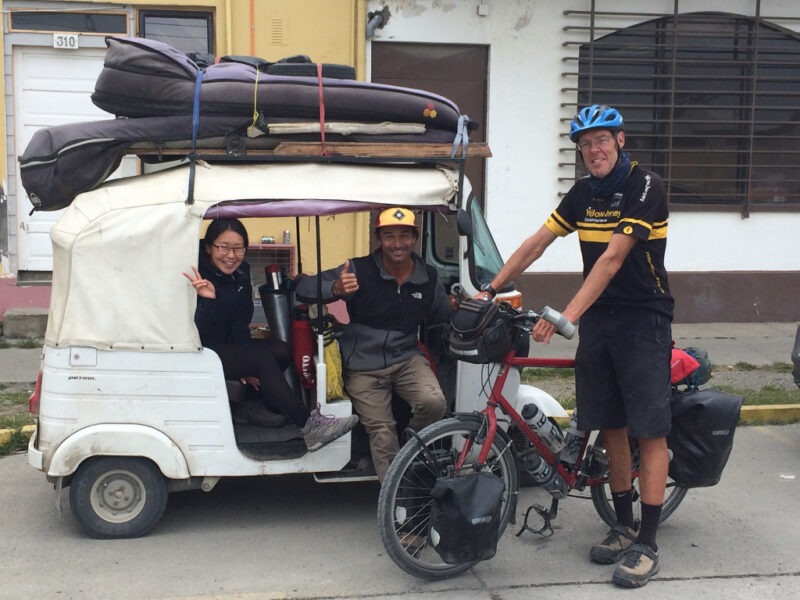 What a great way to travel. Wandering around town we spotted many fabulous murals showing the lives of native Chilean people.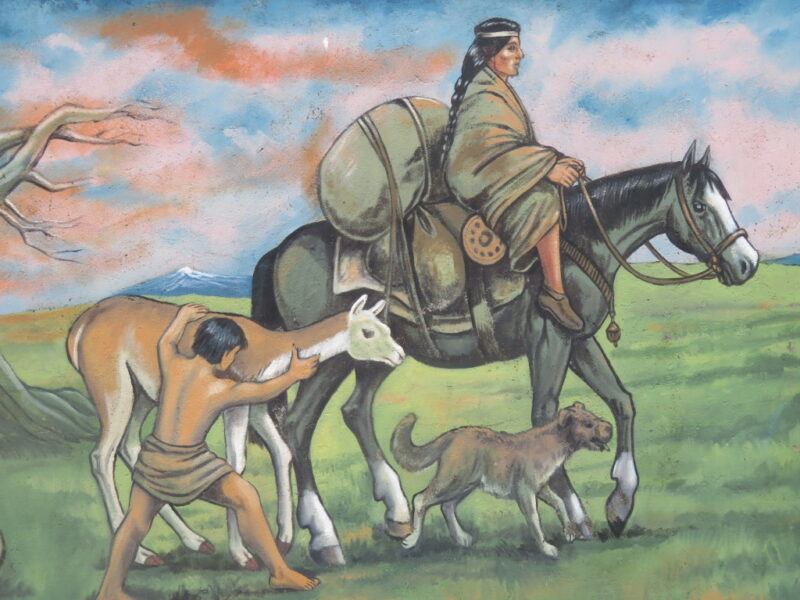 We still had three days ride and potentially 2 nights wild camping before reaching the town of Puerto Arenas where we had decided to rest for a few days and where I hoped to see my first penguins. Tim was still feeling really rough with his cold and we both had stomach problems but the wind was behind us and so we set off. I knew Tim felt bad as he kept talking about his own bed and Lemsip!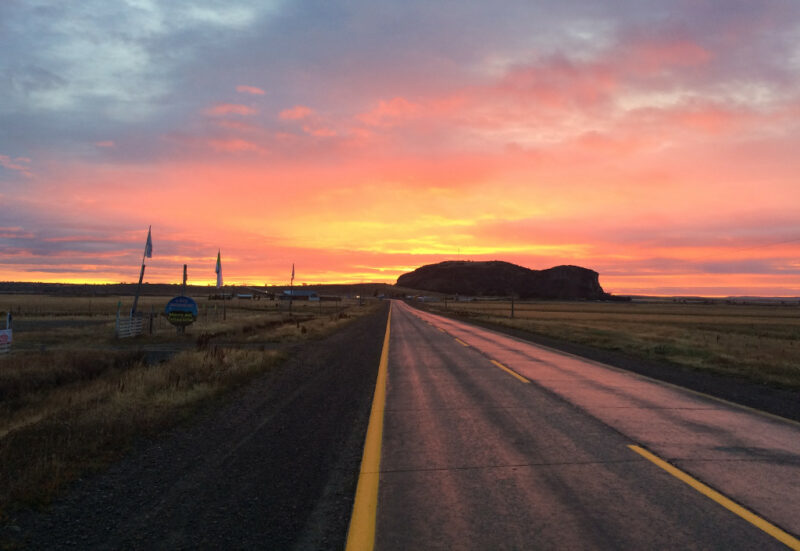 Because the wind and traffic were light we made good time and managed to reach the small hamlet of Morro Chico half way to Puerto Arenas. By now the wind had started to really get up so we decided to camp besides an open shed that belonged to a little café. It looked like rain so this would give us great shelter. During the night a cat jumped from the fence landing spread eagled on top of the tent. It gave us such a shock and we were worried about its claws ripping the tent so Tim pushed upwards hoping to dislodge it. Unfortunately the cat gave him some deep scratches across the back of his hand. I made him wash the wound vigorously with soap and water in the dark for 15 minutes fearing rabies! The next day Tim was relieved to discover that the last known case of rabies in Chile was in 1975 so an emergency trip to the nearest hospital was not necessary!
We reached Puerto Arenas late in the day and had trouble finding somewhere to sleep. There were no campsites in this big town (known as the Santiago of the South) and the hostels were all full. It was our sixth, somewhat desperate try that we managed to get a room and too tired to find food we ate bananas and tuna before falling asleep in our first bed for weeks. We ended up staying in Puerto Arenus a week and I got to see my penguins; they were absolutely adorable and I enjoyed every minute we spent watching them. Penguins mate for life and are very loyal to their partners. We had just missed the chicks leaving home but it was amazing to see the adults so content in their little holes.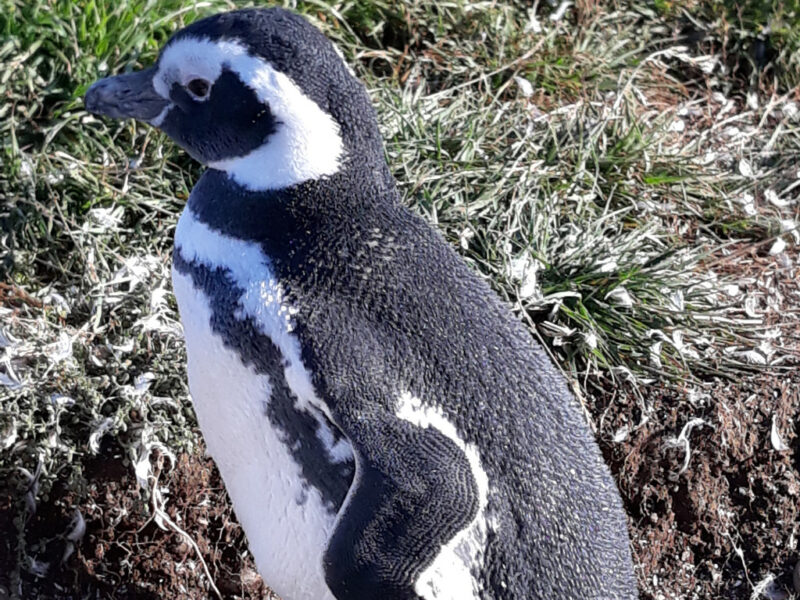 We had already booked the ferry back into Argentina for the final leg of our journey to Ushuaia but both felt pretty rough. Tim's cold was still pulling him down and we both had stomach problems and were lethargic. It was now that we realised something was really going on with the virus. A couple of Canadians had just arrived at the B&B and said that despite 16 hours of travel to get there, they were going straight home as their Prime Minister had asked all nationals to return. It slowly dawned on us that we too should get home. Friends and family were beginning to message us advising we catch a flight before the borders closed. I managed to get a flight to Santiago a couple of days later where we could get a BA flight home and we reluctantly accepted this was the end of our cycling trip, 300 miles short of Ushuaia. The first available BA flight would cost £2500 per economy seat and so I looked further and found two seats two days later for £635. (These prices increased the next day to just under £3000).
We had 5 days to wait in Santiago; a really stressful time. We now realised the seriousness of the situation and wanted nothing more than to be home with family, somewhere we could speak the language should we get ill. Time crept by and I was almost too afraid to check the plane was still flying. The relief we felt when we were eventually on our way home was indescribable. We were so grateful to all those people at home who had encouraged us on our journey and especially during the few days waiting for the flight home. If nothing else this trip proved that health, family and friends are more important than anything else in the world.