An encounter of the wrong kind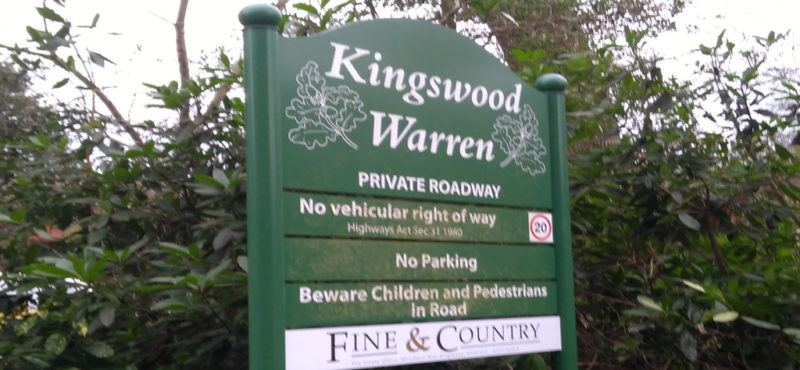 Sunday's ride to Bocketts Farm was uneventful apart from one unpleasantly close encounter.
All through my time in the Anerley (since 2009) I have happily cycled the section of road going through the Kingswood Warren Estate at the end of Outwood Lane. It is not just a shortcut but a significantly safer route for the hundreds of cyclists who go through it weekly.
On Sunday's ride we were accosted by a man, in a yellow waterproof jacket, who attempted to barge into and otherwise physically prevent the club run from going through. As he laid hands on Mark Hancock, the result could have been much more heated but we asked him to get out of the way or we would call the police and he obliged among much shouting.
I have since received an email from someone called Masding, Russell (Reigate) objecting to the Anerley Bicycle club riding through the estate on the grounds that it is private and there is no public right of way except for access.
The right of public access to Sandy Lane has been disputed many times and it has been used by the public for over 80 years. In the last attempt to add a brideway that I can find, in 2001 Reigate Council observed that people have walked and ridden through with only one recorded objection since 1936.
https://mycouncil.surreycc.gov.uk/Data/Planning%20and%20Regulatory%20Committee/20010221/Agenda/item09.pdf
"Collectively their user evidence spans a period of 64 years (1936-2000). Frequency of use varied from daily to 3 times a year. The claimants used the route for pleasure, exercising their dogs and horses, travelling to London, and avoiding the busy A217. In some cases the usage was part of a circular ride incorporating other public paths, taken either alone or as part of an organised group. All bar one believed they were exercising a public right to pass from one highway to another."
It is very interesting to note that the road is owned by Costains and not the frontage house owners so I do not think that residents have any right to physically confront the hoards of cyclists (or anyone else) from going through. In my opinion we do no harm and act as some deterrent to burglars active in the area. Indeed with the issue of burglaries, there has been some debate in the Residents Association that gates should be erected. Among the difficulties mentioned in the residents' report "because the area is surrounded by open land and criss-crossed with public byways, any gates would easily be bypassed by criminals".
https://www.kingswoodvillage.org/news-from-the-kra-security-options-for-kingswood/
Although I am generally of the principle that aggravating other people should be avoided, public access where no harm is being done should be available.
Finally, the notice on the A217 includes a notice reading "Private Road – No Public Right of Way – Section 31 Highways Act 1980." forbidding the use of vehicles. Section 31 relates to Dedication of way as highway presumed after public use for 20 years. This includes the following two bits:
1A)Subsection (1)—
(a)is subject to section 66 of the Natural Environment and Rural Communities Act 2006 (dedication by virtue of use for mechanically propelled vehicles no longer possible), but
(b)applies in relation to the dedication of a restricted byway by virtue of use for non-mechanically propelled vehicles as it applies in relation to the dedication of any other description of highway which does not include a public right of way for mechanically propelled vehicles.]
For the purposes of subsection (1A) " mechanically propelled vehicle " does not include a vehicle falling within section 189(1)(c) of the Road Traffic Act 1988 (electrically assisted pedal cycle). ]
In other words, good luck in enforcing this as a non public right of way to bikes. Note to myself, although their notice does not apply to pedal powered bicycles, don't go through on your electric Brompton!
Tom V