Alternative Sunday Ride: 25th Aug
Some of the regulars joined me – Asif, Chrys, Dave, Marilyn and Jenny. As a bonus we had Peter Roberts, and Tim who is now back from his mammoth ride to Istanbul with Sally. Together with myself that made eight.
It was a scorching hot day and it was a bonus to cycle along some of our many wooded country lanes, the dappled sunlight from the over hanging trees affording some welcome shade.
It was also opportune to stop occasionally to cool off and to see some of the interesting or unusual things along our ride.
Cycling through Lingfield we saw this interesting street name. Not many of us are likely to have one named after them!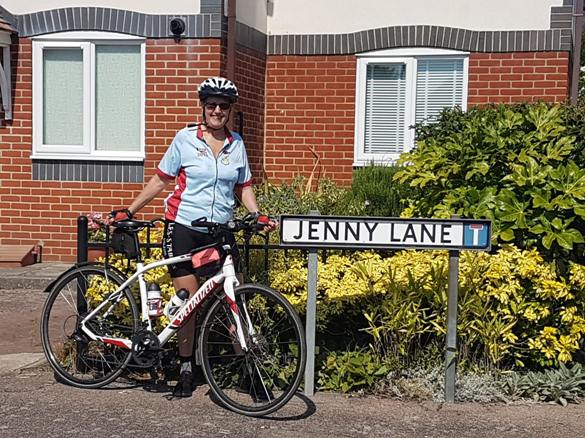 Lingfield, until recent times, was the largest village in the county of Surrey. Now it is Cranleigh on the opposite side of the county. But Lingfield has much more of historic interest. It even appears on a map dated to A.D 871, where it is spelled as Leangafeld. Around the corner from Jenny Lane, beside the village pond and nestling under an ancient oak tree, is something else of note.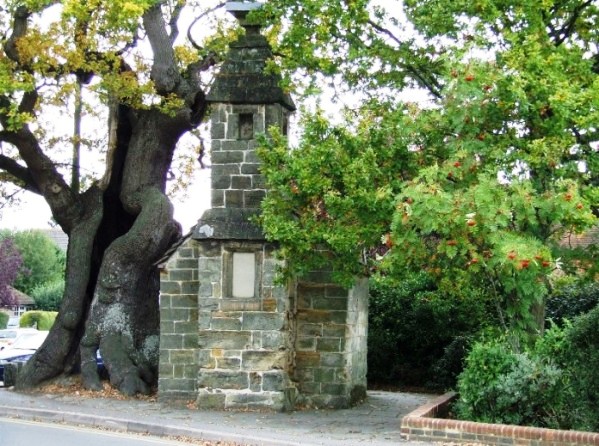 A plaque set into the wall told us that this was the old punishment cage where local ne'er do wells would spend a bit of time. Built in 1773 it's last resident was a poacher in 1882, just a year after Anerley B.C. started cycling the Surrey countryside.
Continuing our ride on to Dormansland, about 400 yards past it's railway station, we came across another bit of stone work, but much more recent than the Old Cage.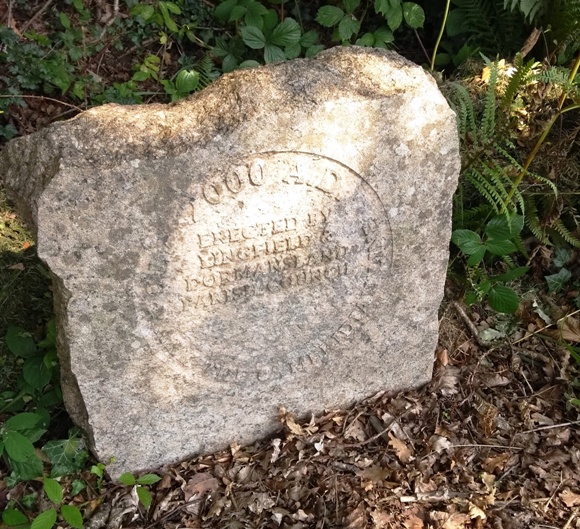 This was erected to commemorate the year 2000 and marks where the Greenwich Meridian (0 degrees on our compasses) passes through this part of Surrey. So with one turn of our bicycle wheels, we travelled from the western world into the east as we continued on to our tea stop at Bluebells in East Grinstead.
On our return journey I took the opportunity to have a brief cool off by the Brick Makers Arms pub at Crowhurst Lane End. This pub is an important part of local history.
If you are observant, during the many times that we cycle along Crowhurst End Lane, you must have noticed the tall chimney stack, now abandoned in the local fields. The chimney is the last remnant of what was once a major, local industry – brick making – and hence the Brick Makers Arms pub!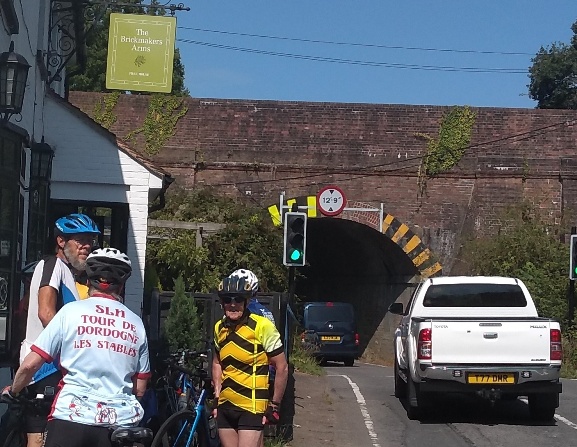 Crowhurst sits on a deep bed of clay, and this was the reason for the local industry and the pub is shown in the background of the photo.
The Dover to London railway line constructed in the 1840s passed thru Crowhurst, and as you can see from the bridge, required thousands of bricks! A second and separate, railway line (London to Brighton and passing thru Lingfield) followed in the 1880s. So many more bridges over roads and rivers and another brick works added to produce millions more bricks!
The brick kiln at Lane End had 18 chambers, in which 18,000 bricks were fired in each chamber. At it's height of production it was producing 7 million annually. Thirsty work, and the Brick Makers pub was owned by the brick works so probably got a quick return on wages paid out!
We however were sticking to water, copious amounts by the end of our ride.
Des