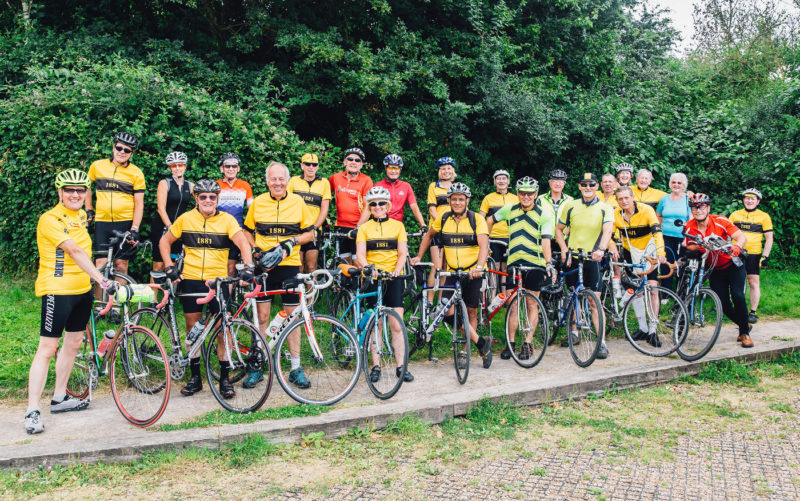 Anerley is where we began in 1881 but now we ride from South Croydon into the third millennium!
The club now has several, regular rides on pretty much every day of the week . These rides match a wide range of ability and are categorised as follows:
Relaxed– suitable for reasonably fit novice riders as well those who enjoy taking a gentle ride of around 30 – 40 miles into Surrey & Kent at a speed averaging 10-12 mph.
Steady – our classic ride, around 40 – 60 miles into Surrey & Kent and occasionally longer excursions to the coast at a speed averaging 12-14 mph.
Fast – a tougher ride, usually taking in a hill or three at a brisker pace but short enough to be back by the end of lunch. You must be able to average 14mph for 40 miles to do the "fast" rides.
Offroad – a smaller but growing section of our club want to get muddy. These rides range in difficulty and you need to contact the leader before going for it!
Most of our rides stop for tea/coffee and cake in a variety of establishments or may include a country pub. Ride destinations are published beforehand and you can choose your distance and pace to suit before signing up to our Ride Register. The ride register is only shared with members and guests.
All the rides have one rule in common – we don't drop anyone. If you can cycle comfortable for 20 miles on your own then you should have no trouble doing 30 in a group advertised as Relaxed. If you find those easy then stretch yourself on a Steady.
Some of us do occasional longer rides in the summer to the coast and even returns to get our 'imperial tons' a 100 mile ride. The more enthusiastic also do Sportives and Time Trials. We also do summer Tours in the UK, France, Spain and other European countries. And not forgetting relaxed fun events like Treasure Hunts and Map Reading competitions.
We have an illustrious past being one of (if not the oldest) continuously active clubs in the UK. We are now growing and expanding the choices of things to do. We would love you to join us in the fun!
There is NO dress code. Wear a helmet or not, club gear or baggy shorts and a T-shirt. Whatever suits you. Your £10,000 Compagnolo will be admired but a hybrid, Brompton or Moulton is equally welcome. Indeed anything that will get you there – and back!
Register via the Contact us form before turning up at the meeting point. Our ride administrator will be able to point you to a ride appropriate for your level of fitness, Don't forget to bring a pump and a couple of tubes. Have a few rides without any obligation to see how it suits you. If you are happy club membership is £15/£10 (cons) per annum. This also entitles you to be come a CTC/Cycling UK affiliate member at a reduced fee and the companionship of the friendliest club in London.
Cycling Weekly profiled the Anerley in their 'Ride with' series. Do read it here: https://anerleybc.org/cycling-weekly-profile/