A Tour of the Picos de Europa May 2018
Day 1 Croydon – Portsmouth
The weather was appalling so we all met at East Croydon in a heavy downpour and got the train to Portsmouth followed by a short ride to the ferry. We enjoyed the usual views of the harbour and HMS Victory and HMS Warrior in the historic dockyard before settling down to a 24 hour journey of pacing and eating. There was opportunity to enjoy the sundeck as well and we saw a couple of black dots which the captain announced were Orcas.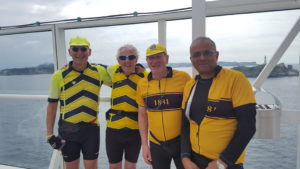 Day 2 Santander – Cabazon de la Sal
After a flurry of activity we were off the ship at Santander and were on our way to the train station. I won't mention how who told off for trying to jump the queue at passport control! We just missed a train so went to a supermercado for some food supplies before getting the next train out to Virgen de la Sal. A 5K ride in the dark to a superb farmhouse conversion for a wonderful night's stay!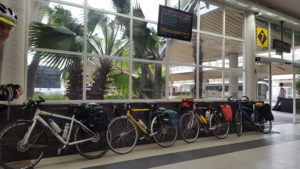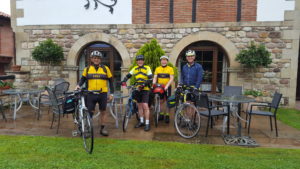 Day 3 Cabazon de la Sal – Potes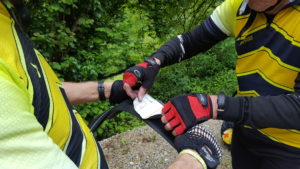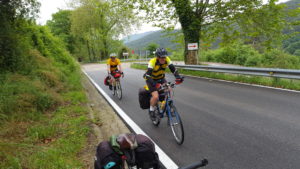 Just one hour after leaving our B & B on the road to Panes, Des had his first tyre problem of the day. One replacement tube and crisp packet saw us back on route but it was not to be an easy day. Just as we arrived in Panes for lunch, the same tyre had a catastrophic failure as the wire bead came apart. A lady in the cafe told us that our planned route through the River Deva gorge was closed but the alternative involved a mountain and extra 30km – so we decided to head on for a nose around. After all we cyclists can get through almost anything right? We waved Des and his bike goodbye in a 50 Euro taxi to the bike shop in Llanes and moseyed on down the road.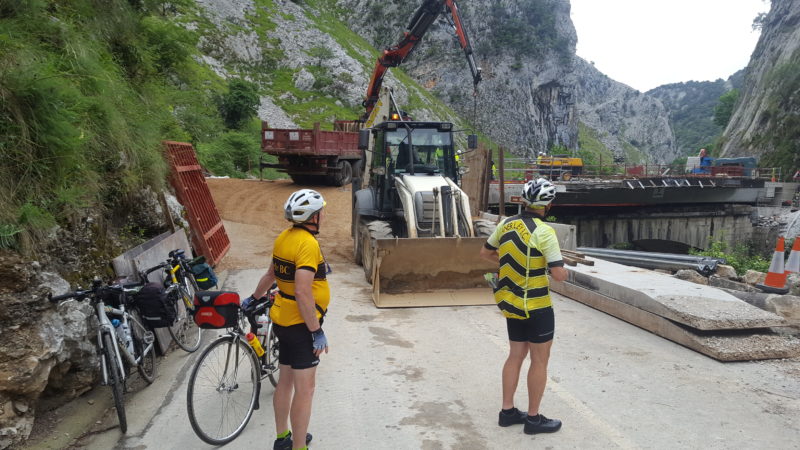 A bridge was being rebuilt and amongst all the concrete and steel were a bunch of workmen shaking their heads and saying "no". After a bit of pleading and looking sorry for ourselves, a supervisor came along and walked us through the mayhem. He gave us a smile and bid us adios as we set us off on the completely traffic free road on the other side of the bridge.
The River Deva has cut an absolutely beautiful gorge through the limestone and as John pointed out, the huge area of rock around us is made from the bodies of dead sea creatures.
We could see the big griffon vultures hovering at the top and I felt the urge to whoop with joy that we didn't have to cycle up and around and miss this stunning route. The road surface was smooth and there was not a hill in sight – every metre of that 16K gorge is filled with the wonders of nature.
All good things come to an end and eventually we exited the gorge and found our way to the overnight accommodation in Potes where we waited for Des. The unlucky Des was not answering his phone or text messages so I guessed that he was likely to be on his bike and eventually the great man arrived and regaled us with tales of woe:
how he had to pay 100 EUR to get to Llanes and back
the bike shop was no longer a proper bike shop but he managed to get a cheap Chinese tyre for a child's bike
The additional detour over the mountain would have cost another 100 EUR so he cycled through the gorge as well.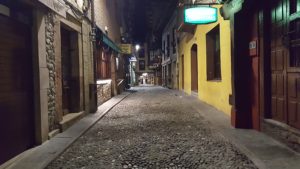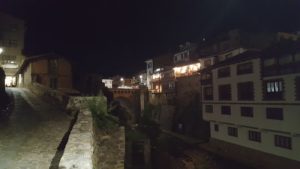 All in all, it was a very expensive mishap! We enjoyed a pleasant dinner and stroll in the evening before a well deserved sleep in preparation for tomorrow's big climb of the trip.
Day 4 Potes – Riaño
In the morning we had a quick walk around Potes before heading onwards towards the Puerto San Glorio.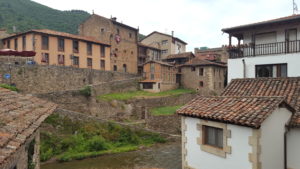 The Puerto San Glorio is a pass at at the end of 26km of climbing and at first the weather Gods were in our favour and we had time to appreciate the ride and the views as we puffed along.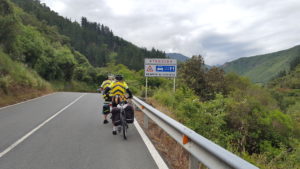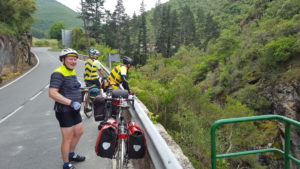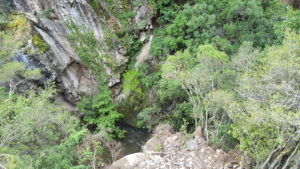 At a snack stop, I took my backpack off and it was only after a mile of climbing that I realised it was down the mountain with my passport and wallet! It was still there when I returned but I was very glad that I had remembered it after only one mile!
Eventually the rain came down and we started to feel the strain of cycling up through the heights. John cycled on to find shelter so TomTom and I stayed with Des as he struggled up with the cold and wet. A grizzly day for cycling indeed.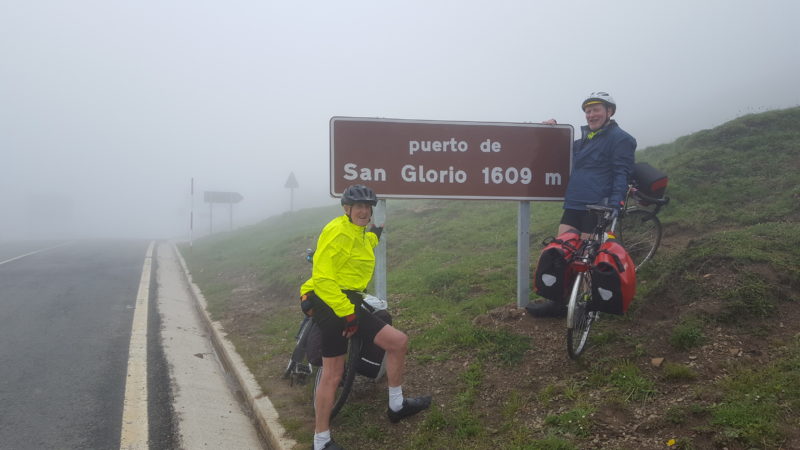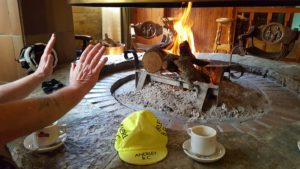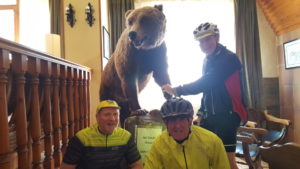 John had found us a decent rest place in Vega de Liébana and we sat down to a coffee and a little log fire.
There wasn't much heat from the fire but it was so much better than being out in the freezing rain.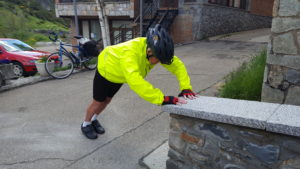 Once the rain had stopped Des did some stretching and declared it was time to move on.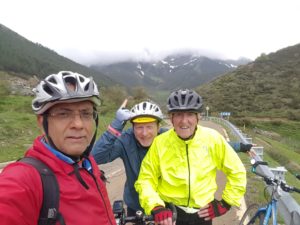 Although we were now in June, there was still snow in the peaks around us.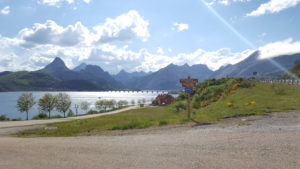 Finally we got some more blue sky before the welcome sight of Riaño nestling in the mountains.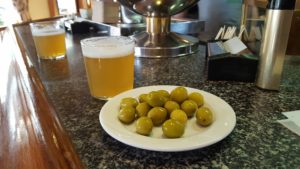 A swift bit of refreshment was called for before a hot shower. A rather nice local lemon beer with olives really hit the spot!
Day 5 Riaño – Soto de Cangas
We left promptly in the morning with a short climb ahead but truly it was not noticeable among all the stunning scenery as we followed the N625 to Cangas de Onis.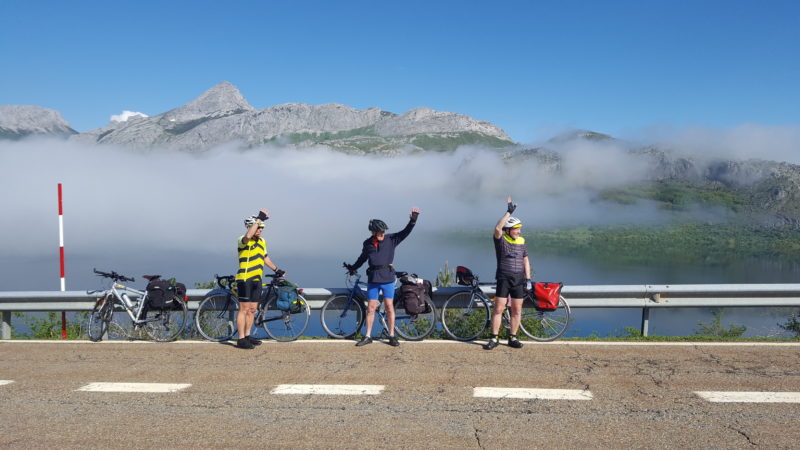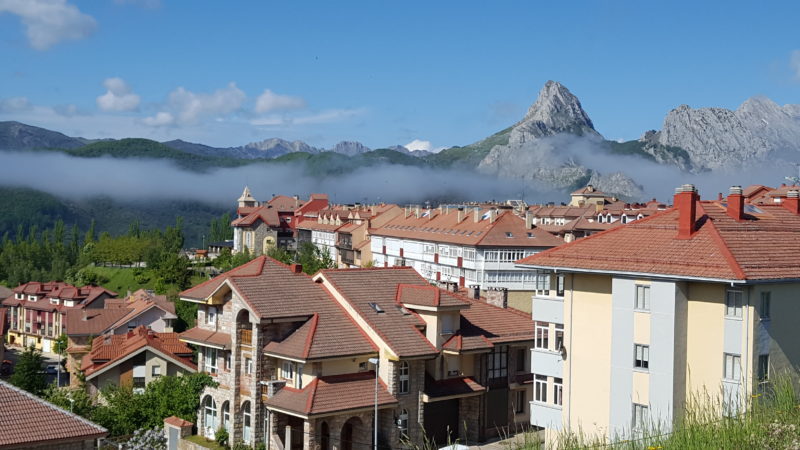 After a small, final climb, came the delight of 32km descending through the awe inspiring Sella River gorge which rushes down the region of Oseja de Sajambre.
Eventually we were back in civilisation at Cangas de Onis but without time to stop. Our hotel was another 7km down the road in Soto de Cangas and as we were slightly out of season, all the restaurants were shut. A little pizza baked in the hotel kitchen was the answer.
Day 6 – A rest day around Soto de Cangas
This was officially a rest day so we cycled back to Cangas de Onis to see the sights and get some food supplies. After stashing our food and bikes back at the hotel we walked the 7km to the Basilica at Covadonga. But by now the rain settled in for the rest of our trip.
At the Basilica, we had apple cake and ColaCao (hot chocolate) before wandering around the museum. After the long walk back home Des enjoyed another pizza whilst the rest of us found a (pricey) restaurant with fabada – the Spanish bean stew.
Day 7 – Soto de Cangas – Lagos de Covadonga  – Soto de Cangas
The 14km climb to the lakes at Covadonga features almost every year in the Vuelta de Espana. Although the average gradient less than 7%, there several sections exceeding 10% so it is a tough climb. Once again, John went ahead as the three of us struggled up long the steep climb. I realised that I had rust and bits of bearings running out of my front fork so my headset kept seizing up. Eventually I packed it with Vaseline which saw me through the rest of the trip.
We arrived at the top amidst another downpour and as the weather continued to deteriorate, the 3 of us had lunch at the first stop. No sign of John Dadson. So we headed home.
When we got back it was dinner time. Three of strolled off to the restaurant for a meal while Des stayed in for yet another pizza!
Day 8 – Soto de Cangas – San Vicente
Another day and another spectacular gorge to enroute to our lunch stop at Las Arenas.
After lunch we followed the Rio Cares Gorge out of the Picos de Europa National Park before arriving at a guest house with a spectacular view in San Vicente. A double booking meant that we were forced to stay in the slightly damp basement rooms and we were beginning to yearn for some heating by now.
Day 9 – San Vicente
A rest day was declared and spent it walking around San Vicente and enjoyed a huge seafood lunch overlooking the bay. There is a nature reserve as well as beaches and a castle so quite nice for family holidays.
Day 10 San Vicente – Cabazon de la Sal
A final ride back to where we spent our first night. Travelling through the seaside town of Comillas which boasts a Gaudi building and a gothic university. Our lunch stop was at Santillana where the heavens opened and it rained and poured all the way to our overnight stop in Cabazon. We met an incredible man who owned a shop just before we got home. He had hundreds of travel magazines and had been all over the world following places he'd seen in the magazines.
The final days in Santander
We made the short return to Santander via the train and enjoyed a day wandering around. TomTom and I luckily got a 4 star upgrade for one night while Des and John slummed it in a hostel. A lovely city to wait for a return ferry. We enjoyed a bus ride around the city with an guided estuary cruise. Finally we watched our ship come in and take us home with a super last view of Santander.