A Short Tuesday Ride, Nov 19th
A chilly day for a ride to Tan House Farm, so I decided to take those who wanted a shorter ride, to just go to Reigate's Priory Park. It has a very nice and warm tea room, lovely views across the park, and a varied and extensive menu. What more could we want? So I ended up with ten joining me.
Usual route, Chipstead Valley Rd, Walton on the Hill and down Peddle Combe Hill to Betchworth. Here we stopped by the Dolphin Pub.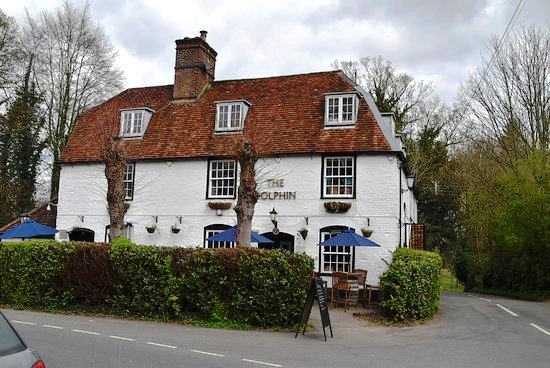 I have always wondered why a pub, some 50 miles from the sea, was named after a fish. I had posed that question on a previous bike ride, and to which Asif has come up with the answer. An interesting story!
It dates back to the time of King John and the Magna Carta. Having agreed to the Baron's demands, he later reneged on his promises. The barons rebelled and decided to put the French Crown Prince Louis on the throne. He arrived with his retinue and soldiers, captured Reigate Castle and on their journey they are claimed to have passed through Betchworth.
Here in England, the Crown Prince has the titles of the Duke of Cornwall and the Prince of Wales. The French Crown Princes were called Le Dauphine, or in English, The Dolphin. So hundreds of years later, the villagers of Betchworth decided that an appropriate name for their pub, was The Dolphin.
In the time it took me to write all that, we had turned left by the pub, and started a big loop, going past Wonham Manor, up Trumpet Hill, heading back towards Reigate Park. Then coming towards us, who did we see but John Diamond and his group on route to Tan House Farm.
They shouted out that the road ahead of us was closed and as a result were retracing their route back towards Trumpet Hill.
And yes, when we got a bit further along Flanchford Rd it really was closed and with no way through!
However at this point it was by the junction with Clayhall Lane, which we were taking to get to our tea stop. So no problem for us!
Well at least not a major problem, because half a mile or so later there was a big lorry blocking the road. We managed to squeeze by but only by walking over the muddy verge at the side of the road. Then one final (steep) hill and we arrived at Reigate's Priory Park.
Here we stopped by the lake for the group photo. Anerley's Magnificent Eleven!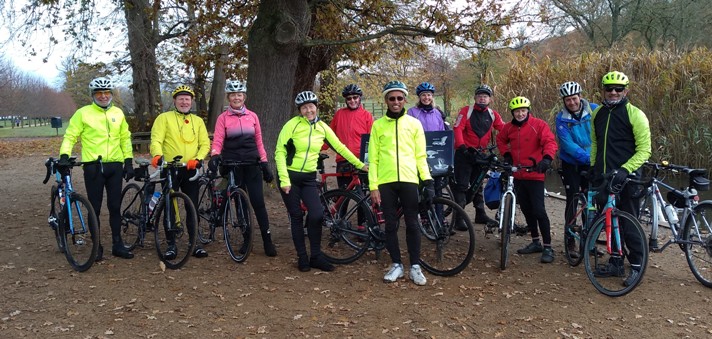 Des and thanks to Chrys for the group photo.