2023 Veloforte Whitstable Ride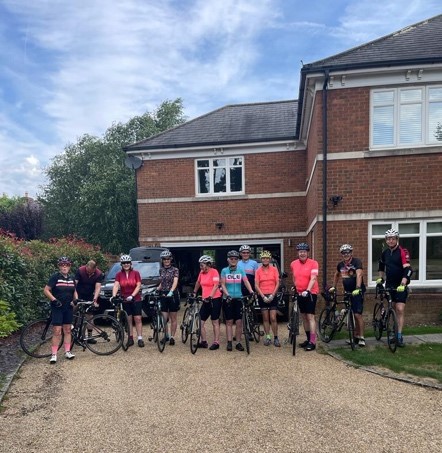 The highly anticipated 2023 Veloforte Whitstable Ride, orchestrated and meticulously planned by Martin, with Fran as the designated ride leader, was finally here. The Veloforte connection was a part sponsorship by Veloforte, where Martin had approached them for some pretty decent discount on their renowned and very tasty energy bars to distribute amongst the riders. A group of eleven enthusiastic individuals of Fran, Martin, Gavin, Karen, Alison, Julie, Andrea, Brian, Sue, John and Sam, and also Joe (Martin's son), who cycled up from Whitstable to join us around halfway and then cycled back with us for the second half of our journey.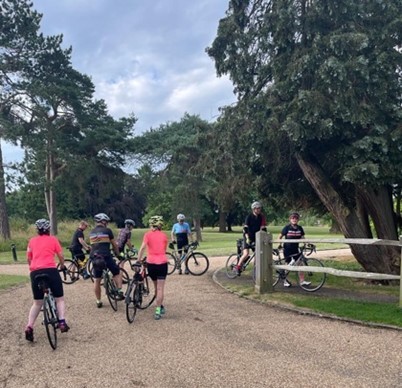 The carefully planned route was mainly venturing through the captivating landscapes and quaint villages of Kent. As you may recall, the weather forecast was rather grim, with thunderstorms predicted in the South from late morning onwards, so Martin adjusted and relayed the start time to everybody to half an hour earlier, which seemed to somehow keep us slightly in front of these heavy storms, and we only in fact caught a couple of very light showers as we got closer to Whitstable, where these were quite welcomed in the humid conditions. Prior to our departure, some of us shared a delightful and nourishing bowl of porridge at Martin and Lisa's house, made by Martin's very own fair hands, and a lovely bowl of porridge it was too, with options of various fruits or honey or both to add to this delight.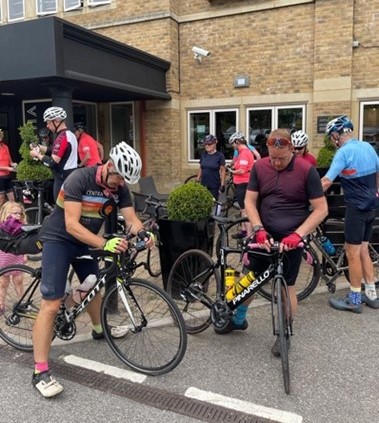 After covering approximately 32 miles, we took a pre-planned break at a charming Starbucks tied to the Village Hotel just outside Maidstone. To our delight, Lisa, and her beautiful grandchildren, Teddy and Merla, awaited our arrival, armed with delectable sandwiches and mouth-watering cakes, meticulously prepared to invigorate us for the remaining leg of our expedition. These included Martin's favourite Mr Kippling mini-Battenberg, with Martin generously offering them around but secretly growling if anyone had the audacity to actually take one.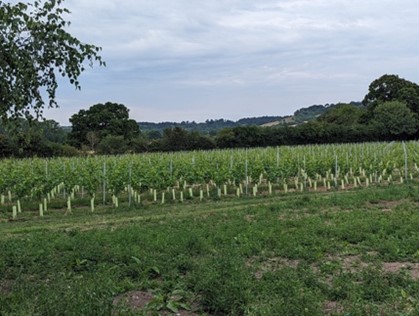 As we continued our journey, we found ourselves once again immersed in the breath-taking scenery of the Kent countryside. Passing by picturesque English country cottages, adorned with enchanting gardens reminiscent of those depicted on biscuit tins, which all added an extra touch of romance to our memorable ride, albeit no relationships blossomed as a result.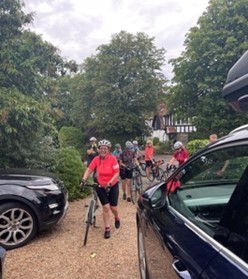 As we eventually reached our destination in Whitstable and stepped foot inside Joe and Britt's house, we were welcomed with a refreshing surprise in the form of chilled towels to soothe our brows, accompanied by a generous glass of sparkling champagne, to invigorate our tired bodies, which was an unbelievably hospitable welcome and start of what was to follow. Fran offered a rejuvenating 'stretch class' catering to riders with weary limbs, which 7 or 8 riders and Martin's grandson enthusiastically took part.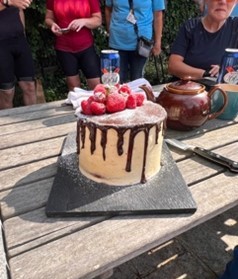 Simultaneously there was an irresistible sight of homemade quiches, brownies, and a magnificent carrot cake, complemented by an array of beverages ranging from tea and coffee to every imaginable drink one could desire. Our taste buds danced with anticipation.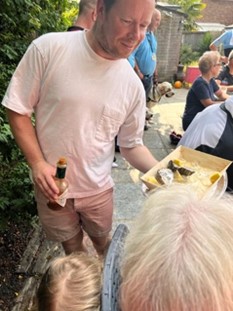 And of course, we're in Whitstable, so there was some beautifully prepared oysters on offer for the adventurous.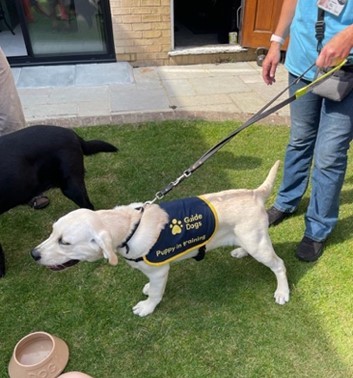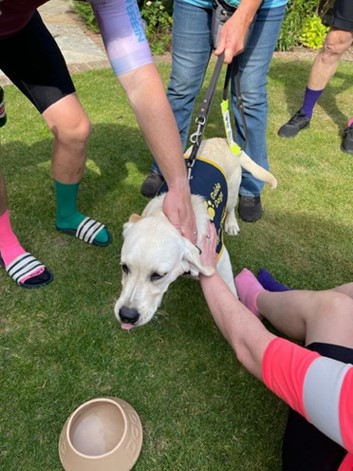 Soon after, a small delegation from the esteemed Guide Dogs for the Blind charity graced us with their presence, accompanied by three of the most gorgeous dogs, which Martin had been liaising with Guide Dogs to make this visit happen. There were two puppies and a retired guide dog, with handlers, who enjoyed our hospitality and also chatted to all of the team, and were happy to inform us of what the charity is all about, and their presence certainly added to the occasion. The younger puppy was 4 months old, so in training, and very delightful. The older puppy had meningitis a while back, which his handlers nursed him through to recovery, but after that, sadly, he was not deemed fit enough to move onto be a full guide dog, so he is now their pet. The senior black guide dog retired early, as her owner got dementia and it is difficult to hand the dog over to another blind person and be able to strike the same rapport.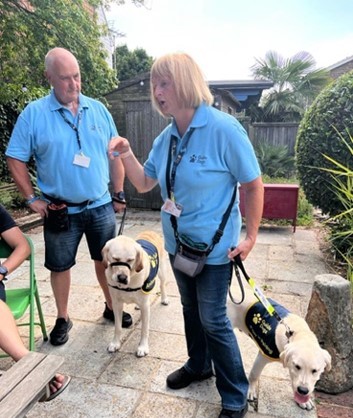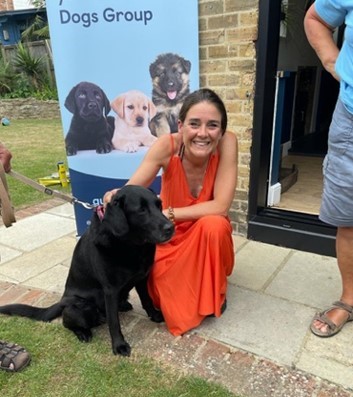 We were granted the privilege to caress these beautiful creatures and satiate our curiosity by asking questions to the 3 handlers who were only too willing to share the experiences of their lives with these fabulous dogs. With gratitude, the charity expressed their delight as we proudly announced that our collective efforts had raised a staggering amount of well over £4,000 for their noble cause. And more has still to be donated. These dogs and their handlers certainly added something extremely special to the occasion.
Martin had also arranged a couple of "Most Valuable Female Rider and Male Rider" prizes, which were won by Sue, for her amazing endeavours in recovering from two hip operations in the last 18 months to make the Whitstable Ride both last year and this year, and Gavin, now nicknamed the "sheepdog", for his fabulous efforts in helping keep everyone connected to the group, with some fantastic herding and directing. Additionally, as is Martin's way, there were no real winners and losers on this ride, so he had arranged that all riders were presented with a small prize of a very smart and efficient chain cleaning sponge, which apparently is extremely effective and easy to use.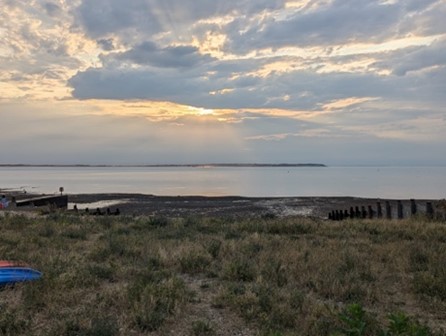 We all then went off to Joe and Britt's very cosy beach hut to chew the fat, have a refreshing dip in the sea and later demolish some top notch fish 'n chips, which is a must have when you're at the seaside. And this was all accompanied by a glorious sunset as the backdrop.
The whole day was a resounding success and whilst last year's ride to Whitstable was excellent, everybody agreed that this year's event was even better.
A number of riders said their farewells and went on the train back to Bromley South, and cycled home from there, whilst some had found bed and breakfasts to stop over. On the Sunday, four of us, consisting of Fran, Martin, Sue and John, embarked upon a train ride to Longfield and a 23 miles cycle back home from there, as a bit of a loosener, to ease those weary muscles. Along our route, we made a brief stop at Lullingstone, where we indulged in a delightful lunch before continuing our ride. We arrived home in the mid-afternoon feeling accomplished and exhilarated and rather exhausted.
The Whitstable ride has been truly fantastic, leaving each of us eagerly anticipating our next adventure together, already envisioning the excitement that awaits us next year.
A great joint day out, authored by Martin and Fan.