Turnbull Tours: Denmark & Sweden 1987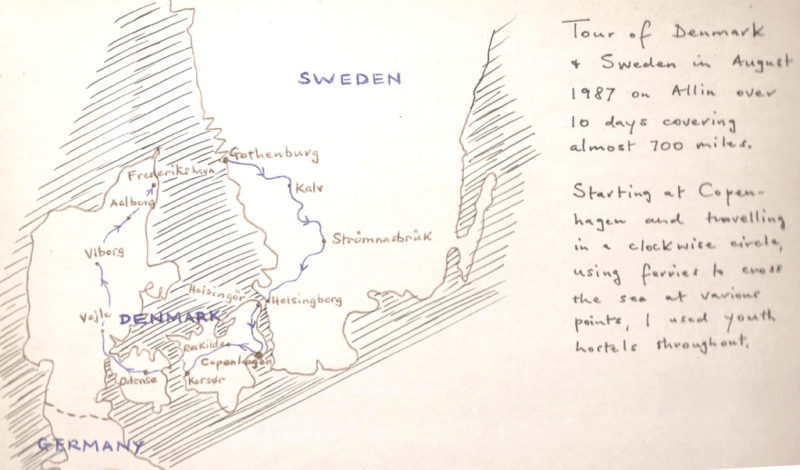 August 20, saw me travelling south from Purley to Gatwick into a strong headwind, the Allin laden with just one saddlebag, as I prefer to travel light, and its spokes sparkled in the morning sunshine.
I felt a tingle of anticipation at the thought of the journey stretching ahead of me. Denmark and Sweden, two countries I had not before visited, were my objectives, and as I rode along the A23 I found myself musing on what they would be like. Big blond Nordics, quaffing lager and eating Smorresbrod, was my mental picture.
Riding up to the airport entrance I dismounted to walk my bike in, only to see a cyclist sitting on the footway, tools and bike parts strewn all around him. He proved to be an American, and he was dismantling his machine to the last nut and bolt, to be able to pack it into boxes for its flight. He proved to be an American, and he was dismantling his machine to the last nut and bolt, to be able to pack it into boxes for its flight.
"Where's your boxes?" he enquired, a puzzled look on his face.
"I don't use them," I replied. "My bike goes as it is."
He shook his head at this, and returned to his dismantling.
The pleasant young lady at the British Airways check—in wasn't au fait with cycle procedure. I helped her!
"You just put a flight label on it and that's it," I proferred, omitting things such as turning handlebars and removing pedals. I find that tedious!
The BAC 1-11 took an hour and a half for the journey, to Copenhagen, where the Allin quickly appeared with the luggage and I checked it to make sure all was well. The tyres had been let right down, though I had let some air out before the flight as the luggage holds are not pressurised and I had previously been told that there was the risk of tyres exploding at 35,000 feet.
Tyres pumped up, saddlebag fitted, and out into the bright sunshine I went. My plan was to stay at youth hostels if possible, and my initial stop was only fives miles from the airport.
Calling first at a police post I was given a plan of Copenhagen, and directions to the hostel, by a friendly, cigarette-smoking policeman. A new country is always exciting at first, and my eyes were everywhere as I meandered along on cycle tracks, heading for the hostel. Flat terrain, courteous motorists, nondescript, but neat little houses formed my first impression.
The welcome hostel sign, the fir-tree and house, loomed large ahead, and I saw the hostel lying back from the road, a single-storey building with a number of arms connecting with the main part. Three or four colourful flags flew from poles in front of the hostel and I quickly made my way in and booked a bed for the night. At the same time I reserved myself a place for 10 days hence on my return. That proved to be a fortunate move.
Everybody spoke such excellent English that I quickly gave up asking if they understood and simply assumed that they would understand me – virtually everybody did.
The hostel was clean and bright, I was sharing a four-berth room, and after a walk round and a snack I headed for bed, quite tired.
My first Scandinavian breakfast was absolutely delightful. Laid out on long tables were five types of cereals, yoghurts, cheeses, meats, jam, butter, freshly baked rolls, white bread, brown bread, rye bread, eggs, orange juice, coffee, tea and milk (full cream or skimmed). One was at liberty to eat or drink as much as required, and I ate enough to see me through to lunch time.
The same type of breakfast was available at every hostel in which I stayed, though the Swedish ones were not quite as lavish as were the Danish. Seated at my table were five strapping blonde girls, sun—tanned bodies radiating health and vitality as they laughed their way through breakfast.
My destination that day was Korsr, a town about 75 miles from Copenhagen, at the western edge of the island of Zealand. My maps were 1:300,000, or roughly 4.75 miles to an inch. Later I was to regret not obtaining a larger scale, but nothing better appeared easily available in England, where I had tried both the YHA shop and Stanfords in Long Acre, London, without success.
Setting off at 8.15 I encountered a warm sun but a stiff head wind, something that plagued me every day but one of the tour. As I changed direction so did the wind, and Denmark is mainly flat and very exposed, with few trees and almost no hedges. Riding along beautifully surfaced cycle paths adjacent to the road I went through Roskilde and then on to Ringsted where I stopped for lunch.
Though people eyed me with curiosity, never once did anybody try to make conversation anywhere in Scandinavia, a fact which I found rather odd. People appeared to be very reserved, very rarely smiling or laughing. The climate? I asked myself.
My meal finished, I remounted and set off for Korsr again. The wind tugged at me, and I was using a 60-inch gear even though the road was quite flat. My meal had cost me just over £2 which I thought very reasonable. As time passed I found that Scandinavia was not as expensive as I had imagined, a reasonable meal in a decent cafeteria costing about £3.
The road was straight and boring prairies of oats and barley as far as the eye could see, interspersed with crops of peas occasionally.
The Korsr hostel lay on the edge of woodland by a lake. Once again clean, modern, single storey. Before dinner I strolled round the lake, saw a toad or two, then made for the dining-hall. I was the only "guest", as they called hostellers.
Korsr hostel & dining room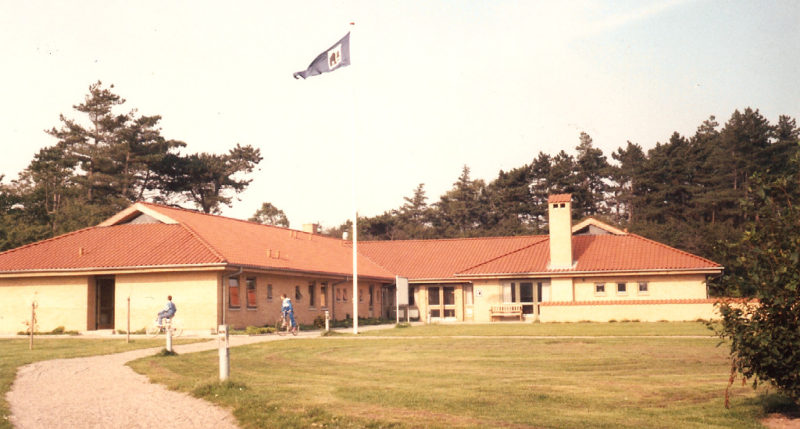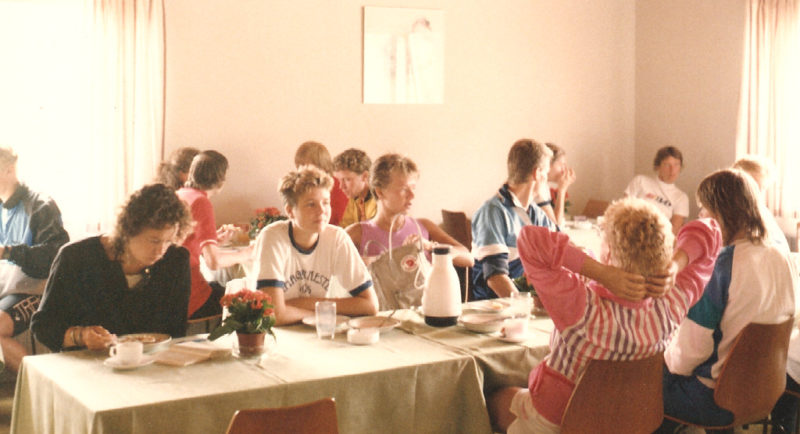 The harbour was my next objective, so into town I rode, bought a ticket for the ferry to Nyborg the next day, then back to the hostel. An American cyclist had arrived, a young man from Oregon, with his low-loaders, no mudguards, one brake (at the back), and 18 gears. He was heading for the Alps and Austria and I wondered how he would fare with his one brake . . .
He told me that he had started with two brakes but had broken something and had decided to use the back brake only.
Common-rooms in Scandinavia left much to be desired. The ubiquitous television loomed large, and that, by and large, was it. No games usually, no reading matter, nobody poring over maps. No atmosphere. Simply a staging-post and nothing more.
Most hostellers were Eurocarding their way round, moving vast distances from capital to capital, and seeing little in between. One couple told me that they had been on a train for 25 hours travelling from Helsinki. When I sugested that this must have been boring they quickly refuted it. "Oh, no, it was really enjoyable"!
Next morning I headed down into town and caught the ferry to Nyborg, on the island of Funen. The journey took an hour, and soon I was pedalling along a cycle path of marble-smooth black macadam bordered on each side by a profusion of tall wild flowers; Vivid red poppies, wild daises, and blue cornflowers, I think.
Strange-looking crows were quite common, with black heads and wings but light grey bodies. Rather bedraggled magpies were also in evidence, looking as though in need of a good preening.
Odense was my immediate destination, the birth place of Hans Christian Andersen, and the only major town on the island. Numerous signs in the town quickly led me to his house, through a nearby colourful open-air market.
Tourists thronged the medieval streets and the area had been remarkedly well preserved, reflecting the simplicity and taste of a bygone era. After a couple of photographs I dived into a market bar and had chips and beer for sustenance, before continuing to Middelfart.
Odense – Hans Christian Andersen's birthplace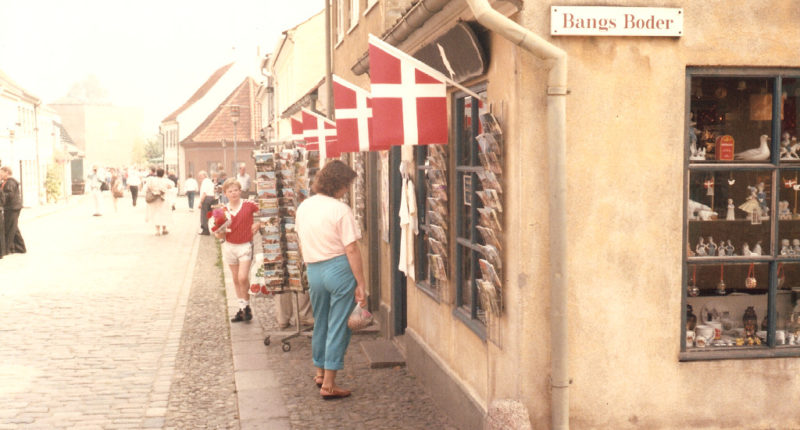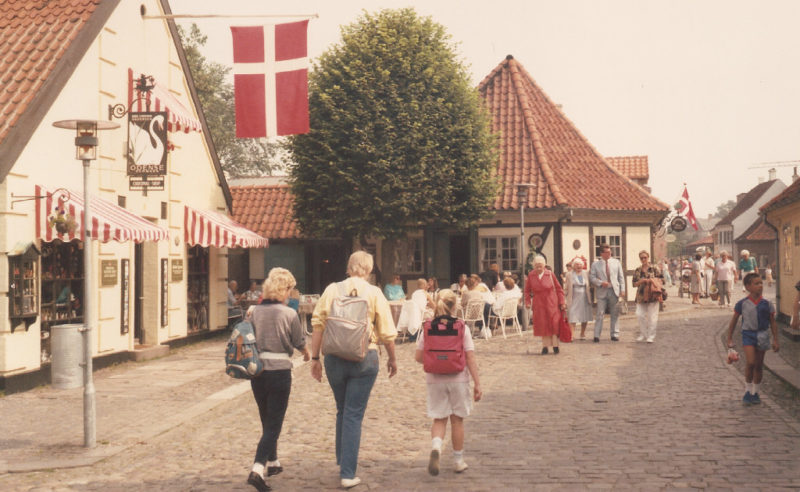 A number of farms had wind generators for electricity, tall, slim pylons with three-bladed propellers turning lazily in the brisk breeze, which occasionally became a tail wind, wafting me along.
As Middelfart a very high bridge took me across to the mainland of Denmark and I took a wrong road, leadlng to a geriatric hospital! A hint from the gods perhaps!
Fredcricia was the town I wanted, and after back-tracking up the longest hill that I had encountered in Denmark I found myself on course once more.
The hostel was at Vejle, and I decided to take the lanes for the last 15 miles, a decision which I quickly regretted. Places marked on my map seemed absent from the ground, and signposted villages were absent from my map.
To counterbalance this, some picturesque farmhouses appeared, With dark-brown painted walls and tiny windows. Thatching was quite common and looked attractive, but a more incongruous type of roofing was often seen — corrugated iron sheets. frequently I saw obviously well-to-do houses roofed in this manner, a practice which puzzled me.
Feeling somewhat tired after about 75 miles, on the outskirts of Vejle I was greatly cheered to see the youth hostel sign at the side of the road. A man cutting his hedge directed me the last kilometre and soon I was undoing the saddlebag straps and putting the Allin to bed for the night.
Vejle hostel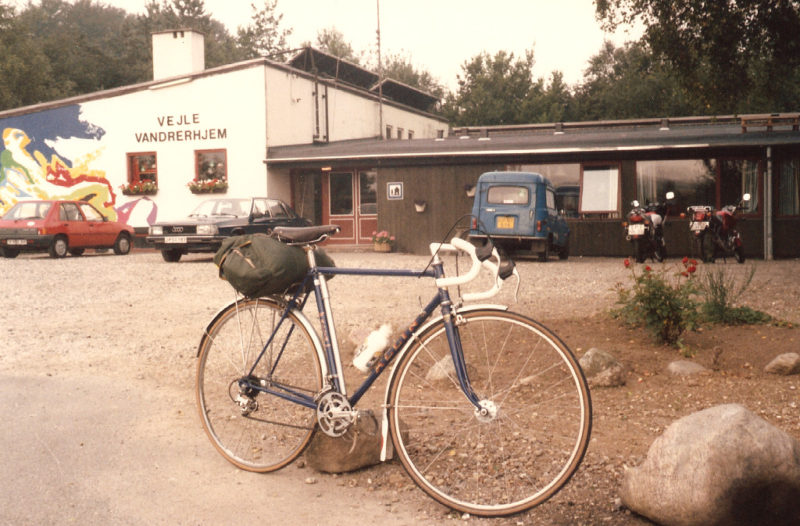 After an invigorating shower I strolled to a nearby shopping centre and had a pizza, then returned to the hostel and watched television for a while. Many programmes are in English, with Danish or Swedish subtitles. Little wonder that the Scandinavians speak such fluent English.
Next morning, Sunday, I left for Hobro, which at 85 miles was my longest day's ride. The terrain became hillier, with fir-trees and heathland making the scenery more varied and interesting.
Thin, ribbon-like flags flew from numerous flag-poles and houses often sported the Danish flag over the front porch. I was puzzled to see, in the gardens of numerous houses, spherical metal structures about 18 inches in diameter, formed of a latticework of copper, with an arrow pointing up at an angle through the centre. It was later explained to me that these were Nordic sundials!
Scandanavian sundial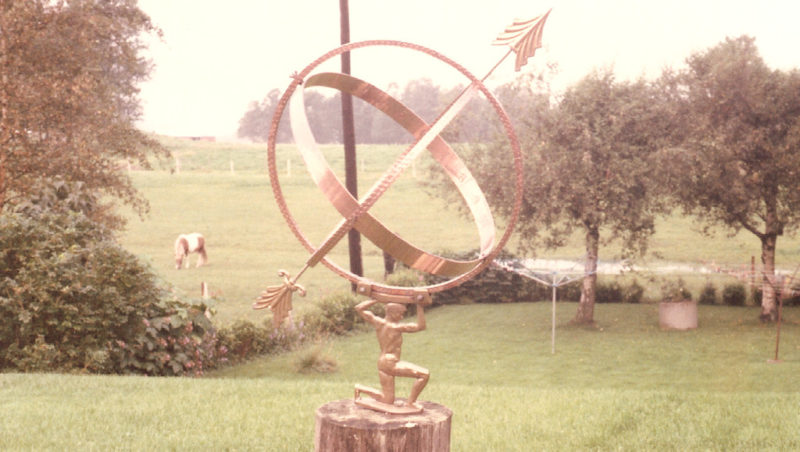 Arriving at the town of Viborg I posted a few cards and had a giant ice-cream in the tranquility of the town's cobbled square. I had earlier stopped for coffee and cake at a Konditori, a kind of baker's-cum-teashop.
The day grew quite hot and the wind was helpful. A rapid drop downhill took me into Hobro and there, once again, was the youth hostel sign. The hostel was quaint, a main building with a large grass frontage on which stood 10 tiny wooden chalets or "cottages", as the lady warden called them. These faced a lake, and the whole site was quite picturesque. I opted for a cottage, and was the sole occupant.
My "cottage", Hobro hostel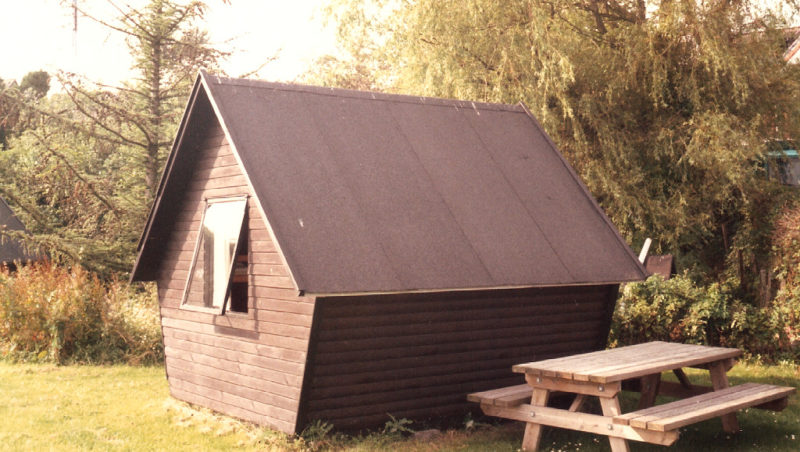 The warden advised me to visit an ancient Viking site, Fyrkat, about five kilometres away. Tired though I was, I did, and found it very interesting. On a hill overlooking a river a circular earth—works had been raised, wherein had been a Viking settlement. Alongside stood a modern replica of a huge Viking house, made entirely of timber. Nearby was a beautiful old farmstead and water-mill. I was pleased indeed that I had made the effort to see these things for they made a vivid impression on me.
Viking house, Fyrkat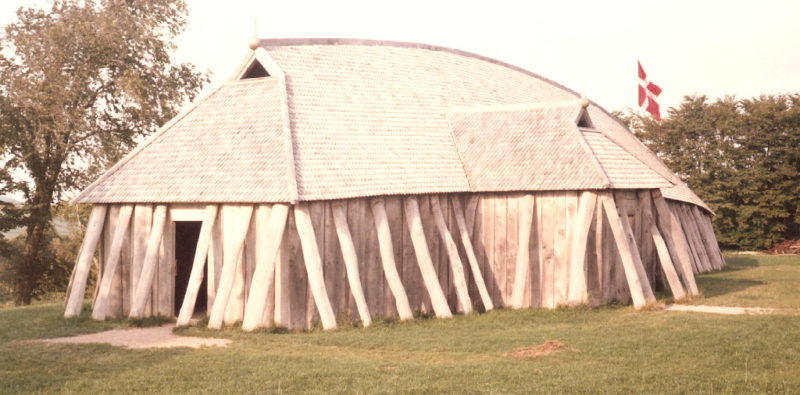 Monday started with a cold head wind and I donned a track top before leaving Hobro for Frederikshavn, the road climbing quite steeply from the town and making my legs ache. Undulating, mainly open, country lay before me, and once again I used a 60-inch gear frequently.
Nearing Alborg I came upon two cyclists heading in the same direction and found them to be husband and wife, about my age (fifties), and Danish. They lived fairly near and were out for a day's ride. I was curious about their bikes, both decent lightweights, which bore no transfers or maker's name. "Ah," said Helge Borlach, the husband, in response to my query, "they are Claud Butlers, English, you know." I smiled.
He had had them re-sprayed and could not obtain the transfers in Denmark, so I offered to search them out on my return – which I did.
Helge and his wife kindly invited me to coffee and cake at A over Alborg, and we trooped into an expensive, sombre-looking restaurant in the town and spent an hour chatting about bikes and cameras.
Parting company with my new found friends, headed over a long bridge and into the wind again. At Hjallerup I stopped for Kartof— fel—salat and frickadeeler (potato salad and spherical beefburgers) which was delicious.
On I plodded, through Saeby, the wind seeming stronger by the minute. Frederikshavn came reluctantly into view at last.
Frederikshavn hostel was odd, having absolutely nothing to eat or drink so I went to bed rather hungry, but still slept well, and awoke next morning ready for the crossing to Sweden.
Frederikshavn hostel, cold morning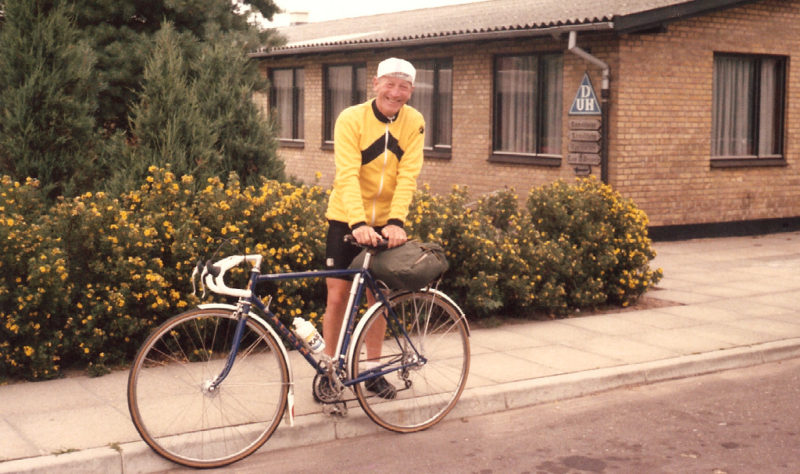 Today I was to take the ferry, a three-hour journey, to Gothenburg in Sweden. Unfortunately it did not leave until noon, so I kicked my heels by wandering around Frederikshavn, shivering with the cold.
Eventually I found the ticket office at the docks, bought tickets for myself and bicycle (£8 in all) and was pleased to relax on board a warm, comfortable ship.
Changing some travellers' cheques for Swedish Kroner I then was able to enjoy hot coffee; rolls, and cake as the ship made for Gothenburg. On my disembarking, the temperature greeting me was appreciably higher than in Frederikshavn a few hours earlier. I felt happier!
Gothenburg did not seem over-attractive, a port town, quite hilly, and with some pleasant old buildings and churches, so I made for the hostel, about six kilometres from the centre. It took some finding, and when I finally tracked it down my heart sank. A grey, concrete, multi-storey slab, it could quite easily have been a prison.
My room was four floors up. The girl in the office shook her blonde head at my asking where the cycle shed was. Picking up my bike, I carried it into the entrance and lodged it in a cosy nook in the little-used stair-well, locking it before leaving it.
The first room-mate I met was a young Scot who, on hearing that I was from Surrey, mentally classified me as, "Southern, soft, stockbroker." I read his mind while it worked! Wanting to establish a little rapport, I nonchalantly mentioned that my father was a Scot, from Glasgow. It worked immediately!
"Och," he replied, a trifle shamefacedly, "and there was I thinking you a soft, southern stockbroker!" We got on well after that and he told me that he aspired to be a procurator fiscal, a Scottish legal position similar to that of a public prosecutor in England and Wales.
He was Eurocarding, and was en route from Helsinki to Malaga, in Spain. Some journey! It dawned wet and I looked down on the grey, rainy streets below and sighed. This was not in my plans! Delaying my departure in the hope of improvement, I finally and reluctantly left the hostel decked in my racing cape and cotton hat. The road that I found so conveniently last evening for my exit turned malignantly into a motorway within two kilometres and then began an hour or so's nightmare.
NIGHTMARE IN GOTHENBURG
Each road that led to anywhere named on my map vaguely in the direction that I wanted became a motorway, with no alternative route to be seen. Eventually I found a road up a very steep hill and sighed with relief, thinking that I had escaped, only to drop down an equally steep hill four kilometres later and find myself back exactly where I had started! It was raining, the wind was strong and blustery, and I was standing at a junction of major roads, all motorways. I felt myself becoming angry from sheer frustration.
Like Alice suddenly spying the White Rabbit popping down a hole, I suddenly spied a cyclist, an old lady, popping down a narrow concrete slope which I had not noticed before, and under the busy junction via a cyclists' subway. Immediately I followed her, and glory be! The road beyond led in the direction that I desired!
Rather than follow the coastline south, and meet multitudes of Eurocarders, I had decided to go inland, off the beaten track, to a hostel at Kalv, a hamlet in the middle of nowhere. Now I was on my way!
AT LAST I REACH THE COUNTRY
The rain eased, and scenically the route was pleasant. Semi-mountainous terrain, forests, flowers, meadows, lakes, came and went in turn. My spirits soared – I was happy again.
Moose looose!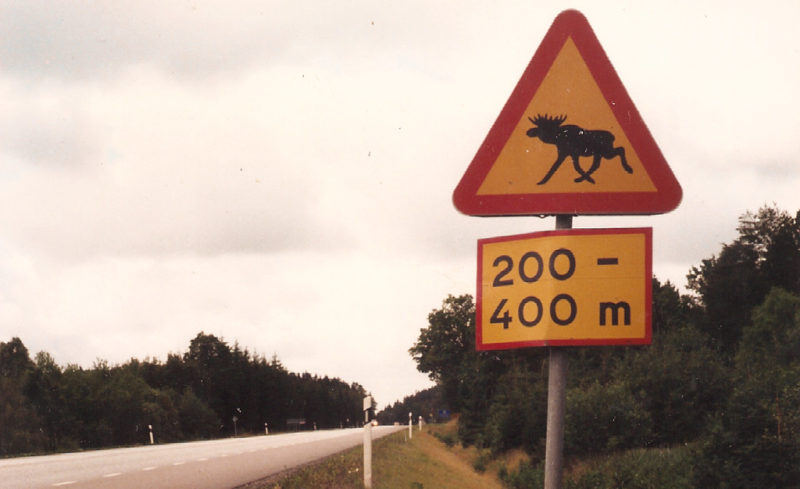 Reaching a small town called Skena, I stopped at a Konditori for elevenses. After washing all the black grime from my legs, washing my face and hands, and tucking into delicious cakes and coffee, I felt a new man.
My next stop; an hour or so later, was Overlida, a pleasant mountain Village. The sun peeped shyly out, and away went the cape.
The route now was purely forest and lakes, and the Allin purred along, helped by the wind- break provided by the tall firs. Suddenly the tarmac road gave way to a dirt road. I checked the map. No indication of surface change, but the correct direction, nonetheless.
Nearing Kalv; rest for Allin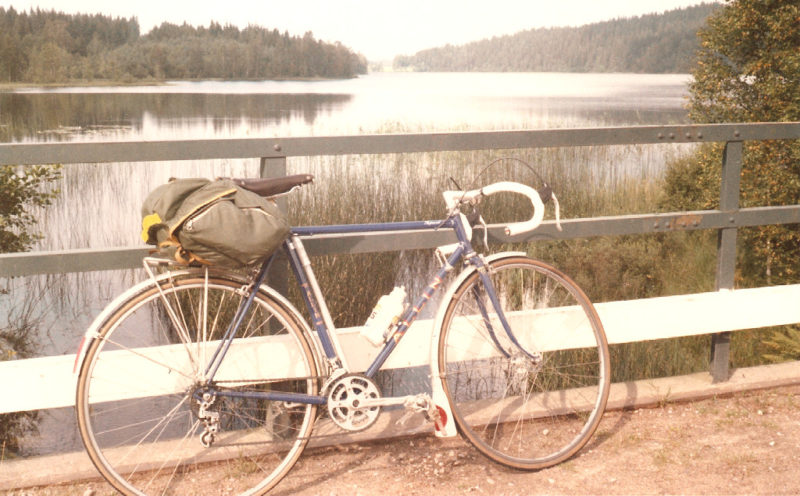 This proved a common phenomenon on Swedish minor roads, a regular switching of surfaces for no apparent reason. Although a dirt road, the surface was usually excellent, very smooth and gently cambered.
Arriving at Kalv, a ride of about 75 miles, I found the hostel to be an old-fashioned detached house, clapboard sided, and very neat. I pushed open the front door, to be greeted by a spotless, clinically tidy entrance hall. Nobody answered my hellos, so I went into a room labelled common~room and sat down. It was a Victorian lounge, or drawing-room, and again, spotless.
The front door creaked open, and a moment later a tall, thin, elderly lady entered the room. I guessed that she was the owner/ warden. She spoke no English but we conversed in German – hers better than mine. After a guided tour I was shown to a lovely room; lace curtains at the windows, central heating, writing- desk, easy chair, etc. Just one snag arose – she did not provide meals, but suggested that I go across the road to the only shop in the village and buy whatever I needed. Reluctantly I went, returning with bread, baked beans, tea, milk, eggs – and a packet of Cadbury's chocolate fingers!
Hardly daring to drop a crumb in the spotless kitchen I prepared my supper, then sat down and ate it, finishing with the chocolate biscuits. What a feast!
RIDING INTO AN ETERNAL HEADWIND
Next morning I headed south for Stromnasbruk. Wet roads and the eternal head wind greeted me. The scenery again was forest and lakes, gravel roads and bogs. A sparrowhawk hovered above me and a little later I saw what I think was a merlin swooping rapidly. Pied wagtails were abundant, then I caught sight of a green woodpecker in swift flight.
The rivers and lakes had a uniform brown-black water in them – the result of peaty soil, I think.
My route took me through Atran through Rydobruk towards Lidult, when the light drizzle turned suddenly to a downpour. Seeking shelter under the dark, tall firs, I watched the raindrops bouncing off the forest track. Twenty minutes later the deluge tapered off and I resumed.
"If I'm going to have mechanical trouble it'll be here," I mused to myself. Miles from any habitation, on a dirt track in the middle of a vast forest.
Passing through Torpa, I eventually reached the hostel at Stromnasbruk after a ride of about 80 miles, to find a pleasant lady warden who enjoyed using her excellent English and was very friendly. She even gave me a free breakfast next morning!
Helsingborg was only 65 miles away so I left Stromnasbruk at 10 o'clock after a convivial breakfast with Gunnel (the lady warden). The ride was pure purgatory, a gale-force head wind making every yard forward a trial of strength and determination. I was on the E4, a major dual-carriageway, and highly exposed to the tearing wind. Turning off to the older road, I stopped at Ljungy for lunch, staggering into a cafeteria in the state of collapse.
The proprietor's wife took pity on me and revived me with food and a sympathetic chat, in good English. On remounting, I found the wind so strong that I was almost blown off my bike three or four times.
RETURN TO DENMARK BY FERRY
My relief at finally reaching Helsingborg was overwhelming. Catching the ferry to Helsingor, in Denmark, I relaxed. I had beaten the mighty wind!
The hostel was right on the beach – literally. After settling in, I strolled the mile towards town to see Kronborg Castle, immortalised in Shakespeare's "Hamlet". Not the most impressive of castles, was my reaction.
Picture taken at Kronborg Castle by friendly American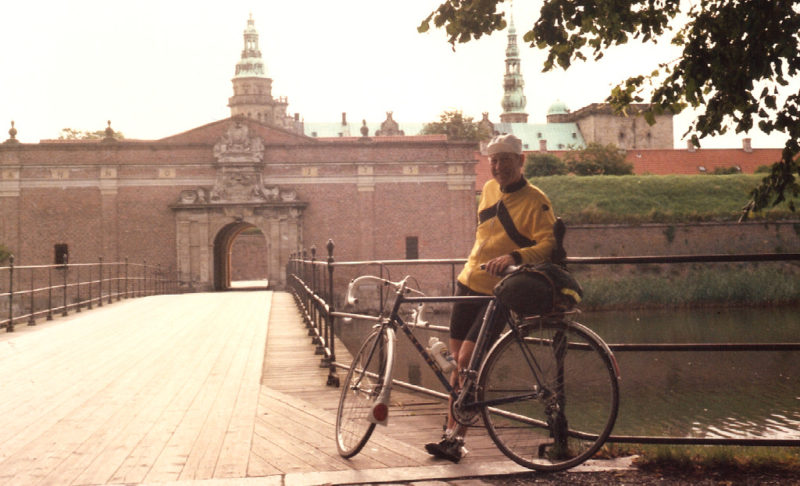 Copenhagen was only 28 miles away and next morning off I set, stopping at Kronborg Castle en route for a photo or two. A kindly American took my picture with my camera after a short chat, and I was on my way, following the coast road.
The wind had subsided but was still adverse. Riding past the gigantic Tuborg brewery in Copenhagen I made for the little mermaid statute in the harbour, and enjoyed the luxury of sitting on a park bench while gazing at the everchanging throng of tourists who, as I, had made a bee-line for this famous and quite beautiful sculpture.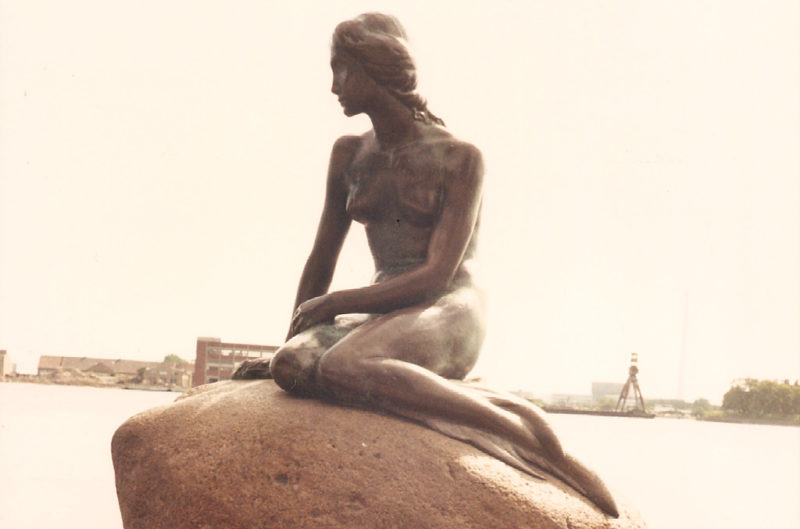 "Tourist" Copenhagen was bursting at the seams, neverending crowds packing the colourful pedestrianised streets, either licking enormous ice-creams or drinking endless bottles of Tuborg or Carlsberg. I was surprised to see groups of youngsters, seemingly 16 or 17 year olds, sitting on the pavement, knocking back lager or staggering, half-drunk, along the streets. Broken beer bottles were common, but policemen were not. I never saw one on foot.
Street musicians, both singly and in groups, were everywhere, competing for the tourists' spare Kroner. Everybody seemed tolerant of everybody and everything, a tremendous example of cosmopolitan bonhomie.
Making for the royal palace I was amazed to find nobody there — no soldiers, no tourists; completely deserted. The palace was rather nondescript, akin to a London government building, and therefore disappointing.
Royal Palace, Copenhagen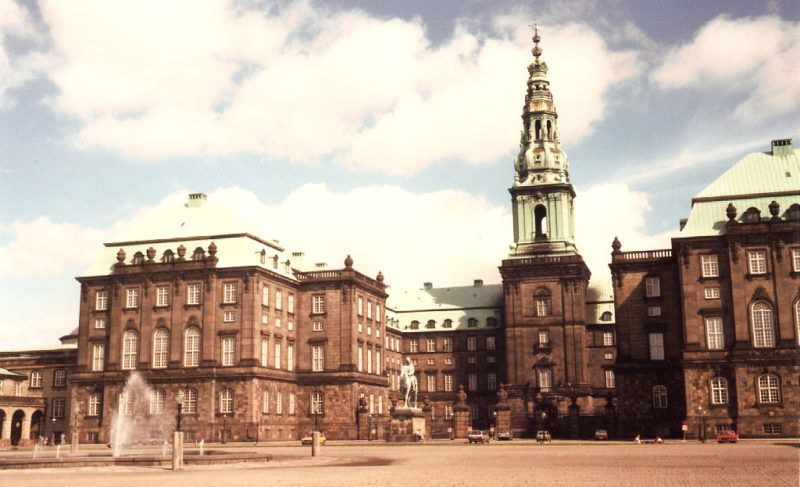 Heading now for the youth hostel I was glad that I had reserved a bed as a loud altercation was in full swing at reception with would-be "guests" being invited to leave as the hostel was full.
The Tivoli Gardens beckoned me that evening, so, forsaking bike for bus, I rode into town and spent a memorable hour or so wandering around the gardens and funfair. Large crowds were gathered at a roped-off square, and I was told that a parachutist was to make a drop into the square, an area about 15 yards each way. I looked at the scudding clouds and felt the strong wind and did not give much for his chances, but after seven or eight passes of the plane out he jumped, and with consummate skill he glided neatly into the square to tumultuous applause.
Tivoli Gardens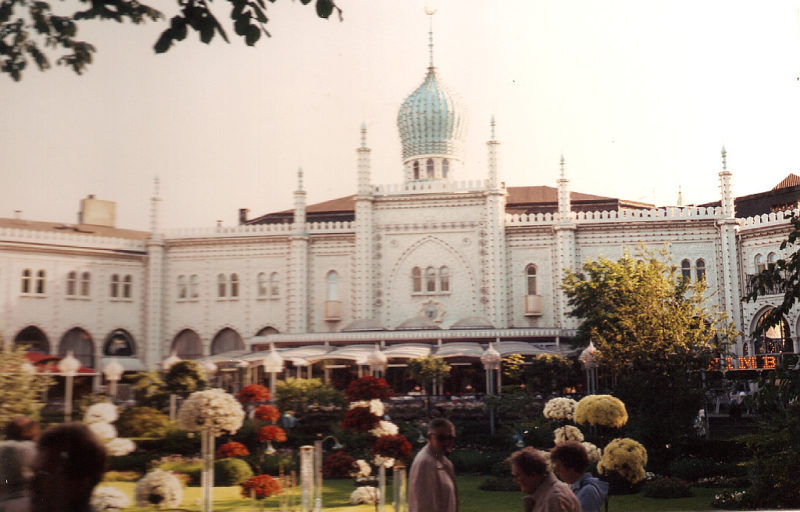 After a lovely breakfast on Sunday morning I packed for the last time and left for the airport, only a few kilometres away, but came to a junction where the road, by magic, became a motorway!
"Excuse me, how can I get to the airport?" I asked a middle-aged man on a bike.
"Follow me, I will guide you," he replied, and he did, through a maze of back ways and little streets. He told me that two months ago he had had a heart operation in Chicago, and was using his cycle as a daily therapeutic exercise. He looked very well to me as I shook hands with him and expressed my thanks for his guiding me right to the front door of the airport.
I left Scandinavia with the thought that the once feared Vikings had metamorphosed from pillaging warriors into pram-pushing, shoppingbag carrying husbands!