Tuesday Rides: 9th June 2020
We're back. Seven rides limited to a maximum of six riders to comply with the COVID-19 regulations. Here's the reports from four of 'em: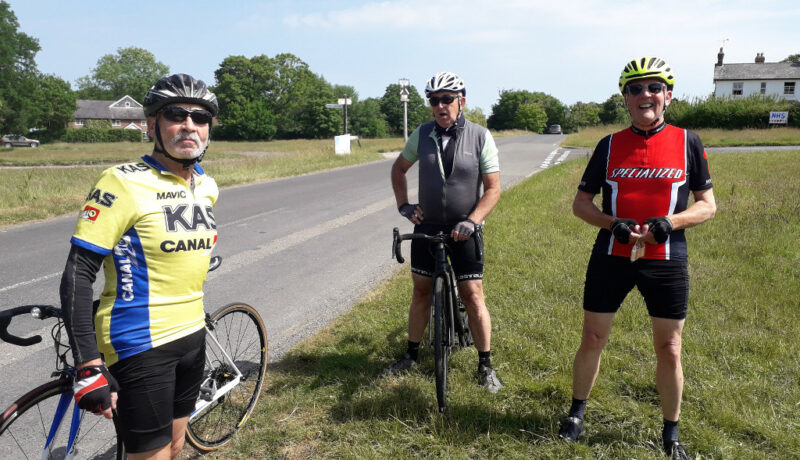 First up – Mark H's fast ride started at Farthing downs on a warm morning with Barrie, John Dr & Miles. We rode out towards Outwood windmill where Miles turned for home. After a brief chat we carried on passed Tully's farm & up Turners Hill where we stopped for a sandwich on the green after 22 miles. The weather was still nice so we set off for the rest of the 28 miles via Lingfield & the hard climb up passed Dormansland station before turning for Lingfield again. We finished the ride with the climb of church town & flower lane. Poor John still had bug hill to climb with me & Barrie riding back down the A22 I still had enough left to set a pb on Foxley lane. Nearly 50 miles at 15 mph ave.
Next John Di with Jim K, Roger F, Vince H, and Robert H. We went through Sanderstead village (and past my old primary school for personal nostalgic reasons) and out along Limpsfield road to the top of Titsey, then down Clarks Lane until turning left onto the Pilgrims Way. This is a popular cycle route for good reason; vineyards on our right, great views, and rolling lanes with little other traffic. The route then took us down to Brasted followed by the 2 mile climb of Toys Hill – again, this appeared to be a very popular route choice! We had no use for the defibrillator or oxygen at the top, but we did regroup outside the Fox and Hounds pub (which is for sale as a residential property if anyone is interested). The hill up gave a marvellous downhill payback, although great care was required due to a couple of corners and a poor road surface. Heading towards Edenbridge we went through Four Elms and seeing an open shop selling coffee and cake I decided not to gamble on Edenbridge, so we stopped for a good coffee and chat, or possibly a good chat and coffee. We caught up on cycling experience under lockdown, and Vince was interested in getting feedback on the booking sheet. Well done for implementing so quickly!
The route back was through Edenbridge, past Haxted Mill, Crowhurst, and past Godstone Church. At the start of Flower Lane we were regrouping and Peter and Jeff caught up with us and we had a good chat with them. Then back through Marden Park (Woldingham school) which is another lovely low traffic route, and then back to Purley along the valley, but mostly off the main road, shedding riding companions as they headed off to their respective homes.
Including to and from home the ride for me was 72 km and 21 km/h average speed, so close to the billed 40 miles at 13mph.
Next from Peter R who arrived early at Shurgard at 10:00 to join John Di's ride to Edenbridge, which was fully subscribed. A mild panic started when I saw Jeff turn up, unregistered. However, Jeff was the only unregistered rider to turn up, so we agreed that I would ride with Jeff to Edenbridge separate from John's group.

We passed John Diamond's group as they regrouped at the top of Botley. They may have been dealing with a puncture/mechanical? I can't believe they were going slower than me!

We carried on to the end of Limpsfield Rd, turned right along The Ridge, down Chalkpit Hill to Oxted.  We then took a fairly direct route to Edenbridge via Holland and Merle Common.

The golf club looked open with plenty of cars so I started getting optimistic about food and coffee in Edenbridge. However, when we arrived all the cafes were closed. So we bought a meal deal in Tesco's and sat, socially distanced, in the graveyard having our lunch. It was fairly quiet.

The weather was much better than forecast, and we were basking in the sun as we are our sarnies and mandatory crisps.

Not wishing to overstay our welcome, we set off back via Haxted, Crowhurst and Marden Park.  The pace was moderate to relaxed, well it was for Jeff, I was knackered!  I could tell Jeff was finding it too easy when he managed to persuade me to go up Tilburstow instead of the A22!

As we started our ascent up Church Lane we noticed a group of riders in yellow ahead. As we approached them we could hear excited enthusiastic discussions about something called the "Rides Register".

At the A25/Flower Lane junction we pulled up across the road from John's group for a brief chat. Somehow they had got ahead of us again, probably because we spent too long sunbathing earlier.

I was in no condition to attempt Gangers Hill, so we went through Marsden Park, after which I wimped out and caught the train from Whytleafe South to South Croydon.

On the ride back from South Croydon to home I met Geraldine G walking in Lloyd Park. Geraldine was in good spirits, looked great and explained she was recovering well.

Despite my brief cheat on the train, I did about 75km overall, my first longish ride for months.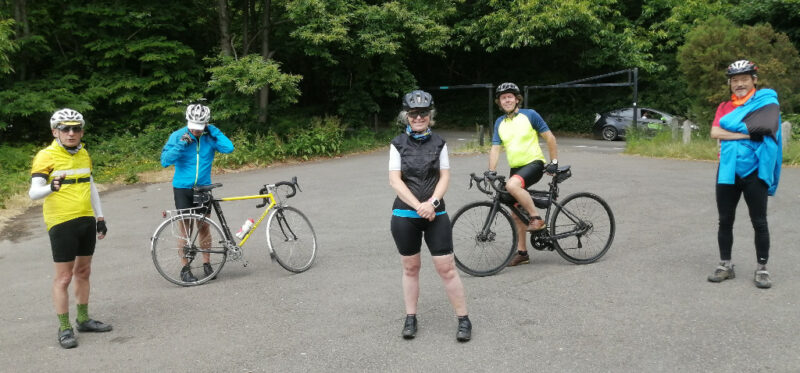 Finally Stuart's socially distanced relaxed group rode all the way from Coulsdon PO to Godstone and back. Less than 18 miles but not having ridden since March 1st it was still a challenge. John D need more and disappeared up Ganger's Hill while we cruised through Marden Park.
Here's our GPX: