Tuesday Ride 5th March 2013
The 1st of March was the meteorological start of spring but the weather was not very spring like.  However by the time of our Tuesday Ride on the 5th, spring had certainly arrived, even if it was only for a day or two. Blue sky, warm sun, no cold wind and according to the BBC, the hottest day of the year so far.  So it was great to be back on my bike after a few wintery weeks of hibernation.
It must have been about 2 years since we last went to High Elms Golf Club for a Tuesday tea stop, so it made a welcome change to again venture into that part of Kent.  But I am not so sure if my choice of a hilly route was quite so welcome!
The regular Tuesday six set off on the climb up to Selsdon, and for a change I branched off along Featherbed Lane to the White Bear. From there it was the narrow country lanes, thru Nash and past the old parish church of Keston to cross over the main road which leads to Biggin Hill.  Thence, into Downe Rd and then Shire Lane which passes the bottom end of  High Elms Country Park.  John and Meike were already there, waiting for us at the golf club social room, where of course we met to socialise!  As I half expected (being such a lovely day) we were soon joined by Jeremy.  Not sure if he comes for the good company or the big breakfast fry up!
Another welcome guest to meet us there, was Harvey (Sandra's husband), who occasionally cycles out to join us at our Tuesday tea stops.
However Harvey did not stay long enough to be useful when required.  On leaving after our teas and toast, Sandra found that she had a rear wheel puncture and once again John Dadson offered his expertise at speedy tube changing.  No photo on this occasion, but here is John helping Sandra with a previous puncture.  He seems to be making a habit of helping our damsels in distress.  Bet I won't get the same treatment when I get a puncture!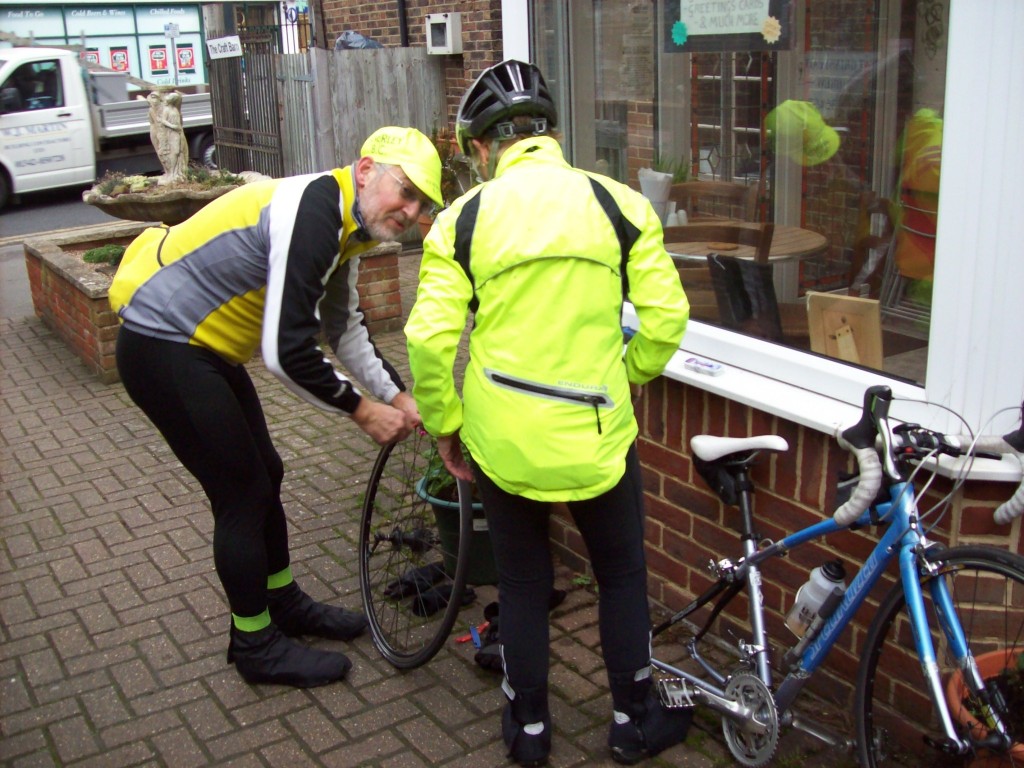 After completing this bit of pneumatic drill it was the pleasant climb up the wooded lane with the country park and golf course on either side, leading into the village of Downe.  A couple of miles  or so of easy pedalling followed, passing en-route, Downe House where Darwin wrote his epic work about evolution, and then a long time cyclists lunch stop venue, the Old Jail Inn.  It was at this old inn that the Anerley Bicycle Club stopped to celebrate the club's 125th anniversary with a charity bike ride.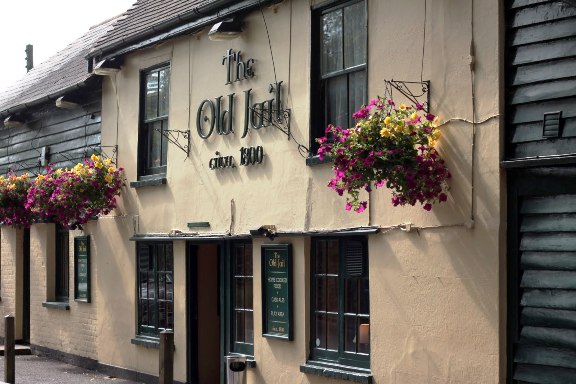 But we were not stopping for a pint or two on this occasion as we headed on to Biggin Hill for a brief stop to catch our breath before the steepest and longest (worst!) hill of the day.  The climb out of the depths of Sunningvale to the heights at Tatsfield.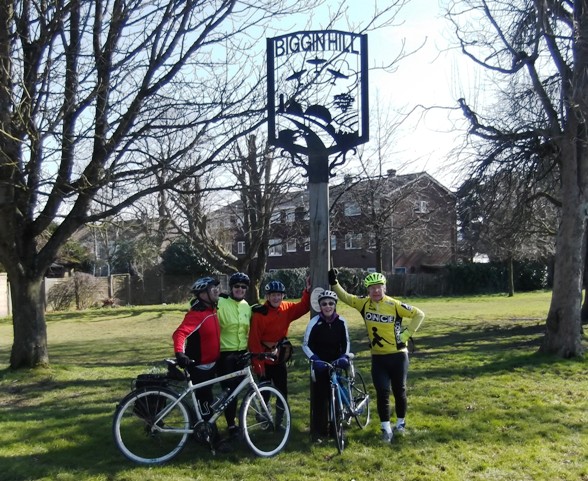 However, even though Biggin Hill, like its name, is big in hills, at least someone enjoyed the ride. See "Comment" which follows.