Tuesday Ride 26 June 2012
After two wet Sundays and two windy Saturdays it was a delight to have a sunny, warm and windless Tuesday!
Tom Vaz had a new toy, a rather exotic one.  No not that sort, a nice bit of digital camera!  So as usual we are indebted to him for pretty pictures that make this worth reading. 
We went out past the Epsom Downs grandstand and down Chalk Lane.  At the bottom of which is a pub named The Ladas. Was it named after the Russian car I was asked?  My guess was that it was a race winner of the Epsom Derby, which turned out to be correct.  Wikipedia provided the answer and photo of a much more speedy beast!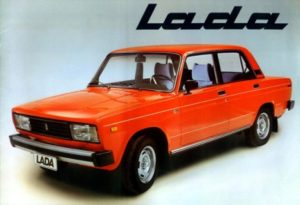 The Luxury Russian Tractor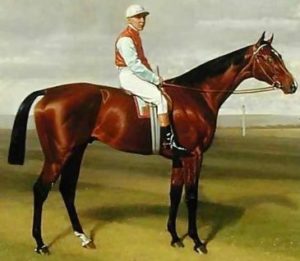 Ladas the 1894 Derby winner, owned by Prime Minister, Lord Roseberry
On thru Ashstead and Leatherhead, we came to the old mill pond on the River Mole, with its ducks and swans and other water birds.    
After a tea stop at Bookham we climbed up the hill past Polesdon Lacey, with its fast descent towards the Stepping Stones.  En route we passed the lovely old houses and renovated barns which make up part of the estate of Chapel Farm.   So named after the now ruined  twelfth century West Humble Chapel where we held a prayer meeting.   So if our prayers are answered it won't rain on any Tuesday or Sunday in July!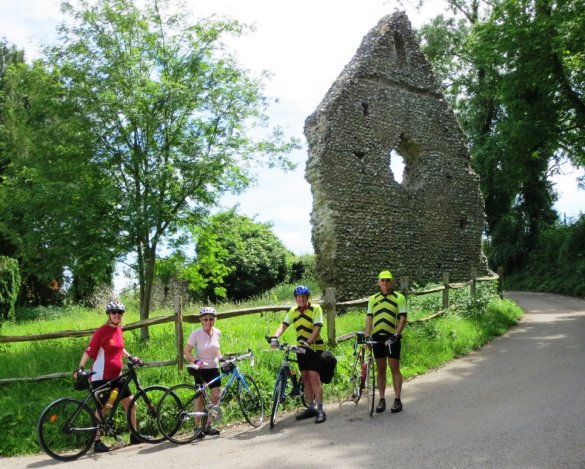 We continued  to the imposing archway which leads to Camilla Cottage, named after the book "Camilla".   This was a best seller in its day and written by the owner of the cottage, Fanny Burney (1752 – 1840).   She is commemorated on the Blue Plaque on the right hand side of the archway.
     
Arriving at the A24, the road was hive of industry with an army of tarmacers preparing the route of the Olympic Road Race.  Then arose an opportunity not to be missed.   Our moment of fame.   One for the record books.
 One for the photo album. 
The breakaway up Box Hill!   Will Bradley and the peleton catch us before the top of the climb?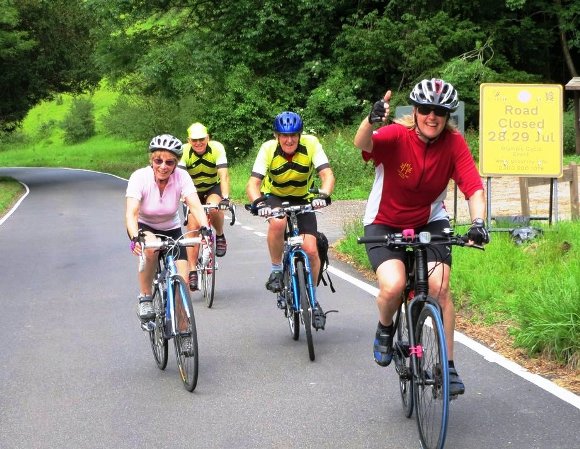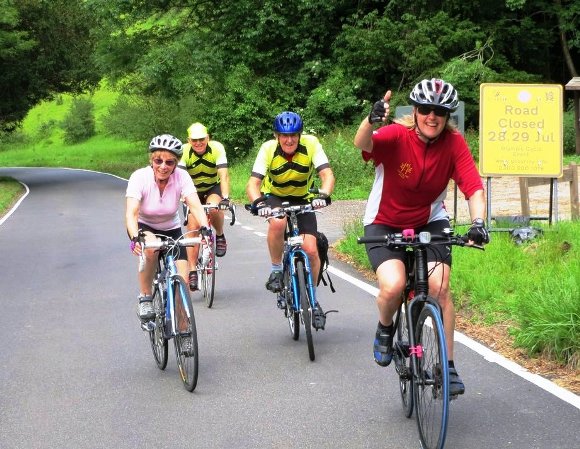 And just to prove that it really was the Olympic Road Race!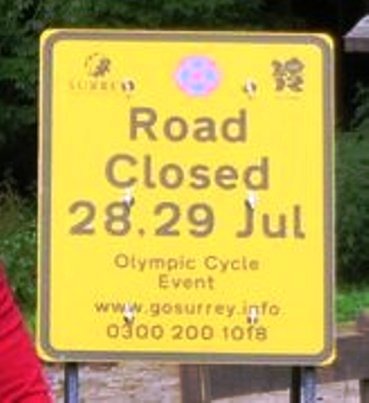 Autograph signings next Tuesday, 10 0'clock at Shurguard!