Tuesday Ride, 19 Feb 2013
At last I have been able to come out of hibernation, even if it was just for one day.  Gone were the freezing temperatures and biting cold winds. On this day it was a bright blue sky,  the lightest of breezes and we could feel the warmth of the sun. It was also a school half term holiday so we were joined by our school ma'ams, Ewa and Julia.  Plus a guest visit by Helen, her second in just a few months!
Having been off the bike for several weeks now, it was time to see if my off-bike fitness training was actually keeping me fit!  (see http://anerleybc.org/how-to-keep-fit-this-winter/)  So for a challenge I had devised a hilly ride to the N.T tea room at Chartwell.
Passing thru Warlingham Green we collected Julia and continued along the Limpsfield Rd where I took a right turn by Ledgers Pond, into the road which leads to Woldingham, followed by the left fork into Slines Oak Rd.  It is at least 5 years since I cycled up this climb but I remembered that it was a very scenic road, starting in a valley with farm land a wooded hills rising above.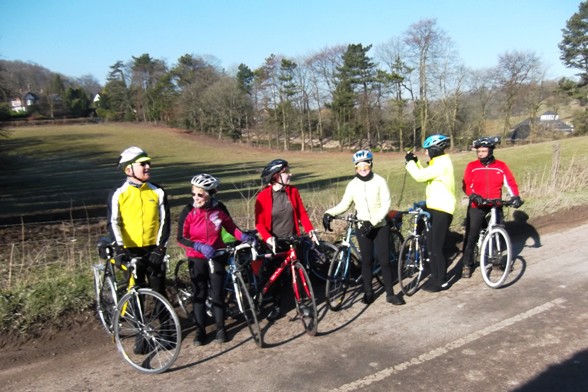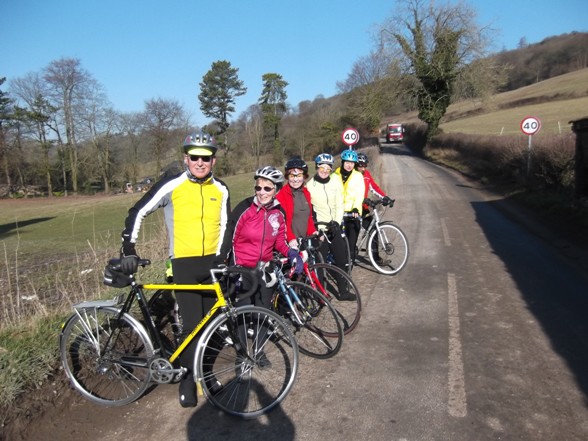 But the main reason for this choice of route was that it was a killer hill rising up to the ridgeway at the heights of  Woldingham Village. This being the reason that I had avoided the road for the past 5 years!
Following the ridgeway we had the scary delight of the rapid descent down Chalkpit Lane and onwards into Oxted.  Then via the back road of Bluehouse Lane to Limpsfield and the climb upto join the A25 where we followed its cycle lane towards Westerham.  Crossing the county border and as we entered the outskirts of the ancient Kentish town of Westerham, we took a right turn into the oldly named Goodley Stock Rd and past the entrance to the stately house and gardens of  Squerryes Court.
More hill climbing now ensued, upto the B 269 and the top of Crockham Hill.  But there were many more feet of altitude to go before we reached the brow of Hosey Common Rd.  This final climb being welcomed by the views of the bright sunshine lighting up the green fields and adjacent woodlands of the Weald of Kent on a last mile or so to Chartwell's tea room.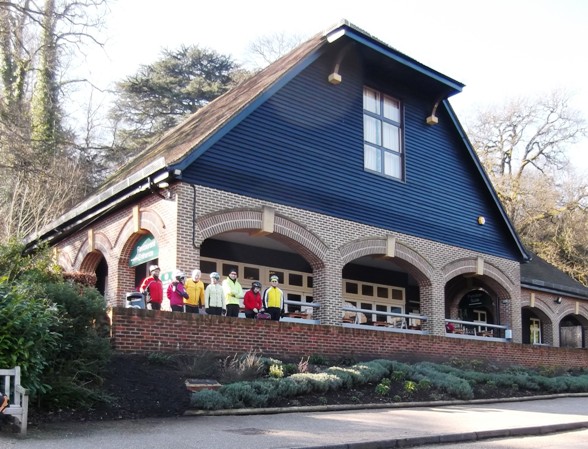 We arrived at a well judged time of close to noon to meet John and Meike as pre-arranged, plus an unexpected but welcome addition of Jeremy, who was also out on his bike enjoying the February sunshine.
After our social chit-chat it was time for home. We took the direct route back via Westerham, whilst Jeremy went off in the opposite direction, down to Four Elms, with no doubt a climb up Toys or Ide Hill.  However my fitness test was not yet over, one last all out effort, the sprint for the 30 mph sign on the entry into Warlingham, which I detailed at http://anerleybc.org/are-you-speed-limited/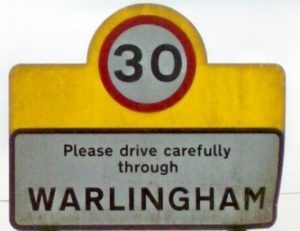 So was it a hard ride? Well Ewa thought so, commenting that it was the hilliest Tuesday Ride that she had been out on. So with her ringing endorsement, perhaps my off-bike winter training has been working!
Next Tuesday I have another committment so John Dadson will be leading the ride, from Tesco at 10 o'clock.