Tuesday Ride: 14th February 2017
Even I couldn't lose people on the long, straight road to Tulley's from Bletchingley but what happened before that point remains a mystery to me.
With 26 cyclists turning up at Shurguard and another 2 at Farthing Downs it was possibly a postwar record for the club. The destination for all these people was Tulley's Farm and it was to be expected that I would contrive to lose a few of the lambs…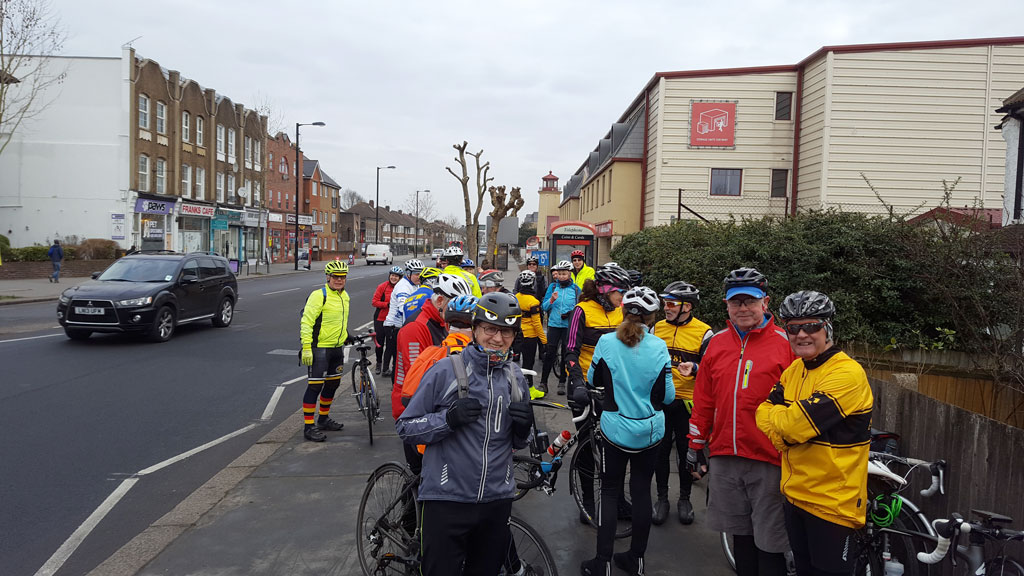 Mark led off with his speedy gang and the rest of us followed along at a reasonable pace for such a huge group. The re-gathering at the Farthing Downs carpark was the last time that I saw Pete Roberts. Somehow TomTom became detached with a couple of other people and Pete sacrificed himself in the hope of finding him.
TomTom did reappear at the Redhill sand ridge but sadly not Pete. Also making a sudden appearance was Frank who couldn't hang onto Mark's speedy coat tails. There were no further incidences as we turned towards Outwood at Bletchingley and even I couldn't lose people on the long, straight road to Tulley's from here!
Tulleys Farm was relatively quiet for a half term but the slow service meant that we had to wait a long time for all to eat. On our way out we Pete finally caught up but the poor guy didn't have time for a cuppa to my great shame.
When we reached Crawley Downs, I split off eastward to Felbridge and the wilds of Lingfield with a some hardy souls to get some extra miles in while the rest went home with Julia Barnes. We covered 54 miles at an average of 12mph which is as far as some had ever cycled before.
I must admit to being highly entertained by the company of the Tuesday gang after such a long time especially Long,Tall Sally who kept smiling brightly while assassinating my character.