Thursday Ride: 7th February 2019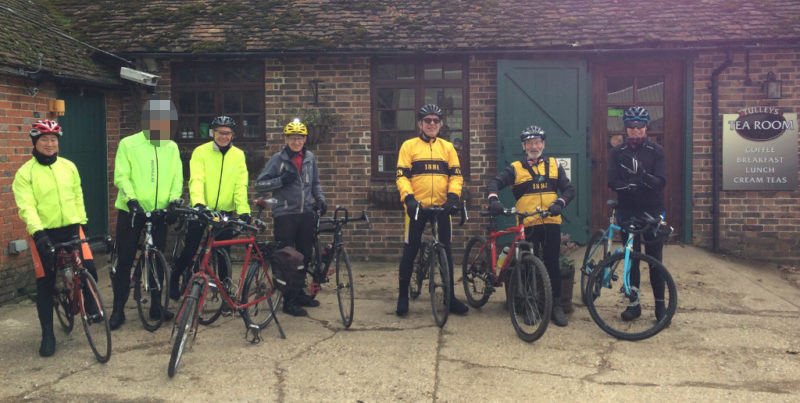 The wind rattled the windows as I got up and prepared for the Thursday ride to Tulley's farm. A quick check of WhatsApp revealed that Mark was unwell so I jumped on the computer to quickly devise a route for my GPS. Hope you get better soon Mark!
Eight of us met at Shurguard. I opted for a fairly direct route to Tulley's Farm with no tracks this time!
We set off over Farthing Downs which was a bit harder than usual as we had to fight a brisk headwind and then descended Hill Top Lane with its tricky left hand bend at the top without incident. In fact, for once, the road was dry and not slippery. On through Bletchingley, Outwood, Small Fields and Copthorne. Barely a mile and half from our destination, at Hay Heath, D punctured. Dave & I helped with replacing the inner tube while the others pushed on to Tulley's Farm.
The conversation over coffee turned to various crashes and injuries. By the time we left we were nervous to get back on our bikes! George took the lead on the home leg and we headed north to cross the A25 at the top of a long hill up to Nutfield. Somewhere around Effingham Park we lost Dave. At Nutfield we split into those returning via Merstham and the A23 and those following the A25 to Godstone and then heading up the A22.
The whole trip was around 40 miles to/from Shurguard. It was a good run with a fair amount of sunshine and not too cold.