Thursday Ride: 5th April 2018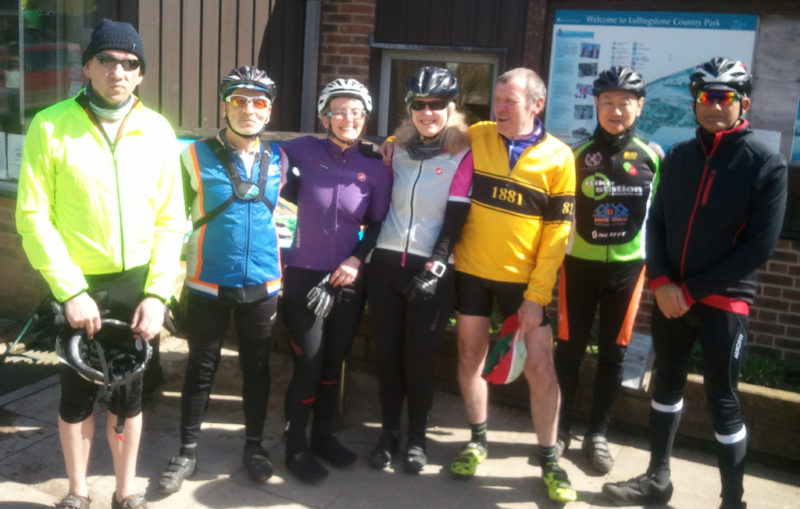 First decent sunny day after all the recent cold/rainy days.
Nine of us started the ride and we did a bit of the chain-gang cycling to the
top of Beddlestead lane. (Difficult technique to do well because the riders were
of different strength and the gaps between the riders got wider and wider but
we tried! I just watch Jeremy disappearing in the distance with Barry and Mark
in hot pursuit).
I was the last rider single-filing down Clark's lane (my bike counter showed a
max speed of 35.5 mph which gave an idea of the speed of the others!) and then
along Pilgrims way … where unfortunately John Dadson's gear cable snapped
and he had to abandon the ride. Miles went back with him as he had to go back
to work. So seven of us made our way to Lullingstone country park via Shoreham
without further incidents…mostly downhill The only hilly bits were at
Mitchley Hill right at the start and then the long drag along Beddlestead
lane.
We were met at the cafe by John and Meike and had a pleasant break (coffee,
cakes, sandwiches etc…).
Apart from a short delay (Shak's puncture repair), the way back was a straight
route via Halstead, Knockholt, Hawley's corner, Tatsfield and Botley hill. It
was a slight uphill gradient all the way back but nothing that would tax any
riders. I made it home to Caterham 42 miles but the others had a slightly
longer distance to home. Hopefully the weather keeps improving and gets a bit
warmer from now on. I thought the girls were quite strong given that none of
us/them would have ridden much through the winter.
George.