Thursday Ride: 28th January 2016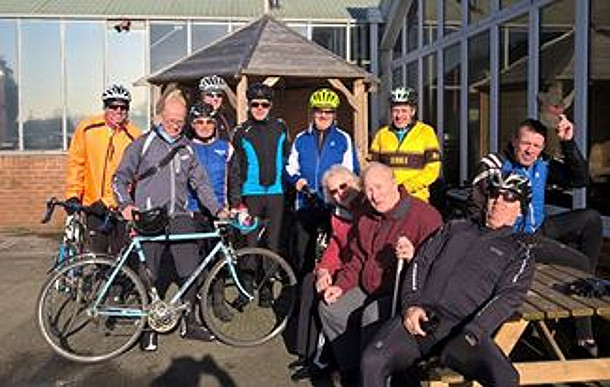 Well I was most surpised at todays turn out,the biggest Thursday run so far. Riders out where neil a new rider to the club welcome neil, bob, berlinda, tina, miles, john, brian and the usual Thursday crew of barry and dave,and myself.
The sun was out all day for a change we rode out to Polhill Garden Centre via Warlingham and the two mile climb of Beddlestead Lane,which was a bit hairy at the bottom with lots of mud. Barry set a tough pace which non of us could keep with. After we all meet at the top we dropped down Botley to the Pilgrams Way. Lots of puddles and mud, saw a buzzard wheeling in the sky at one point, there are three types in the Uk, this was a common buzzard.
After the last climb of the morning Polhill we reached the garden centre for lunch where John and Meike met us. After a group photo we rode back via Halstead, Knockholt, Biggin Hill and Botley Hill back to Warlingham. At the Biggin Hill crossroads the club split in two where some of us went off road to practice cycle cross and the rest joined us for the climb of Botley Hill. Once we joined up at the top of the climb we time trailed back to Warlingham. 40 miles.
Mark H