Thursday Ride: 19th April 2018
&nbsp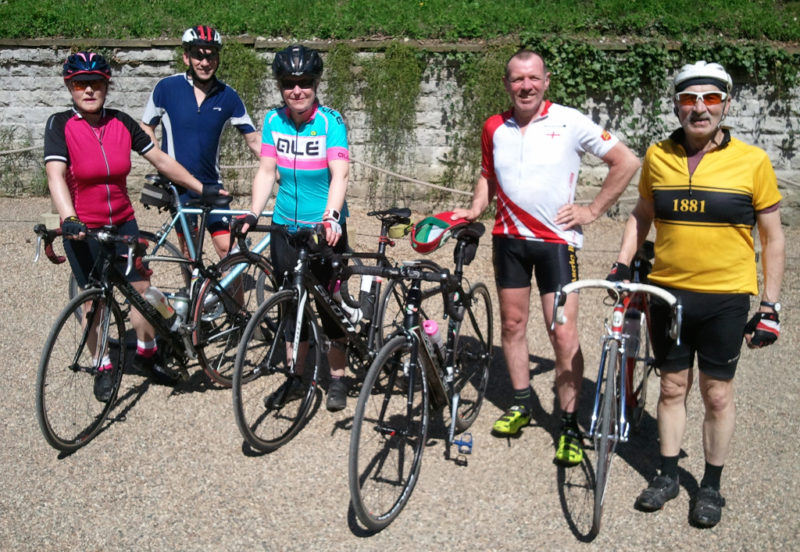 Six started this Thursday ride (Mark Hancock, David J Gordon, Karen Wrighton, Sue Diamond, Barrie Foster and me).
David left us at Seal as he was feeling off-form. He hasn't been riding since he came back from his 6 weeks holidays at down-under. Also it was a hot day…in fact it was the hottest April day since 1949 (29C so says BBC news)! Maybe the heat got to David. Karen on the other hand was bombing down the road and setting the pace. Anyway we made our way to the cafe at Riverhill Himalayan Gardens near Sevenoaks where Jeremy Hammond met us. There were quite a number of people, but not overcrowded, at the cafe taking advantage of the good weather with their children. But you wouldn't go there to have a hot meal though, not that you would need one on this hot day. Food was just sandwiches, sausage rolls, cakes and the usual tea/coffee drinks which was OK for us.
The return trip was via Chiddingstone, Bough Beech, IDE Hill, Pilgrims way and Clarks lane (Botley Hill). I asked Mark to take us the easy/less arduous route to Ide hill because I wanted to remember that route. Well it wasn't that easy after all. The climb up Bough Beech to Ide hill was loooong! But it was followed by an equally long glorious descent back to Brasted. Then one last climb – Clarks lane/Botley hill and we were done …and out of drinks as well.
No other notable events except a beautiful kamikaze pheasant crossed a couple of feet across mine and Barrie's path at Pilgrims Way and a weasel crossing Mark's path at Clarks lane!
Door to door, I make it a 56 miles round trip with nearly 4 hours on the saddle. Enjoyable ride despite the heat. Roads were as dry as a bone except for a couple of wet patches probably due to burst pipes or remnant of recent flooding. Makes a change not having to worry about sliding and coming off on wet/icy roads.
George.