Sunday Ride: 9th October 2011

Ewa climbing Ide Hill (Words & Pix by Stuart)
Dry and warm was the forecast but Sunday started decidedly wet. To go, not to go? That was the question?
The rain faded to a drizzle by 8am, petered out by 8.30am and the sun was forcing its way through the clouds for our 9am start with Jeremy, Ricky & son, Ewa, Gina, Sharon and myself.
This is a special ride done every year to Catford CC's infamous hill climb at York Hill – just up the road from Ide Hill. To find out why – click here.
We had the usual gentle pootle past Chez Turnbull in Riddlestown and on up through Warlingham to Bolney and down the Pilgrim's Way and under the M25 and across the A25 at Brasted. Then the long slow climb up to Ide Hill. Another mile or so and we were atop York Hill.
Tea & sausage rolls were taken before relaxing watching the competitors struggle up the hill.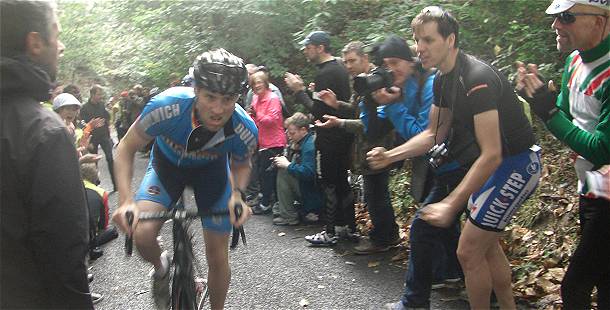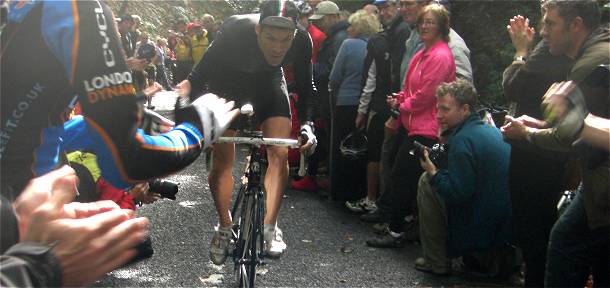 This year everybody seemed to make it even if some choice of gearing was unwise. Just over a hundred competitors and a hundred cheers as the ran through the narrow gap left by the crowds and almost over camermen daring to get a last minute low action shot.
Would anyone break the 2 minutes was the question not answered when we left. The leader was sporting 2.00.06!
Three of us went on to the pub in Chipstead to some very fine Harveys served directly from the barrel before the final climb back up Pilgrim's Way to Bolney and home in beautiful afternoon sunlight.
About 33 miles.