Sunday Ride: 5th May 2013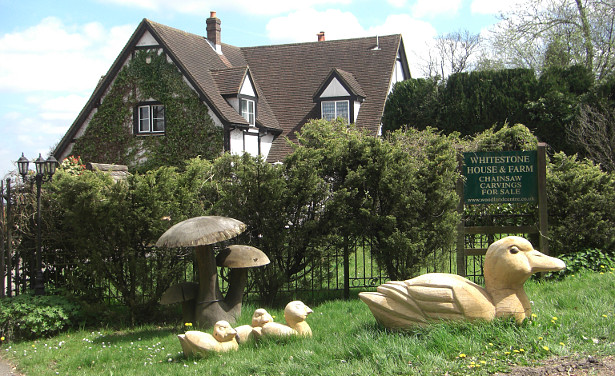 Guest leader loses flock
Was it seven or eight I led confidently down the Brighton Road picking up a stray ex-capt'n in Coulsdon?
We lost our first follower on Farthing Down. Was my pace that hot? On through Chandon and the great descent (and a small ascent) to Bletchingley were we re-assembled thus: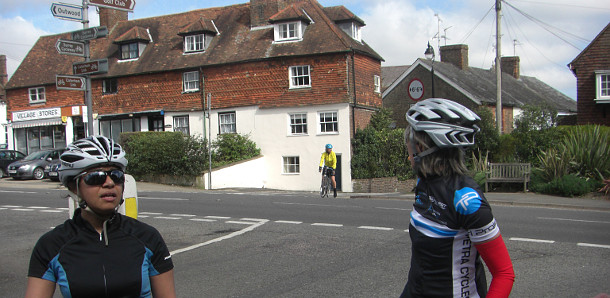 Bletchingley is, of course, the venue for our annual downhill freewheel competition. Last November's cancellation due to rain encouraged us all to do it impromptu. Gina pipped Jeremy by a short toeclip to claim the prize.
Off to the right of this picture at Outwood we passed the Bigfoot Ride to Brighton …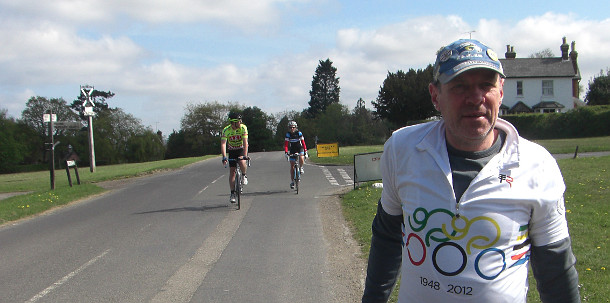 And on without incident to tea at Tulley's Farm. This leading lark is a piece of cake (chocolate) I munched. But then there was evident mutiny in the ranks as you can see below …
Gina was planning on continuing to Brighton. Ewa was trying to find a route to see a relative in Haywards Heath, Jeremy fancied a pub in Horsted Keynes whilst I was planning to retire to the Brickmakers Arms in Crowhurst. Eventually four of us set out southward whilst t'others turned for home. Hope they made it.
Jeremy roared up the hill to Turner's Hill with the rest of us in pursuit. I turned the corner to see the red flash disappearing up the hill towards Ardingley. By the time I got to the Sharpthorne turn off he was out of sight. The obvious way was to the left but Ewa needed to carry on straight. Why had not the bu**er not waited? Worse there was no sign of the other two behind me.
What to do? Well when all is lost – have a drink. So guessing which pub Jeremy might be headed I cycle on alone passing those wooden ducks on the way. It was a precious ride in the first blush of spring able to appreciate this year's countryside.
Got to the pub. No Jeremy! Oh Dear …
Then both of them rode up with a mutual look of confusion. Turned out the red flash wasn't Jeremy. I had left a bemused bunch at Turner's Hill. Well there's no problem that a pint or two doesn't make better.
I stuck resoloutely to Jeremy's back wheel for a great ride back that, coincidentally took us past the Brickmakers. Or rather not for the building was shut. Just a FOR SALE notice replacing the sign that had marked a refuge for many a sodden Anerley Ride. RIP.