Sunday Ride: 30th November 2014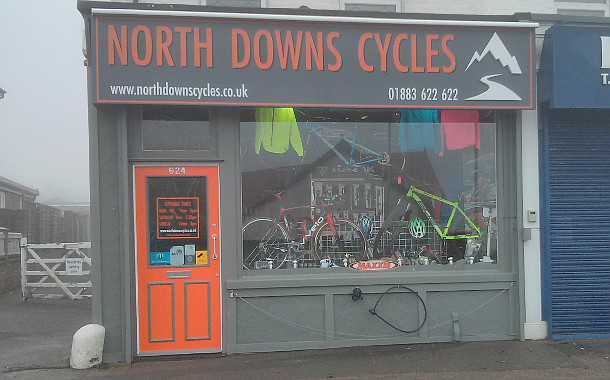 The dry forecast made this Sunday a more inviting occasion than last Sunday's washout cancellation. A good number found their way through the mist and off up Mitchley Hill to Warlingham. We paused outside Sainsbury's and spotted a new bike shop (above). More here: http://www.northdownscycles.co.uk/
Westerham isn't that far but Jim found a way of stretching 12 crow miles to nearly 20 along many unknown lanes via New Addington, Keston and Downe. The Tudor Rose had undergone a facelift since our last visit. More tables, a post Tudor decor and a positive welcome for cyclists viz the photo of the Redhill Club in the photo above Thom's head.
The mist had cleared by the time we left and set up the stiff climb to Crockham Hill. There this part of the ride retired to the Royal Oak to dream of tours in next summer's sun whilst the others disappeared towards Edenbridge. Their final fate unknown.
We took the short easy route back over the hill and along the A25 and through Marden Park. We did think about going back via Limpsfield but I hadn't reckoned on the rather challenging ascent t'other side. Not a long ride but both Thom and myself felt a little bushed at the end.