Sunday Ride: 27th November 2011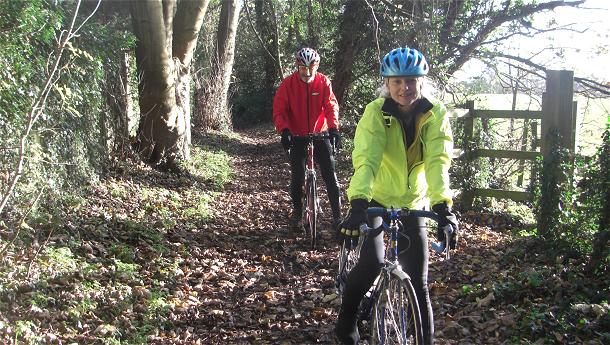 OH YE OF LITTLE FAITH!
Was our forecast of yet another unseasonal mild sunny Sunday doubted by a sprinkling of the damp stuff half an hour beforehand? On the stroke of nine the clouds parted, the sky turned blue but only four witnesses were at the start point.
We picked up another at Purley Cross. We didn't pick up these three guarding a mansion in Croydon's plush Webb Estate as we wound our way towards Woodmansterne. Here Jeremy took us on the first of several excursions on the wild side. Thankfully, we saw nothing worse than a bridling Ewa & Graham (above).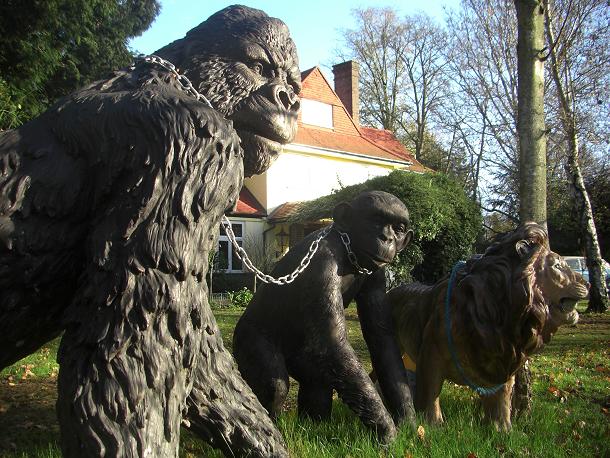 The sun, the autumnal leaf carpet and some imaginative pathways ("there's tarmac underneath somewhere" claimed our captain) created a magical environment to escape the surburbs of London. Tattenham Corner, the deserted Epsom Racecourse and the views into Surrey were perfect. A gradual descent to Leatherhead and Annie's Cafe for the second Anerley visit of the week where we were joined by Des & Tom.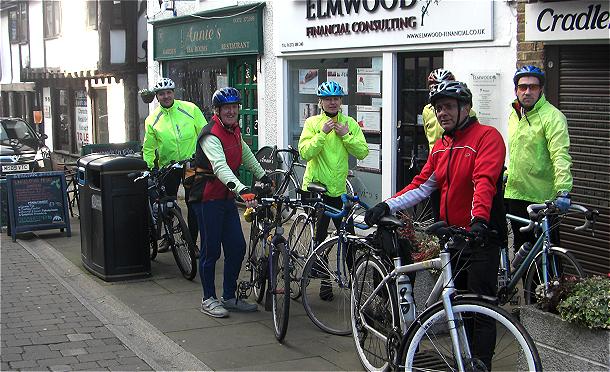 Now seven strong we headed south where Des with some judicious positioning portrays the Anerley progressing along another cyclepath deep in the rapidly deleafing Surrey countryside. A little cropping to the right hides away the speeding cars on the A24 double carriageway!
Box Hill to left of them
Westhumble to right of them
Dorking in front of them
Boldly they rode and well
Into the jaws of Pixham,
To the south of Mole
Rode the six …
(Tom having gone home!)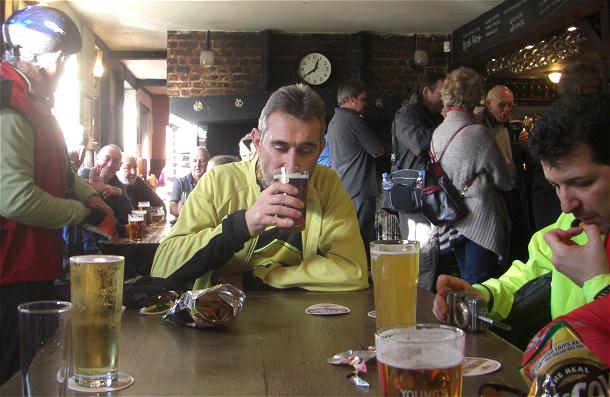 Betchworth famous for the first of four weddings www.movie-locations.com/movies/f/4wandf.html also has a very pleasant pub – The Dolphin. Here beer was taken, the world sorted but all was not well.
Our Captain and Head Brewer sadly realised he had missed a bargain by only 149 years … and so home via Reigate and, as we were feeling very lazy, the Merstham Gap. About 35 miles. Track by Yiannis.